At our meeting in Grantham on 12th April we asked the audience to help with information about four photographs.  It was a resounding success, providing either an answer directly or clues which have set us along the path to the answer.
First up was a colour photograph sent to us by Mick Grummitt showing gleaming A3 locomotive No. 60047 Donovan on the engine spur near the North Box.  The face of a member of the crew could be seen in the cab, but who was it?  See the picture here (scroll down to near the bottom of the page), along with the driver's name.
Yvonne Parker had sent in  a photograph of her mother, who became a ticket collector in 1944, on the platform in 1947 with three colleagues.  Yvonne said,  "Two of the people in it are known to me.  Ernie Huckerby on the left and my mother Irene Bradford (née Clarke) on the right.  I would really like to know who the other two people in the picture are too."  Station Inspector Joe Darmon was recognised from the photograph, which can be seen here (scroll to halfway through the page).
Next there was a query from Richard Whitaker: "Who are the three men with my grandfather, driver Sam Whitaker, in a photograph taken at a presentation marking 45 years' railway service?"  Sam joined the Great Northern Railway in December 1918, so the picture dated from December 1963 or early in 1964.  Fellow driver Austin Brown was identified - seen here (again, about halfway down the page).
Finally, one of the series of photographs taken by Humphrey Platts of The Plant Centenarian excursion in 1953 showed the end of a passenger carriage in departmental use.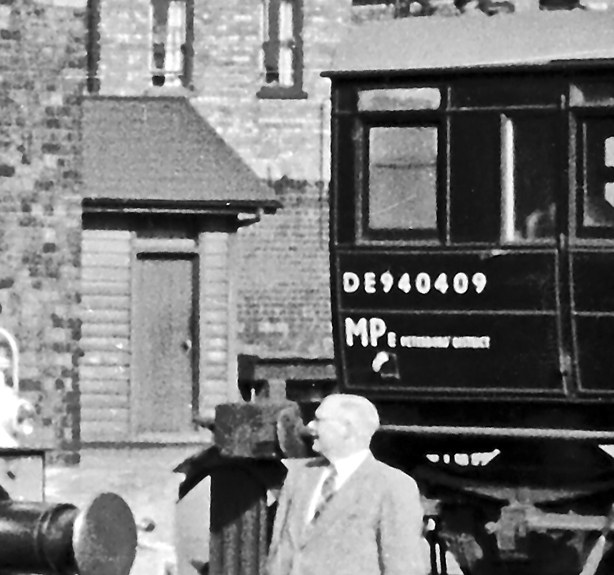 It was identified as of Great Northern Railway origin, and it was suggested that the GNR Society may help us with its identity.
Brilliant work!  We'll set aside some more puzzles for our next gathering in October, so please keep sending them in.