Members of the Grantham and Retford Loco Mutual Improvement Classes with locomotive No. 7 'Typhoon' at Hythe station on the 15-inch gauge Romney, Hythe & Dymchurch Railway in July 1959.
From the left: Eric Ranby, Wilf Gooch, Frank 'Tiny' Lawson, Walter Lightfoot, Fred Seal, Mr. Cyril Richardson (shedmaster), Geoff Asher, Ernie Brown (fitter), John Michael, Ernest 'Lofty' Shields
Photograph lent by John Michael.
John Michael, a retired Grantham driver, very kindly sent us three photographs (one above, two below), the background to which he describes as follows:
These photos were taken in July 1959, recording Grantham Loco MIC (Mutual Improvement Class) members on an outing to the Romney, Hythe & Dymchurch Railway (RH&DR).  In addition there were half-a-dozen Retford Loco men on the trip, who were strangers to me so I cannot put a name to them, though I can identify all the Grantham members.
I recall having a good day out.  We travelled in a coach attached to empty pigeon vans on a parcels train.  Fluff, feathers and pigeon droppings were our constant companions all the way to London.  On a good Sunday morning all the men dressed in suits, as men used to do in those days.  Add to this the locomotive was crewed by Peterborough colleagues known to some of us personally, who knew that we were on board and they made sure that we had a comfortable ride - like hell they did!
The banter in this coach was raucous and intelligible only to Loco men.  I could go on but it would take till the middle of next week...
---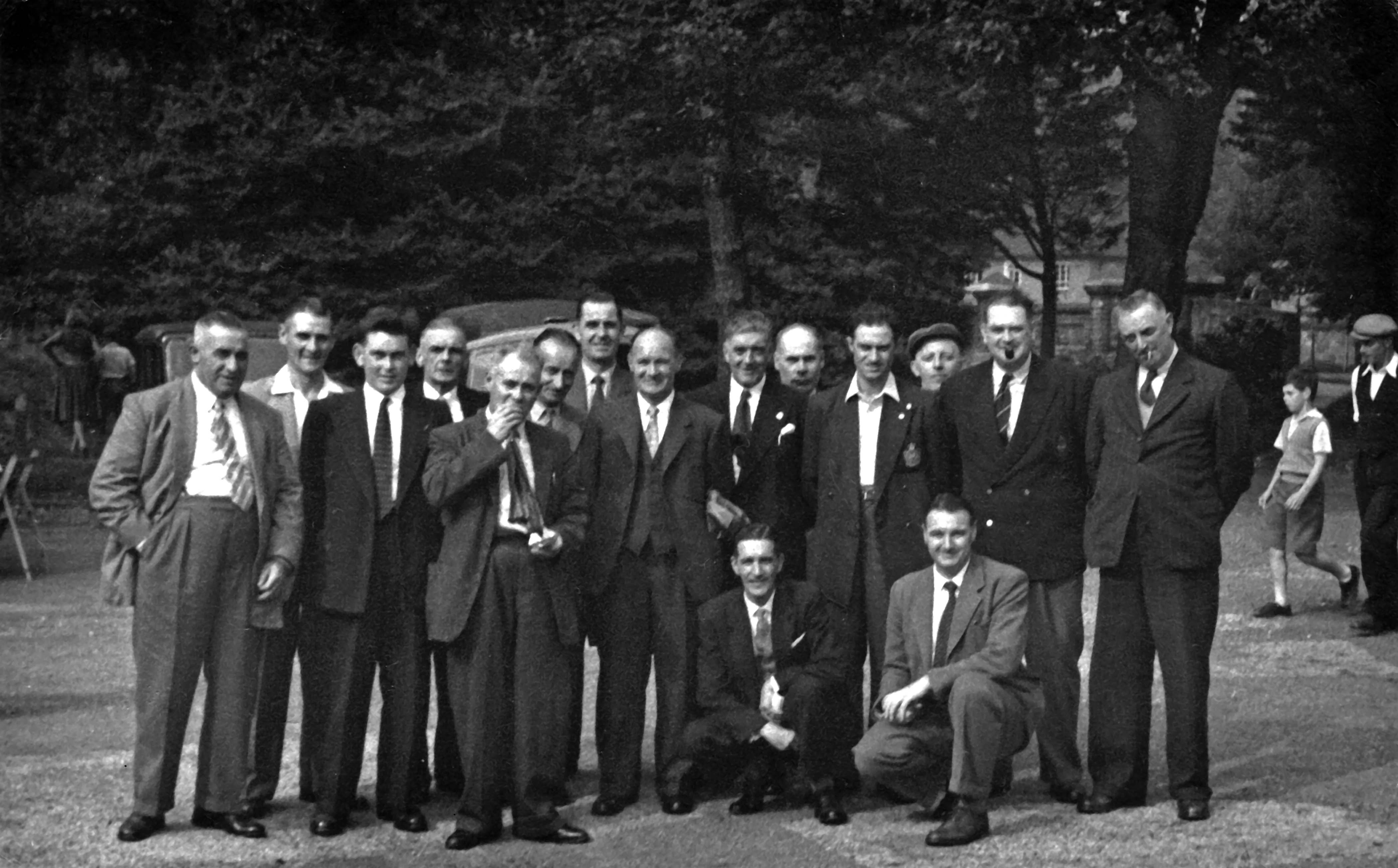 Here are two more photographs taken on the same occasion: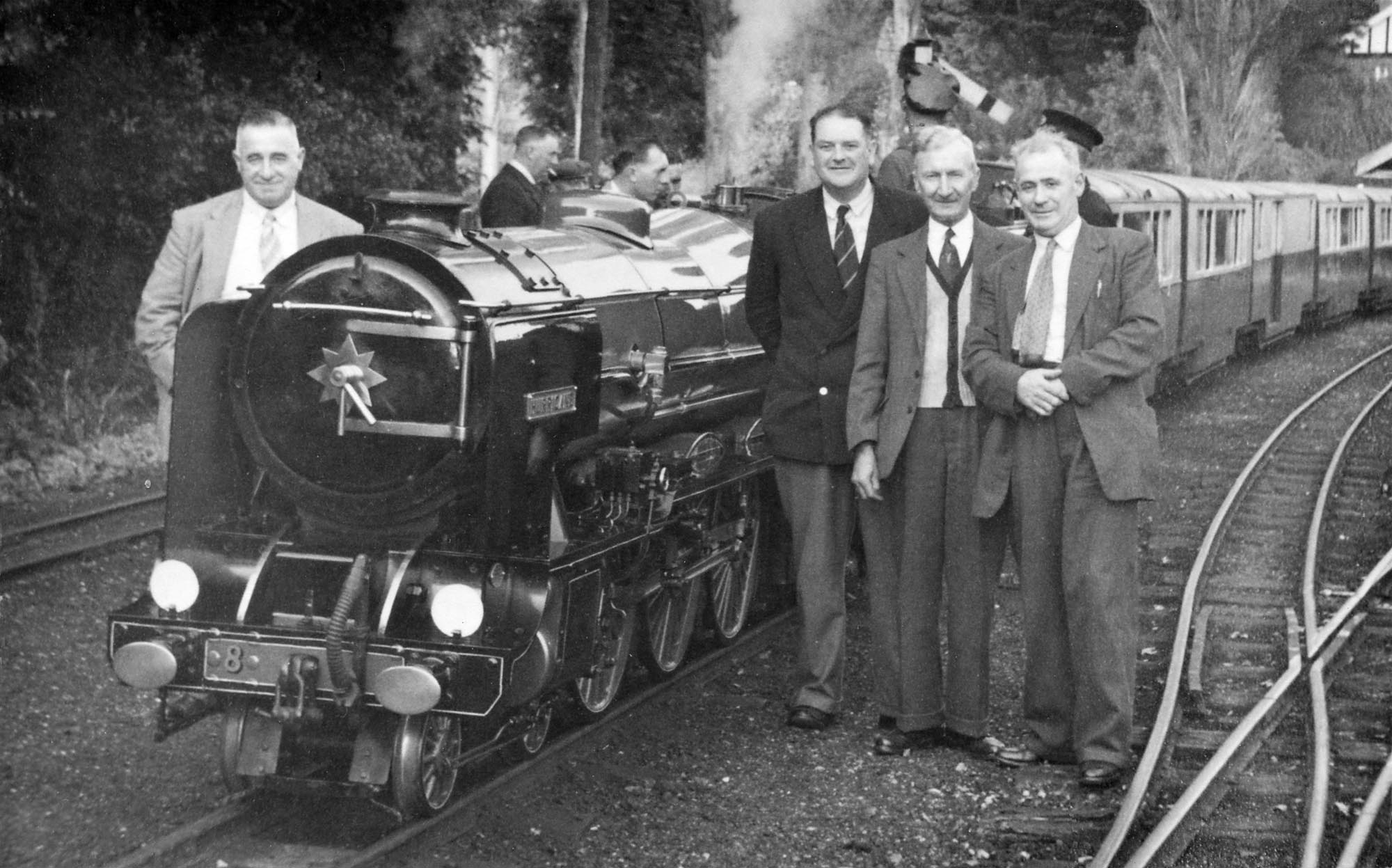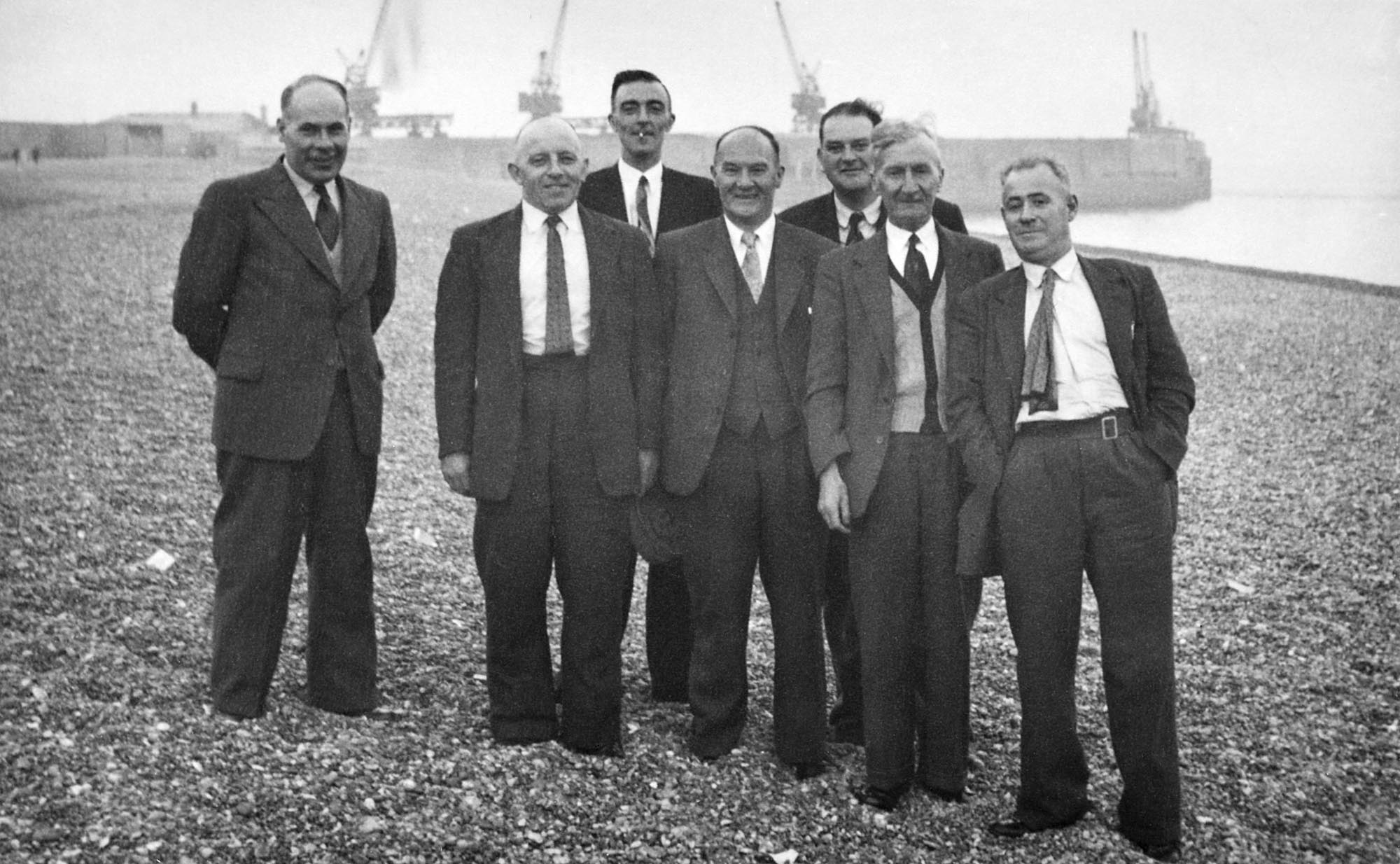 ---
As a footnote to John's description of the trip, an attraction for the Loco men would surely have been that five of the locomotives on the Romney, Hythe & Dymcurch Railway are, in outline, one-third scale versions of the express passenger Gresley-designed pacific locomotives which they drove on the main line or maintained in the shed.  The two locomotives which appear in the photographs above, RH&DR No. 7 Typhoon and No. 8 Hurricane, were the most nearly similar because they were built with a third, middle cylinder for express passenger services, just like the A1/A3 class at Grantham.  They were given their names, Typhoon and Hurricane, as expressions of speed and power.
The 13½ mile long RH&DR was built in the mid-1920s between Hythe and Dungeness in Kent by millionaire racing driver Captain Jack Howey and engineer Henry Greenly.  The chief designer of the East Coast Main Line pacific locomotives, Nigel Gresley, attended a private inauguration of the part-finished RH&DR on 5th August 1926, where he was photographed in the cab of No. 2 Northern Chief, with Howey and Greenly standing alongside.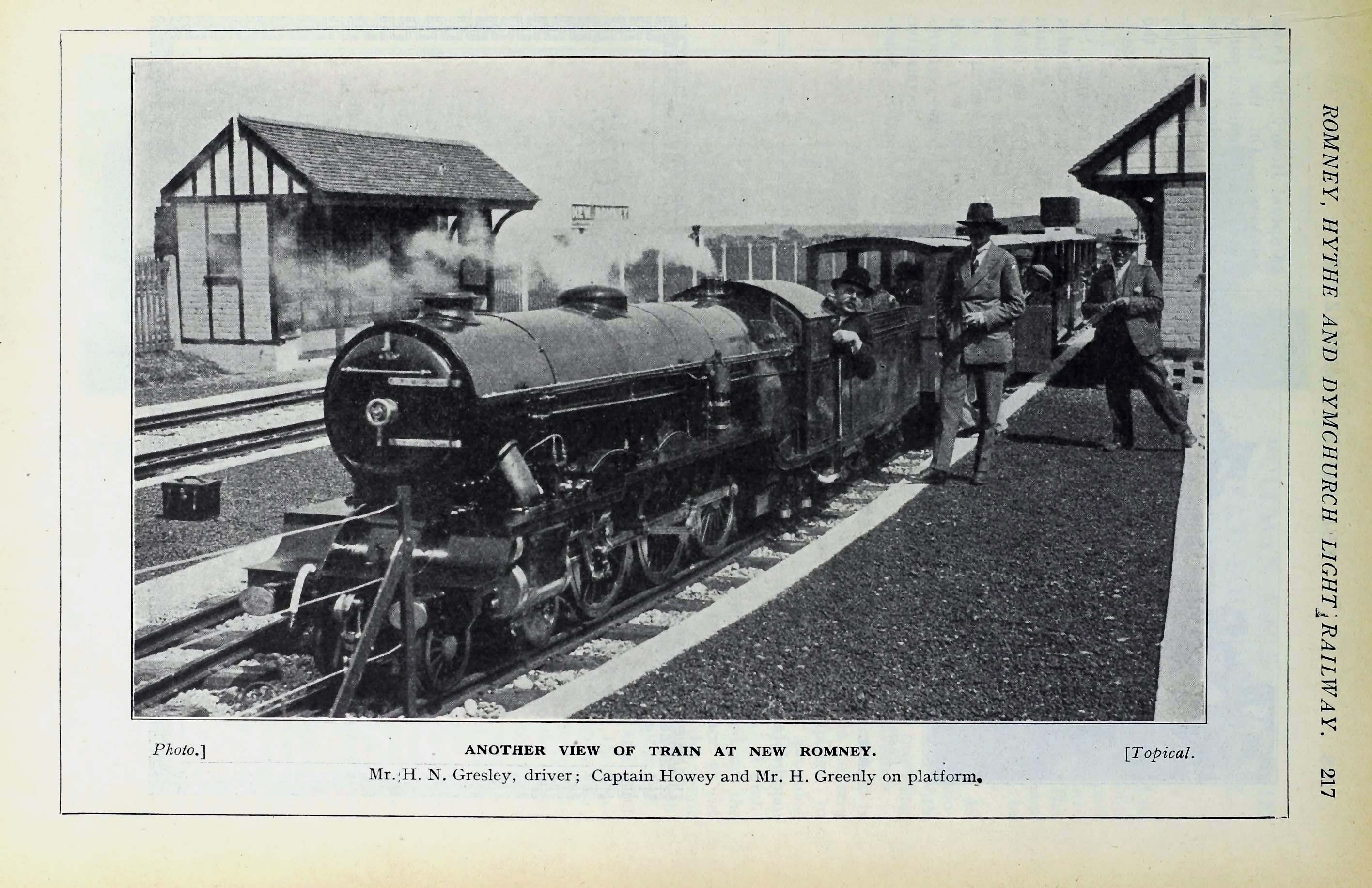 Two further locomotives, each with three cylinders, thus following even more closely the Gresley pattern, were on order at this time.  With an eye to publicity for his new 'minimum gauge railway' which was to open officially in July 1927, Captain Howey arranged with his friend Gresley for one of these engines, the brand new Typhoon, to be specially posed next to Flying Scotsman a few weeks beforehand, creating one of the all-time classic railway images.
Above: Newly completed 3-cylinder RH&DR No. 7 Typhoon and LNER class A1 No. 4472 Flying Scotsman at King's Cross 'top shed' in May 1927.  This angle shows that while the dimensional scale of Typhoon is one-third that of Flying Scotsman, the RH&DR track gauge is narrower than scale at just over one-quarter of the width of standard gauge.
By the time of the Grantham men's trip in 1959 the RH&DR locomotives Typhoon and Hurricane no longer had their middle cylinder.  Performance gains were more than offset by increased running costs due to inaccessible parts, and many breakdowns were experienced.  They were converted to the tried and tested two-cylinder configuration during the mid-1930s.
Captain Howey would have wanted the men from Grantham to see these two engines because of their association with his friend Sir Nigel Gresley, who had died in 1941: Typhoon which posed with Flying Scotsman in 1927 and Hurricane which carried an A4-type whistle presented by Gresley.
In April 2017, ninety years after the visit of RH&DR No. 7 to King's Cross, Typhoon and Flying Scotsman were reunited at the Bluebell Railway in Sussex.
---
With thanks to Laura Jacques of the RH&DR Heritage Group who identified the location of the photographs as Hythe station and has provided background information on the locomotives Typhoon and Hurricane.
The Romney, Hythe & Dymcurch Railway website is here.
---
Copyright note:  the article above is published with the appropriate permissions.  For information about copyright of the content of this website, Tracks through Grantham,  please read our Copyright page.
---