I have a few photos, of not terribly good quality, taken at 34F in '62 and '63 plus some taken just post closure in Sept '63 and a couple of steam in what remained of the yard in May '64. I'd be happy to scan them if they are of any interest.
So wrote Hylton Holt of Belper, Derbyshire.
Hylton has kindly encouraged us to share his photos.  The evocative atmosphere of Grantham Loco in its declining years and months comes over in the pictures.  They capture the excitement of 'unofficial' shed visits, with shots quickly grabbed when opportunity arose.  In such circumstances capturing the mood of the moment is more important than technical quality.  Today, of course, there's much that can be done using digital technology to get the best from pictures that may not, at first sight, appear particularly promising.
But first, here are Hylton's reflections on visiting Grantham – both back then and more recently.
I was a spotter from Coventry - but fortunately I had an aunt and uncle in Grantham. An early memory: I was taken to the shed yard at Grantham by my Dad and Uncle in the summer of '56. People in the town used to do that as an evening promenade. We were offered a footplate ride round the triangle. The loco had a rather open cab so I think it was probably a J6 or an O2. The crew talked about which television sets they owned - which seemed quite inapt to my 8-year-old ears.
We used to travel by bus from Coventry via Leicester. 'Midland Red' to Leicester and 'Lincoln Green' from there to Grantham. (It wasn't until years later that I found out quite how Croxton Kerrial was spelled and quite what Flying Childers was!)
A few years on and we stopped with my aunt and uncle for a week in April '62. Several visits to the shed were made with friends Dave Hawkins and Graham Roberts. Still a lot of steam action then. K3s were still coming up from Colwick. It's not until the 47s come in en masse in early '63 that brought about the end of steam on the GNR, though steam still got south of Peterborough 'til early '65.
Now this is real rivet counting but I do have a note, somewhere, of the water treatment plant Sludge Tender numbers…
In summer 1964, realising that it was all over at Grantham so far as steam was concerned, I put together an album of all the photos Dave, Graham and I had taken at 34F.  I wrote a caption for each of the photos.  Here are a couple of page openings from this treasured volume:
Pages 4 and 5.

On pages 36 and 37 are these two photos taken by Graham Roberts on 16th March 1963, just six months before the shed closed.
So glad that I made contact. I was concerned that on my demise these photos'd just be lost. I've also tried to throw in a bit of 'history' 'cos that'd be lost too. Did anyone know that those sidings were called 'Coronation'? We lose such 'history' at our peril. I, for instance, binned all of my diesel era notebooks during a house move. All those Summer Saturdays at New Street surrounded by Peaks, 47s, 50s, 31s, 37s and 25s – that's not even mentioning the massed ranks of 86s and 87s. You could spend years at New Street now and not see a single loco. All history.
I was at the Mallard 75 weekend at Grantham on 7th September last year. I'd already decided to go over for the 50th anniversary of the shed's closure and then the Mallard visit was added. Yes, a good day. I forced my chums to accompany me round The Brambles, the estate that was finally built on the shed site. ECML staff at the station were charming, "Have you got all the leaflets gentlemen?" and I thanked them for their evident enthusiasm. Me and my chums lunched in The Angel & Royal - I always try and do that as it was "not for the likes o'you" when a child. A family group of 'normals' asked, "Have you come for the train?" And me without so much as a multi coloured ball point about me! And a group of non-gricer people of both genders discussed Deltic names. Nice feeling.
_______________________________________________________________________________________
Wednesday 25th April 1962
_________________________________________________________________________
Thursday 26th April 1962
_________________________________________________________________________
Saturday 28th April 1962
_________________________________________________________________________
Sunday 29th April 1962
________________________________________________________________________
Saturday 16th March 1963
________________________________________________________________________
 Sunday 22nd September 1963
This sequence of pictures is a record of the deserted shed three weeks after it closed.  The infrastructure remained intact, and these photographs reveal details of the buildings which were seldom glimpsed when locomotives and wagons occupied the tracks around them.
_________________________________________________________________________
Saturday 9th May 1964 (morning)
_________________________________________________________________________
Saturday 9th May 1964 (afternoon)
We decided to go in search of Grantham's former Class A3 Pacifics, some of which had moved to New England shed, north of Peterborough, after Grantham shed closed in September 1963.  These were the engines which had most recently benefitted from a works overhaul and were not yet ready to join the procession to the scrapyard.  They were mainly kept on standby duty for the main line in case of diesel locomotive failure.
No. 60065 Knight of Thistle
Built in 1924 as No. 2564, this locomotive was largely based in Scotland until 1950, when it spent a just over a year at King's Cross before becoming based at Grantham for most of the period between September 1951 and September 1963.
No. 60106 Flying Fox
More about the celebrated locomotive Flying Fox
Originally numbered 4475 by the LNER and based at at King's Cross from new in 1923 until 1940, Flying Fox became one of the most celebrated of the Gresley Class A1 (later A3) locomotives when, in 1927, it was selected to haul the inaugural run of a new and much-publicised non-stop service between London and Newcastle.
An extract from the LNER Magazine of August 1927:
KING'S CROSS TO NEWCASTLE;
THE L.N.E.R. RECORD NON-STOP RUN.
On July 11 1927 the L.N.E.R. made history by inaugurating a non-stop service between King's Cross and Newcastle — the longest non-stop railway run in the world. This new non-stop train will form an advance portion of the famous Flying Scotsman. It will run on Monday, Thursday, Friday and Saturday of each week during the period that summer train services are in force, and is booked to leave King's Cross at 9.50 a.m. and to cover the 268 miles from London to Newcastle in 5½ hours.
Five Pacific engines will take turns in performing the run, three from King's Cross Shed and two from Gateshead.
KING'S CROSS
Locomotives:
No.4475 Flying Fox; No.4474 Victor Wild; No.2552 Sansovino
Crews:
Driver A. Pibworth, Fireman H. Mutton; Driver B. Glasgow, Fireman H. Marriatt; Driver W. Prior, Fireman J. Andrews.
To Driver Pibworth and Fireman Mutton fell the honour of making the initial run with the Flying Fox engine.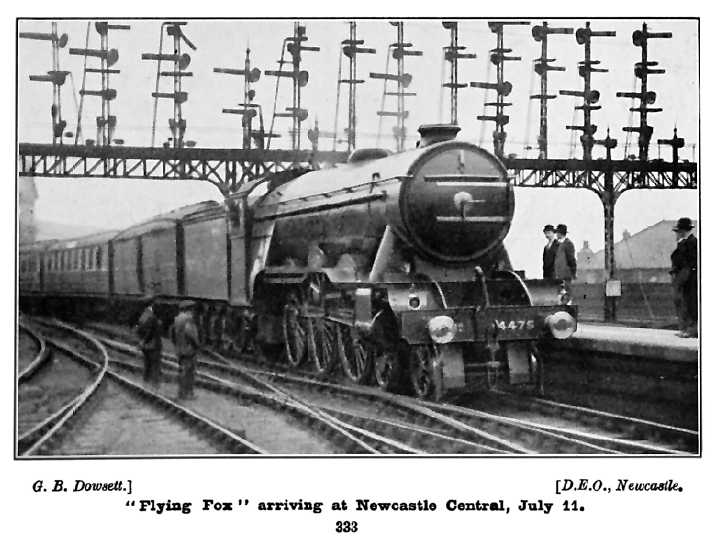 [The above extract and photographs from The LNER Magazine are used with acknowledgement to the LNER as publisher and with kind permission from the Great Eastern Railway Society. The Society has funded and organised the magazine's digitisation. The digital copy is highly recommended and can be ordered as a 2-DVD set here.]
By late in 1947 Flying Fox had become LNER No.106 and was a Grantham locomotive.   Again renumbered upon railway nationalisation in 1948 to 60106, it spent most of its operational career with British Railways based at Grantham.  On the closure of Grantham shed in September 1963 Flying Fox moved to New England, Peterborough as one of the dwindling number of serviceable A3s.  By the time it was taken out of service, on Boxing Day 1964 with more than 41 years on the East Coast Main Line under its belt, No.60106 had attained the highest recorded mileage of any A3 - and possibly of any main line steam locomotive - at 2,642,860 miles.
No. 60112 St Simon
This locomotive was based at Grantham from 1959 until 1963, but it spent most of its 41-year long career working from the sheds at Doncaster and at Copley Hill in Leeds.
---
Back to Spotters' Corner
---
Copyright note:  the article above is published with the appropriate permissions.  For information about copyright of the content of Tracks through Grantham please read our Copyright page
---