by John Clayson
This is the story of the men who performed the demanding role of stationmaster at Grantham from the 1850s until the 1960s.  We will try to fill out their biographies with information about their careers on the railway and, where possible, with accounts from people who knew them.
The stationmaster was responsible for the management of the passenger station and its staff, for accounting for all cash received and the correctness of the stock of tickets, and for the safe and efficient operation of the railway in Grantham.  His 'boss' was the District Superintendent, though that job title changed after the railways were nationalised in 1948.
Through their Chief Clerk, the stationmaster directly supervised his immediate office, including the booking office clerks and telegraph clerks.
The stationmaster was supported by the station inspectors, and as a team they supervised the work of the staff on the platforms such as the ticket collectors, the porters, the station announcers, the carriage cleaners and the refreshment room staff.
Alongside the stationmaster was the role of Goods Agent, responsible for managing the goods shed and yards including townsmen (local salesmen) and delivery drivers.  The Goods Agent at Grantham was normally a separate post, but sometimes the stationmaster acted in that capacity too.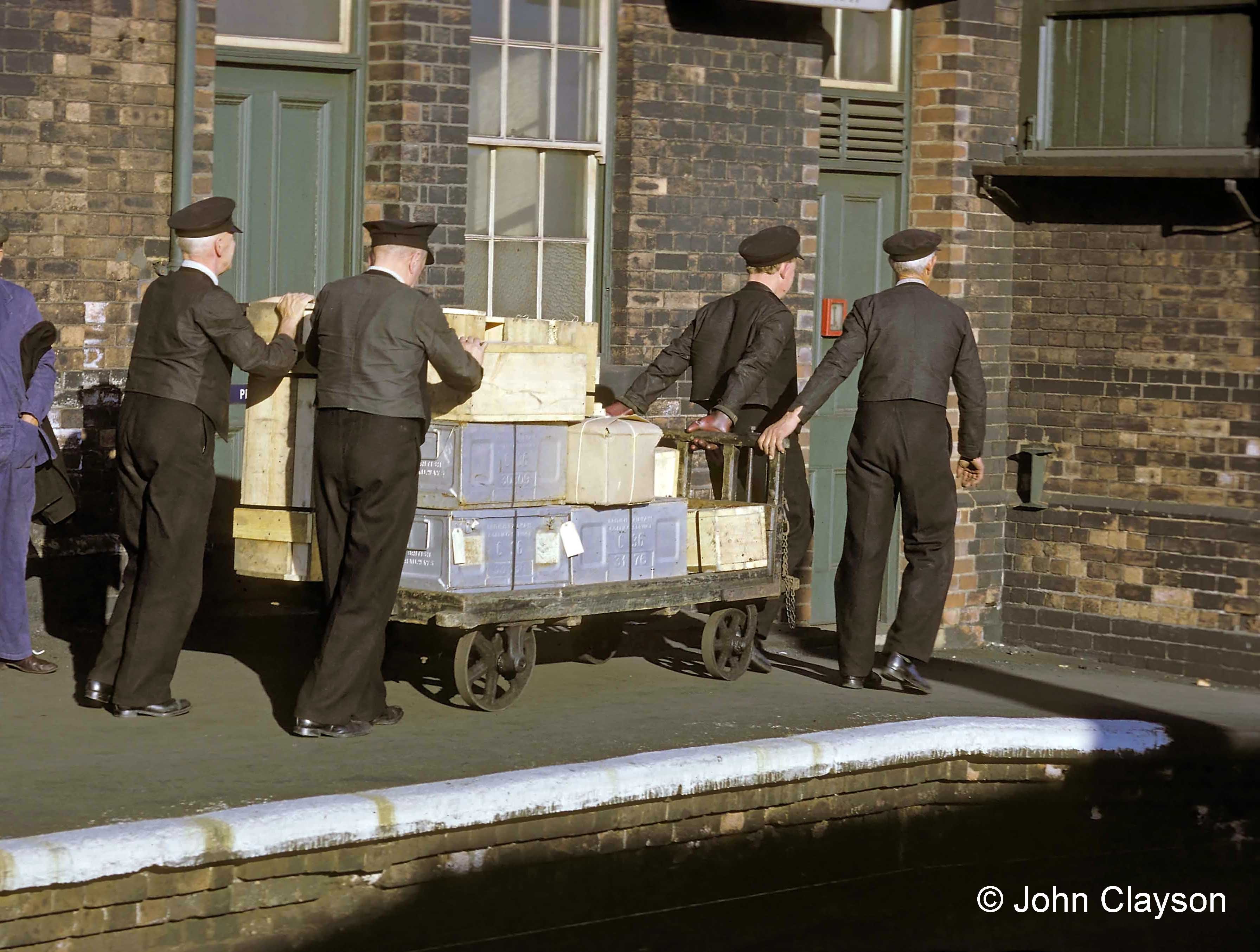 The stationmaster's oversight did not extend to the work of the engineering departments - such as platelayers, signals & telegraph maintenance staff and, most significantly at Grantham, the 'Loco'.  Its clerical and maintenance staff and locomotive crews were answerable to the Loco Superintendent.
The railway police acted in an independent supporting role across the railway 'estate', principally to prevent and detect theft or fraud, but also to deal with matters such as trespass.
For more about the stationmaster's responsibilities and duties see the report, below, of Stationmaster Harold Gardner's talk to the Rotary Club of Grantham in 1938.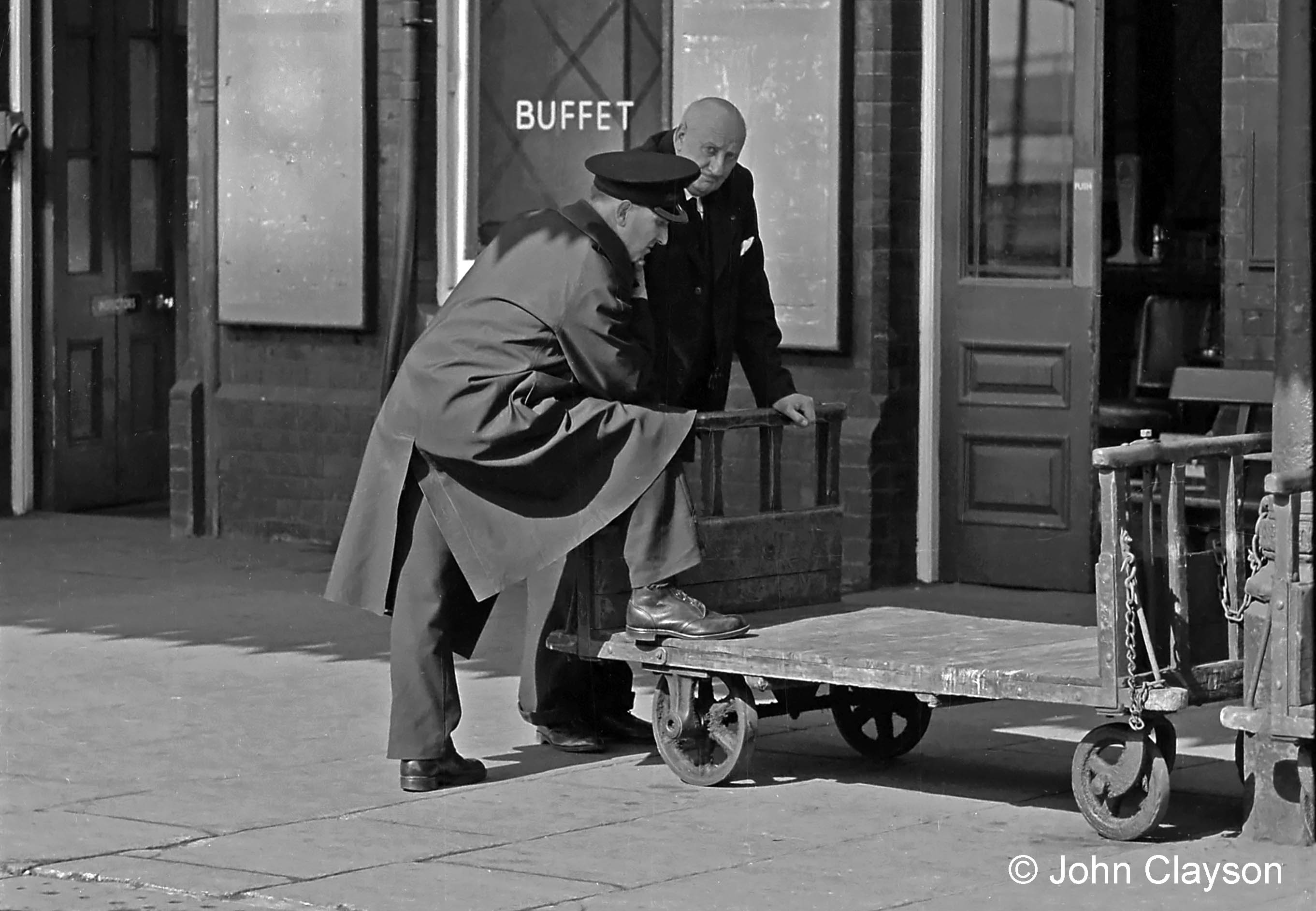 The role of the stationmaster extended beyond the railway and into the life of the town.  The stationmaster was the railway company's leading representative and, in line with the importance of the railway in Grantham, many stationmasters became well-known, well-connected and respected figures.  Several were active in local social and charitable organisations, sometimes taking prominent roles alongside the mayor, senior clerics and other leading citizens.
Few Grantham stationmasters were 'locals'.  On the railway it was expected that employees seeking advancement to a more responsible managerial position would move to broaden their experience.  So stationmasters were normally promoted from another location to Grantham as their career in railway management blossomed.  Between 1878 and 1947 only one stationmaster, out of nine appointments made, was already working at at Grantham station at the time of their appointment.  Some stationmasters moved on, after a few years, to a more senior position elsewhere; others stayed at Grantham until their retirement.
The railway provided the stationmaster and his family with a detached house at No. 8 Station Road, sometimes known as 'The Poplars'.  It still stands today.
We have researched the holders of the post of Stationmaster at Grantham mainly from the pages of The Grantham Journal newspaper and the LNER Magazine.  So far, we know little of the careers of the earliest stationmasters, in the 1850s to 1870s, because their mentions in the newspaper are very brief.  There may well be others whom we have yet to discover.  Towards the end of this period the influence of the railway grew, and at the same time the role of the newspaper in the town's life extended.  We find that from about 1880 there is much more coverage of railway 'news'.
In the mid-1960s British Rail adopted a new management structure in which the role of the stationmaster was abolished.  The new post of 'Station Manager' would not be tied to a specific location.  There would no longer be a single individual assigned to supervise every aspect of a station's operation with authority over all staff based there.  The 'Station Inspectors' became 'Station Supervisors'.  Subsequent reorganisations (notably 'sectorisation' in 1982 and 'privatisation' in 1994-97) make it difficult to identify the management of Grantham station with a single individual, so we have decided that 'this page will terminate' in the mid-1960s with the abolition of the stationmaster.
Like much of Tracks through Grantham this page is a 'work in progress'.  We'll be very grateful for additional biographical information about Grantham's 14 or so stationmasters.
Grantham Stationmasters: a Timeline
---
William Geary Linnell
Clerk in charge: December 1852 (1851 census: Railway Goods Agent at Hull)
---
Mr Ashley
Period as Stationmaster:  until April 1859
---
Mr Twelvetrees
Period as Stationmaster:  from April 1859
---
Mr Owen
Period as Stationmaster:  from December 1861
---
Mr Walker
Period as Stationmaster:  July 1869
---
James Ford
Period as Stationmaster: from before August 1870 until after July 1875
---
Joseph Bellamy (1840-1882)

Period as Stationmaster: from c.1878 until 1st April 1882
Born at Yaxley, near Peterborough, Joseph Bellamy spent his early career at the southern end of the Great Northern Railway.  He was stationmaster at Hatfield before coming to Grantham.
Four years after arriving at Grantham Joseph Bellamy caught a chest infection while on duty.  Over a period of just a few days it developed into a serious condition which resulted in his death.  He was 41 years of age and left a widow and seven children.  The report (below) in the local newspaper includes a summary of his career and the mention that his family would be left 'almost entirely unprovided for', a situation all too common in those days.  A fundraising committee was brought together to encourage public donations in aid of the family.

---
Charles William Wood (1838-1907)

Period as Stationmaster: from before 30th June 1882 until 30th June 1901
In the 1891 census Mr Wood's son, Albert O. Wood, is listed as Deputy Stationmaster.  By 1893 Albert was stationmaster at Bourne.
In October 1893 Mr Wood began the first Ambulance (First Aid) Classes for railway staff at Grantham.  Below is a part of a report of the presentation of certificates to the 39 men who passed the examination.  The ceremony, held at the Guildhall on 17th January 1894, was chaired by Charles Wood and the certificates were presented by the Mayor of Grantham.

In February 1895 there were 380 people employed on the railway at Grantham station.
Charles Wood retired at the end of June 1901.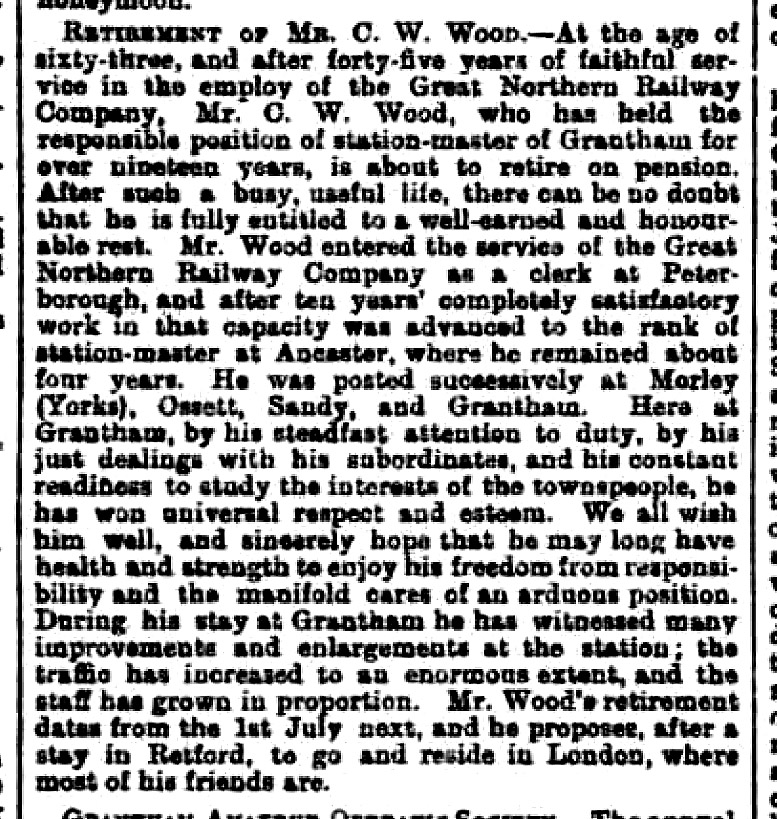 ---
Arthur Joseph Pott (c. 1857-1932)

Period as Stationmaster: from July 1902 until July 1912
Mr Pott was promoted to Grantham from Newark.

In September 1906 Arthur Pott was suddenly faced with one of the most harrowing episodes experienced by any Grantham stationmaster.  A few minutes after 11pm on the night of 19th September the night mail and sleeper train failed to stop in the station as scheduled.   Immediately north of the station it left the rails at high speed.  The railway staff at Grantham responded immediately, putting into practice the Ambulance (First Aid) training they had been receiving, but before many of the injured or trapped could be rescued some of the wreckage caught fire.  There were multiple fatalities and many serious injuries.
The task of recovering casualties and clearing the line was followed, in the ensuing weeks, by the inquests and a searching official enquiry as to the cause of the accident.  No blame for the accident was attributed to anyone on duty at Grantham station that night, but the memory of it stayed with the witnesses, and especially with those who attempted to rescue the injured, for the rest of their lives.
There is more about the Grantham accident of 1906 on 'Tracks through Grantham' here, and see also our lists of books and articles here.
Mr Pott resigned in July 1912 due to failing health.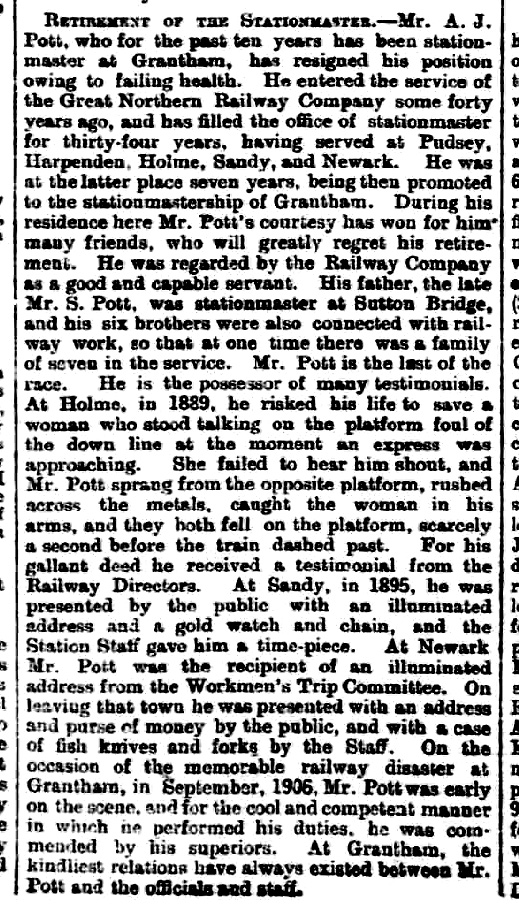 ---
Ernest Horatio Essame (1871-1966)

Period as Stationmaster: from July 1912 until September 1917
Essame is pronounced 'E-some' we think, but comments are welcome.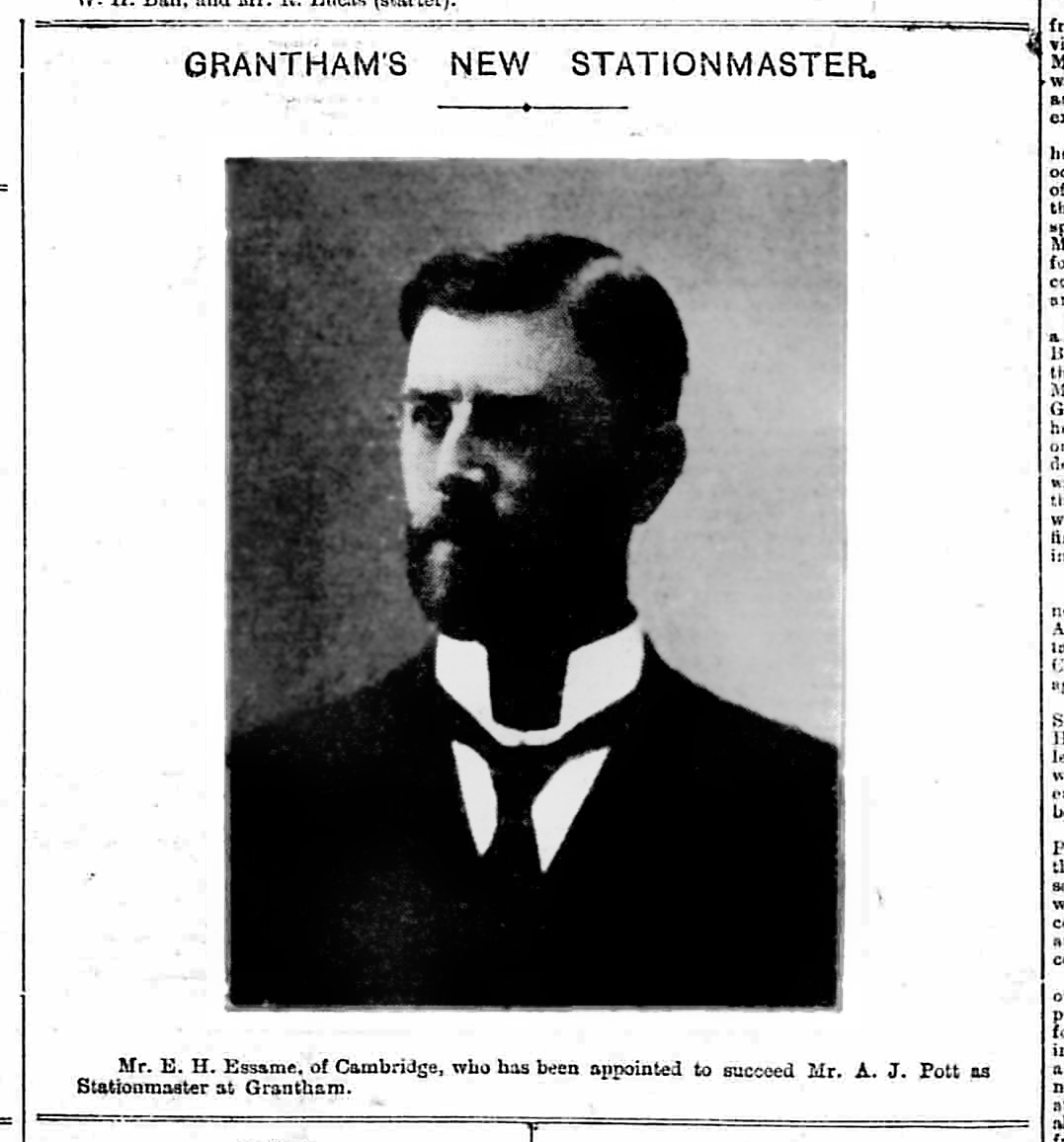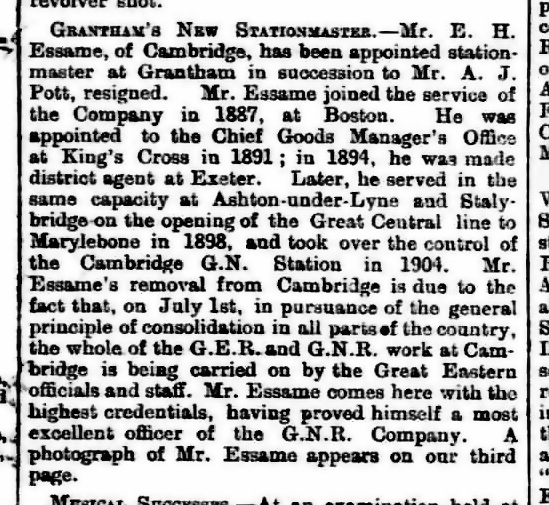 Stationmaster Essame left Grantham in September 1917, having been promoted to a position as the GNR's representative in Hull.  From there he went to Leeds and he retired in 1934.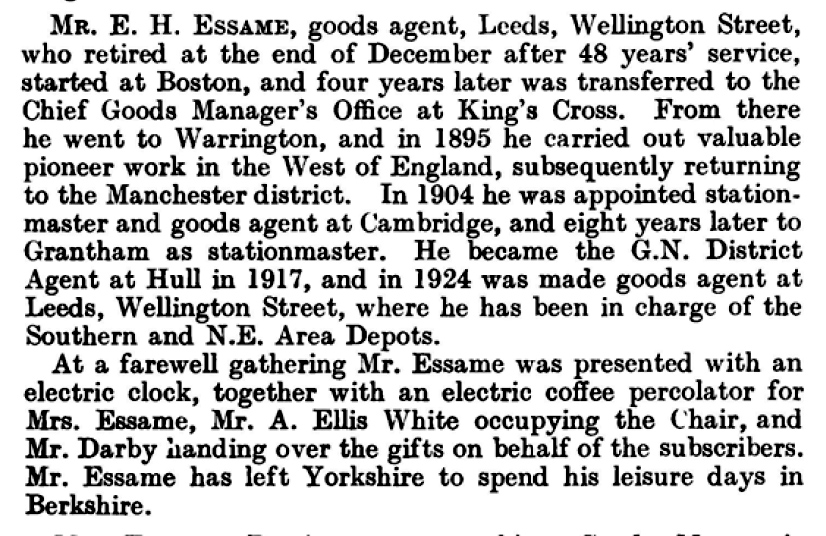 ---
William Bradley (1865-1926)
Period as Stationmaster: from November 1917 until 31st March 1925
Very little appeared about William Bradley while he was in office.  He retired from his post as Grantham's stationmaster but sadly he did not enjoy a long retirement.  The notice of his death in Scarborough only a year and a half later includes the only information about his career we have found so far.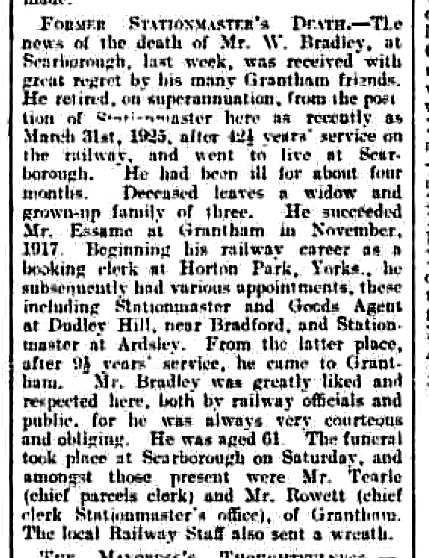 ---
Harry Dennick (1872-1946)
Period as Stationmaster: from April or May 1925 until 14th December 1930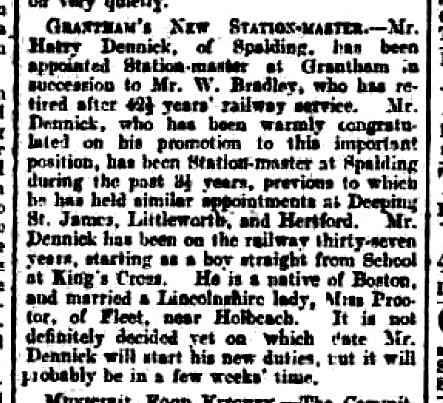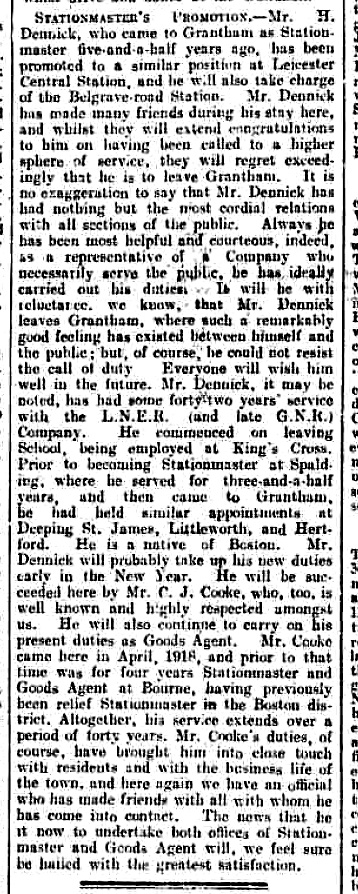 Harry Dennick retired as stationmaster at Leicester Central on 12th June 1937.
---
Charles John Cooke (1873-1957)

Period as Stationmaster: from 15th December 1930 until 9th April 1938
Mr Cooke was the only Grantham stationmaster we can trace who was promoted to the post while already working at Grantham, as Goods Agent.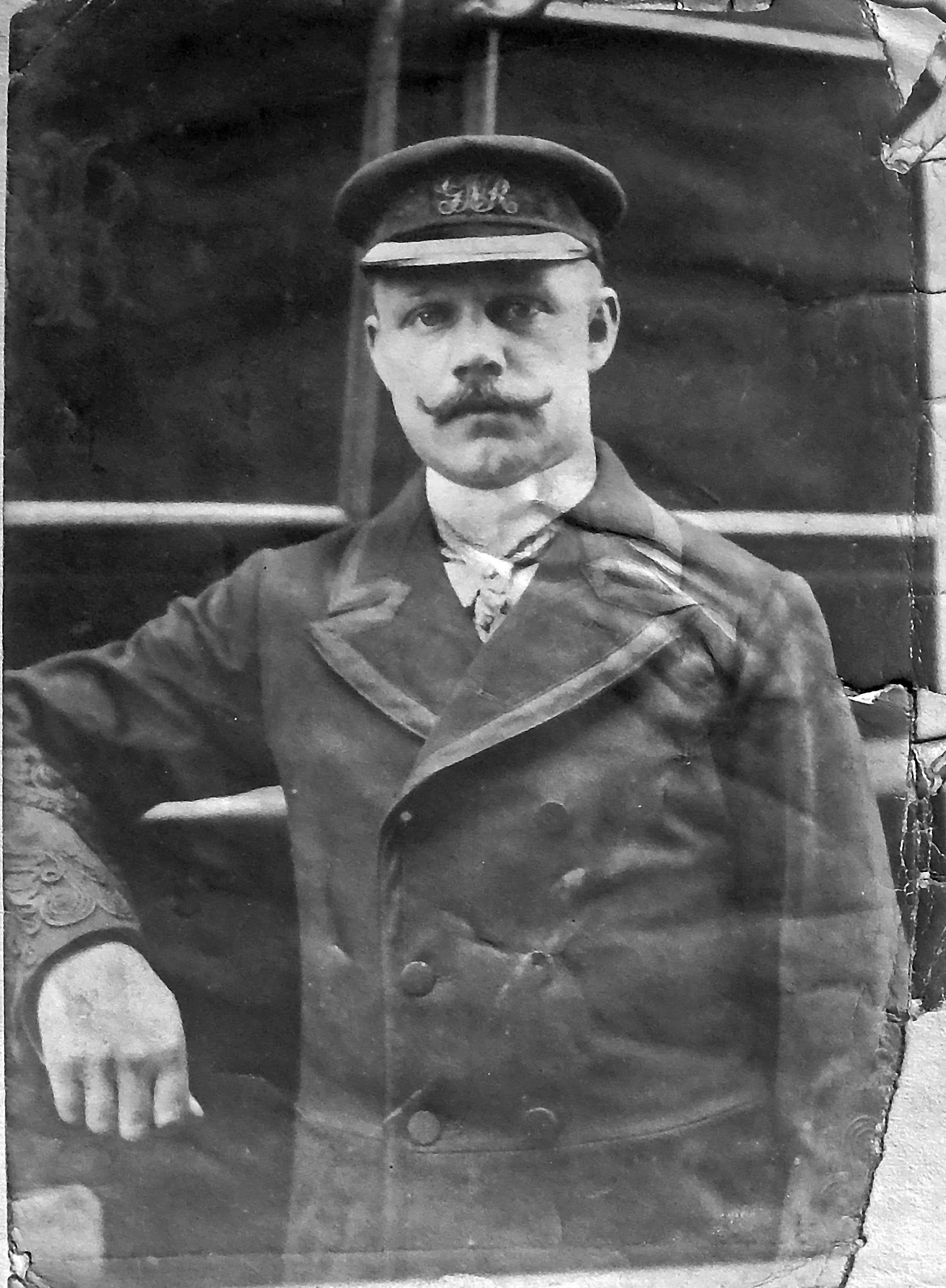 There is a photograph of Charles Cooke with the station clerical staff, taken to mark his retirement, here.
---
Harold Gardner (b. 1891)
Period as Stationmaster: from 10th April 1938 until 31st December 1946

The work of the Stationmaster at Grantham was described by Harold Gardner to the Rotary Club of Grantham.  He explains that there is more in the job than merely wearing a gold-braided hat and "watching the trains go by."

Harold Gardner was President of the Rotary Club of Grantham in 1942-43.
Mr Gardner appears to have been transferred to London Marylebone as stationmaster for a short period from February 1944 to cover a vacancy there.
Harold Gardner left Grantham to take up the post of Goods Agent at Nottingham from 1st January 1947.
---
G. Whitfield
Period as Assistant and Acting Stationmaster: 1943-45
---
Ernest Cecil Geeson (1893-c.1974)

Period as Acting Stationmaster: from 1st January 1947, probably until 23rd June 1947
---
Harold Scampion (1898-1977)

Period as Stationmaster: from 23rd June 1947 until 24th October 1963
Harold Scampion was born and grew up in Doncaster.  From the 1911 census we learn that he was the second of four sons of railway Goods Guard John William Scampion and his wife Dora.  His father had been born at Littleworth, (Deeping St. Nicholas), Lincs.  In 1911 Harold's older brother, Albert, was employed as an 'Apprentice Fitter & Turner, Railway Engine Works'.
In the first paragraph of his Early Recollections of Working on the Railway John Pegg remembers his encounter with Stationmaster Scampion on his first day as a Lad Messenger.
Humphey Platts knew Harold Scampion well and kindly sent these memories:
I was introduced to Harold Scampion by my boss at the Bjorlow tannery in Grantham. Every summer invitations went out to prominent people of the town to attend a social and bowls match on the bowling green beside the tannery in Earlesfield Lane. Harold Scampion would be there and my picture - below - shows him relaxing with Jack Harris, who ran his haulage business from premises on the north side of Harlaxton Road adjacent to the railway bridge (now the site of a petrol filling station and a builders' merchant).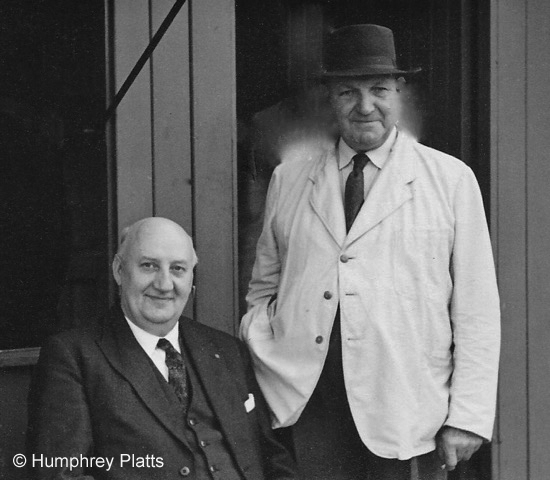 Even when off duty Harold was always immaculately dressed in his dark suit. He is wearing his badge as a member of the Rotary Club of Grantham of which he was elected President for the year 1959-60.
At some time in the late 1950s Harold arranged for the Rev. Dennis Russell, Vicar of Belton, Manthorpe, and Londonthorpe, to travel on the footplate of a locomotive from Grantham to Newcastle and back.  Also, knowing my interest, he later made arrangements for me to do the same!  The engine was Grantham A3 No. 60105 Victor Wild driven by Ernie Jubb with fireman Lindley and an Inspector whose name I did not record.  For the return run we had A1 No. 60129 which was unnamed at the time. The Grantham crew did not like this engine from a NE Region shed!  I remember it was a rougher ride than the A3.  The coal was very dusty and I needed two baths to clean up after the trip!  I have always felt most indebted to Harold Scampion for this great kindness, which I am sure was typical of a good friend and railwayman.  What memories for a railway enthusiast like me!
My wife, Diana, also has fond memories of Stationmaster Scampion.  If she was travelling to London with our two young daughters he would be on the platform to see them safely on the train.  He made sure that she was met at King's Cross by a porter to help with the family luggage and see her on a taxi to Waterloo Station for her onward train to the New Forest, where my parents lived.
Here is coverage of Harold Scampion's retirement from The Grantham Journal, Friday 25th October 1963, page 12:
Grantham stationmaster retired last night after 51 years' railway service

This morning 65-years-old Mr. Harold Scampion, Grantham stationmaster since 1947, will wake up with time to read a book, with more time to spend with his wife and with no timetable – this is how he sees himself after retirement, at midnight last night, from the railway service after 51 years, 35 of them as a stationmaster.

"My plans are nil," he told a Journal reporter.  "I will do things I haven't had time for in recent years - read a book, spend more time with my wife.  I can spend hours leaning on a five-barred gate simply enjoying rural surroundings."

Mr. and Mrs. Scampion are to move from 'The Poplars', Station-road, Grantham, to make their home in a bungalow at Harlaxton.

A native of Doncaster, he left school there at 13.  His first job was as a junior clerk in a Doncaster solicitor's office for a few months.  He left to become a learner clerk on the railway in 1912 at Conisborough, Yorkshire. He transferred to the district superintendent's office at Doncaster in 1913 and in the First World War served first in the infantry and later as an accountant in the railway operations division [sic. – should be Railway Operating Division (ROD)] of the Royal Engineers in Italy.

After the war he returned to Doncaster.  He was drafted to Marylebone, London, in 1922, and in the following year returned to Doncaster – back to the traffic superintendent's office.

In 1928 he moved to Honington to become a stationmaster, and in 1931 he took over Caythorpe station as well.  Then in 1934 he took over Barnby Dun station in Yorkshire.  His next transfer was to New Southgate, London, in 1941, and two years later he became stationmaster at Welwyn Garden City.

On June 30th 1947, he became stationmaster at Grantham. During his time here he saw the passing of the steam era at his station, just a few weeks ago.

In 1959 he was appointed President of Grantham Rotary Club.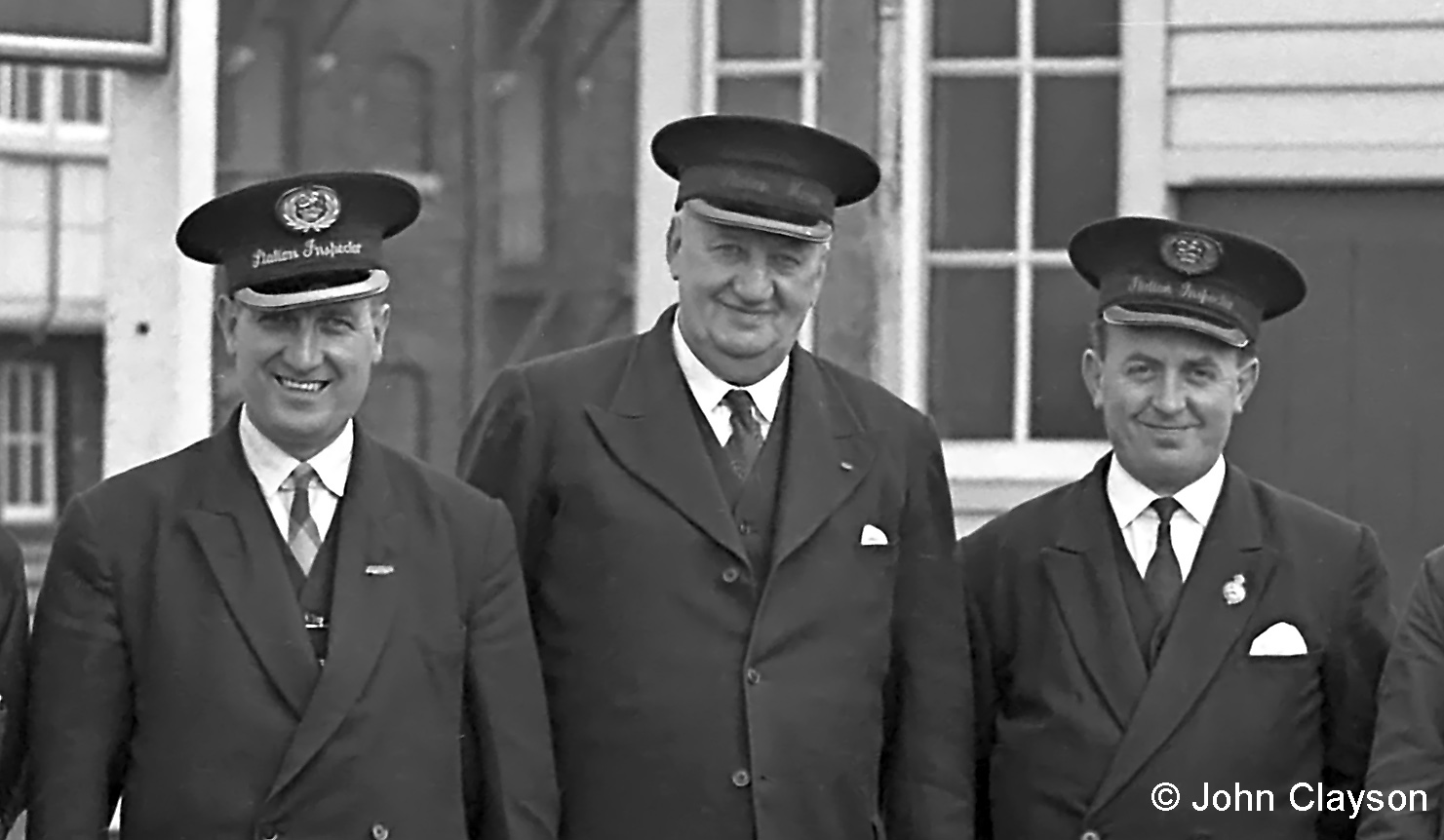 ---
F.O. Arkwright
King's Cross relief stationmaster in charge at Grantham from 25th October 1963 until later in 1963, and also in April 1965.
---
Alick Leonard Arnold
Period as Stationmaster: from late 1963 for a short period until summoned to a position in London.
Mr Arnold was promoted from yardmaster at New England, Peterborough.  Aged 32, he served in East Anglia until appointed to King's Cross in 1957.  Later he was the goods agent's assistant at Boston before moving to Fletton in 1961 and to New England in 1962.
---
L. Hawkins
Stationmaster at Grantham in September 1965.
---
Alec Bruce Wise
Period as Station Manager: October 1965 until January 1969
GRANTHAM'S FIRST "STATION MANAGER"
Replacing the customary stationmaster, Grantham's first "station manager" is 31- years-old Mr. Alec Bruce Wise. who started his railway career at Harrogate ln 1950, and who comes to the borough from Sunderland, where he was appointed assistant goods agent last year.
The appointment of Mr. Wise as "station manager" at Grantham—a position which has only recently been introduced to British Rail—will mean that he is solely responsible for the running of the station and all depots, and not as in the past, when the stationmaster has been in charge only of the station as the public know it—the platforms and offices.  Mr. Wise is married, with two children.
(from The Grantham Journal 8th October 1965, page 1)
---
Alan Pattinson
Period as Relief Station Manager November 1969
Peter Millett
Period as Assistant Station Manager: June & November 1969
---
---
Copyright note:  the article above is published with the appropriate permissions.  For information about copyright of the content of Tracks through Grantham please read our Copyright page.
---