Step onto the footplate of one of Grantham Loco's A4 streamlined Pacifics with Driver Jim Marshall and his mate, Fireman Jack Pickard, as they take us on a non-stop 163-mile trip to Tyneside.  After an hour's break we join them on an A3 to travel home, this time with stops at Darlington and York.
First, there's an account written by Jack Pickard ('J. P. P.') which appeared in the Locomotive Express for June 1950.  Then we meet the men and their locomotives.
It's the morning of Wednesday 22nd March 1950...
---
The Footplatemen
(in order of appearance, as they say)
Jack Pickard or 'J. P. P.' - the writer
Known as Jack, John P. Pickard was born in Brentford, Middlesex in 1920.  By the age of 19 he was a loco fireman living in the King's Cross area of London.  He must have transferred to Grantham Loco during the 1940s, and in the late 1940s/early 1950s he appears to have been Driver Jim Marshall's regular mate.  He must have been a bit of a gardener because In November in 1954 he received a 'Highly Commended' award in the Grantham Town Council gardens competition.  Jack left Grantham later, but he lived to the age of 91 at Stanford-le-Hope, near Grays in Essex. 
James 'Jim' Marshall
Jim was born in Horncastle, Lincolnshire in January 1889, so he was 61 at the time of this trip.  In 1911 he was living in Netherfield, Nottingham, in a boarding house with several other young railway workers, and he worked as an engine cleaner at Colwick shed.  Jim transferred to Grantham Loco in 1932 and by 1939 he was a Driver.  He retired on reaching the age of 65 early in 1954.
From the press cutting below, from November 1951, we see that he and Jack Pickard were among three sets of men from Grantham Loco who had recently crewed trains that carried the Duke of Edinburgh from London to Newcastle and back.
Walter and Stan Jarvis
It was not unusual on the railway for a son to follow his father through the footplate grades at the same shed, but it was rare for them to work together as regular 'mates' - driver and fireman.   The Grantham Journal featured Walter and Stan on their front page in October 1948 in an extended article which ends by listing all the men in Grantham Loco's top link, 'The No.1 Express Link', who shared in running The Flying Scotsman between London and Newcastle.
From its formation in 1945 until the early 1950s Walter Jarvis was the secretary of Grantham's Pig Club.  Pig Clubs were a wartime and post-war government initiative to promote the purchase of pigs which were kept in local communities, consuming everyone's kitchen waste and providing meat when it was in short supply.
On Tuesday 30th September 1952, a few months after his retirement, Walter Jarvis travelled to the BBC studio in Lincoln to take part in a live telephone hook-up with  'the other Grantham' in Queensland, Australia.  (No Skype or Zoom back then!)
---
The Locomotives
(also in order of appearance)
2.  No. 60148
The Peppercorn Class A1 locomotive that hauled The Flying Scotsman from London King's Cross to Grantham, crewed by Driver Walter Jarvis and Fireman Stan Jarvis of Grantham Loco.
No. 60148 was delivered new to Grantham in May 1949.  At the time of this trip it had not been named (it received the name Aboyeur in January 1951) and it was painted apple green.  In fact it appeared just like the new A1 No. 60163 Tornado did when it was completed in 2008.  Except for an initial few weeks at Doncaster, No. 60148 was only ever based at either Grantham Loco or King's Cross shed.
The Queen of Scots Pullman train is northbound at Wymondley, near Hitchin, on a sunny day in March 1961 in the charge of Peppercorn A1 pacific No. 60148 Aboyeur.
[A. E. 'Dusty' Durrant / Mike Morant collection]
Mike Morant's photograph collection can be visited by left clicking on the image.
1.  No. 60030 Golden Fleece (previously numbered 4495, 597 and 30)
A Gresley Class A4 locomotive which hauled The Flying Scotsman from Grantham to Newcastle, crewed by Driver Jim Marshall and Fireman Jack Pickard of Grantham Loco.
Built in 1937, Golden Fleece was one of two A4s assigned to the new West Riding Limited high speed service from Leeds and Bradford to London.  At the time of this trip it was painted in the short-lived British Railways express locomotive blue livery.  Except for an initial few weeks at Doncaster, No. 60030 was also only ever based at either Grantham Loco or King's Cross shed.
Garter blue liveried LNER Gresley A4 pacific No. 4495 Golden Fleece is in charge of the up West Riding Limited at Tallington, north of Peterborough, on Tuesday 21st June 1938.
[J. H. Venn / Mike Morant collection]
Mike Morant's photograph collection can be visited by left clicking on the image.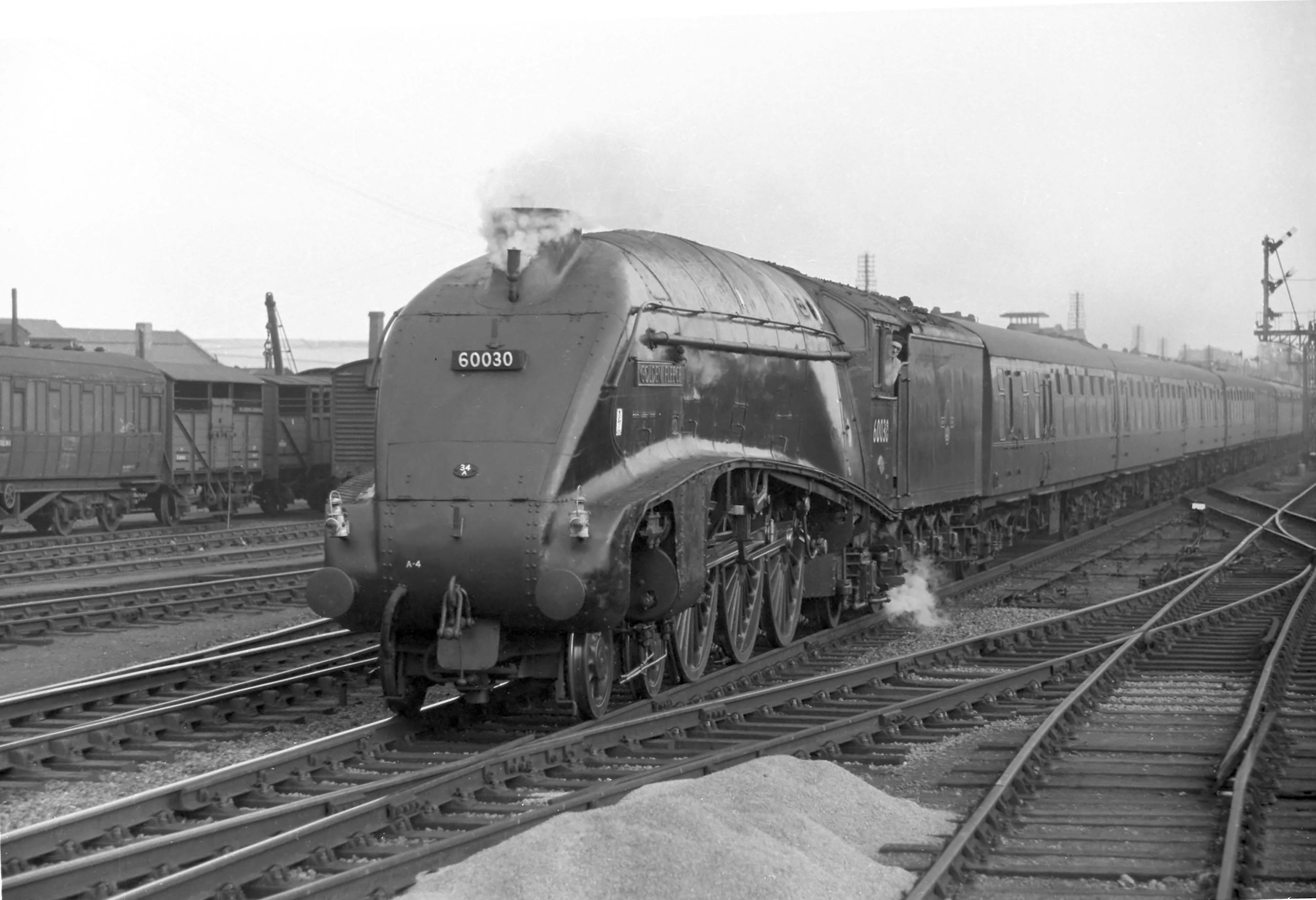 While based at Grantham No. 60030 made regular appearances on The Flying Scotsman, non-stop to Newcastle.  When retired Grantham driver Ken Willetts was a 16½-year-old cleaner he was asked to fire this locomotive to Newcastle on The Flying Scotsman, after the booked fireman reported sick.  When it was explained to the Driver, Bill Thompson, that the only spare men available were two young cleaners who had just finished cleaning the locomotive ready for it to take over the train, one of whom was Ken, he said, "I'll take Jim Willetts' lad," as he knew Ken's father.  Thus began Ken's main line career on the footplate.  Arriving on Tyneside, they had been due to return with Grantham's A3 No.60039 Sandwich, but it had failed with a heated bearing.  So instead they got A2/2 No.60503 Lord President.  This type of engine was very hard work to fire, and Bill Thompson had to help Ken out by taking the shovel for part of the return journey.  It was exactly the same turn as described above, but it was definitely not 'All in a Day's Work' for Ken as a 16½-year-old cleaner!
3.  No. 60159
This Peppercorn Class A1 locomotive arrived in Newcastle from Scotland with an Edinburgh-based crew.
It was built in 1949 for express services on the East Coast Main Line between London and Aberdeen.  At the time of this trip it also, like No. 60030, was painted BR express locomotive blue.  It had not been named; it received the name Bonnie Dundee in July 1951.  A Scottish locomotive throughout its life, No. 60159 was only ever based in Edinburgh.
4.  No. 60040 (previously numbered 2505, 575 and 40)
A Gresley Class A3 which hauled an express between Newcastle and Grantham crewed by Driver Marshall and Fireman Pickard of Grantham Loco.
Built in 1934 for express services on the East Coast Main Line, No. 60040 was also only ever based in the North, at sheds in Edinburgh, Newcastle, Gateshead or Darlington - except for one week at York in 1939.  At the time this was another locomotive in express passenger blue, upon which Jack remarks …looking very resplendent in her new blue livery.
---
With thanks to Ian Wright for making the copy of Locomotive Express available from his father's collection.
---
A Postscript - two more footplate trips to Tyneside remembered
In the 1950s Grantham Station Master Harold Scampion arranged for at least two people from the town to accompany locomotive crews to Newcastle.
The first trip was remembered by Grantham Driver the late  John 'Jock' Michael, who was a fireman at the time.  He and Driver Dick Watson took the Reverend Dennis Russell on the footplate to Newcastle and back.  Rev. Russell was Rector of Belton and Vicar Londonthorpe and Manthorpe from July 1955 until June 1959.  They were accompanied by a Locomotive Inspector, Bill Buxton, who came up from Peterborough (New England), Grantham Loco's parent depot.  John didn't remember which locomotive they had on the Down journey, but he said the V2 they came back on was rough and in a bad way!
The second guest to head off on the footplate from Grantham to Tyneside was Humphrey Platts.  Humphrey travelled with Driver Ernie Jubb, his fireman Percy Lindley and the same Loco Inspector, Bill Buxton, on Grantham's Class A3 No. 60105 Victor Wild.
"I do not have an exact date but I think it was Summer 1959.  I arrive at this approximate date from the fitting to 60105 of a double chimney in March 1959 and the age of our daughter, seen in the photographs, at the time.  She came to the station with my wife, who took the photographs, to see me off.  I do not think it was as late as 1960.  It was certainly Summer, because I was suffering from hay fever, as I remember!
"I also remember that my journey was not a free trip!  Just like the other passengers on the train I was required to buy a second class return ticket from Grantham to Newcastle before boarding the loco!"
Mick Barstow kindly made contact with someone from New England shed who identified Loco. Inspector Buxton for us: "The man in the hat on the left is Bill Buxton, Loco. Inspector at New England.  He was in charge of the footplate grades.  I knew him well and I must add that he was a gentleman and he knew his job as a steam loco inspector."
---
Copyright note:  the article above is published with the appropriate permissions.  For information about copyright of the content of Tracks through Grantham please read our Copyright page.
---