---
This photograph of six Grantham drivers who retired during 1929 appeared in the February 1930 edition of The LNER Magazine.  Each of the retiring drivers had been presented with a silver-mounted umbrella from the drivers, firemen and cleaners at Grantham.
Standing (L to R) are Joseph K. 'Joe' Wright, Arthur W. Wright, Joseph 'Joe' Baines and Robert C. 'Bob' Chatwin.
Seated (L to R) are Tom Whitehead and Walter W. Ledger.
From The LNER Magazine February 1930, page 90, with acknowledgement to the LNER as publisher and with kind permission from the Great Eastern Railway Society. The Society has funded and organised the magazine's digitisation. The digital copy is highly recommended and can be ordered as a 2-DVD set here.
Introduction
Researching and writing this page has taken me back to well before the late 1920s.  All but one of the men joined the railway in the 1880s, when intense competition between the east coast and west coast routes for speed of service between London and Scotland gave rise to the so-called 'Races to the North' of 1888 and 1895.  As young men they no doubt aspired to the status of the senior drivers of the day, men who had themselves been firemen during the early years of the GNR when locomotive footplates were completely open. 
By the late 1920s our six drivers drew near to retirement as senior footplatemen with the LNER.  Young lads then making a start at Grantham as engine cleaners, the first rung of the footplate ladder, and perhaps looking up to these old masters of their craft, could have become the drivers of 3,300HP Deltic diesel electric locomotives when, in their turn, they retired from British Rail in the early 1970s. 
These men therefore represent a generation of footplatemen at Grantham whose working lives form a link between primitive early Victorian main line railways and the East Coast Main Line of the late 20th century.
Read on to explore with us something of these connections, but please bear in mind that this account is based on information that's limited to what was recorded at the time and is currently available.  None of it is first-hand testimony from the men themselves.  
For example, if we were able to go back and talk with the men the conversation might at some point turn to the conditions they experienced while at work.  When they started in the 1880s the physical environment for workers on the railway, in common with many other industries, could be harsh and unforgiving.  Footplatemen faced conditions which often made their shifts uncomfortable, and could frequently be hazardous to health and personal safety.  The men would have known colleagues who were killed or badly injured while on duty.  Throughout the period trades unions and others campaigned to improve matters. 
John Clayson
---
Drawn to Grantham
First, here's an interesting point which came to light during the research.  All six men were born in the mid-1860s but not one of them was born in Grantham and only one, Walter Ledger, spent any of his childhood in the town.
Their birthplaces were:
Wood Walton, Huntingdonshire - Joseph Wright

Boston, Lincolnshire - Arthur Wright
Clifton, Newark, Nottinghamshire - Joseph Baines
Retford, Nottinghamshire - Robert Chatwin
Aslockton, Nottinghamshire - Tom Whitehead
Old Lenton, Nottingham - Walter Ledger
The map demonstrates how, in the late 19th century, people were migrating to Grantham from all points of the compass.  The railway and other expanding industries of the town attracted families and young men seeking to make a living.  This was the period when the railway community of Grantham, first established in the 1850s, became firmly rooted.
---
The Men and their Express Locomotives
Between the 1870s and the 1930s, and especially after 1896, the Great Northern Railway and its successor, the LNER, pursued a progressive policy of express locomotive development.  An important objective was to support the company as it worked with its partners on the East Coast Main Line to provide frequent, fast and reliable services between London, the north of England and Scotland.  Our six men would witness a highly competitive era.
Stirling's 'Singles'
Development occurred in incremental steps.  The express locomotives at work in the 1880s and 1890s, when the men started on the railway, were designed under the leadership of Patrick Stirling.  They had a single driving axle with one pair of wheels 8'-1" (2.46m) in diameter.  This limited the wheel rpm to match the capability of the materials and the lubrication technology available, yet enabled speeds of around 75mph to be attained with lightweight trains.   
Between seven and thirteen of these locomotives were based at Grantham through most of the 1880s and 1890s.  On the final night of the 'Railway Race' from London to Aberdeen on 21-22 August 1895 two overnight trains, one each on the East Coast and West Coast routes, were hauled by relays of locomotives.  Grantham's Stirling Single No. 775, crewed by driver Tom Lamb and his fireman William Brooks, contributed a high speed run over the East Coast second stage, between stops at Grantham and York.  They covered the 82¾ miles in 1 hour 17 minutes, an average speed of 64.4 mph, helping the East Coast partnership to achieve victory on that momentous night.  Thomas Lamb was born at Orston, Notts. in 1845 and lived in Grantley Street, Grantham.  William Brooks was born at Barrowby. 
Ivatt's 'Atlantics'
By the late 1890s the men would be senior firemen, becoming familiar with the GNR's latest 'Atlantic' locomotives which had two pairs of driving wheels coupled together, and much larger boilers.  Designed under the direction of Henry Ivatt, these 'Klondike' engines, as they became known, were capable of drawing much heavier loads than the 'singles' while maintaining express speeds.
By the 1900s our six men were passing through the ranks towards promotion to driver.  Three became top link men, driving main line expresses, while the others were mostly engaged on local work.   
In The Railway Magazine for October 1916 railway performance expert C. J. Allen describes a journey on the 1.30pm from London to Doncaster with Driver Bob Chatwin and 'Klondike' No. 950.  They were beset by a series of delays between Highdyke and Newark but, Allen writes, 'Disheartening though these delays were, Chatwin was now on his mettle and put up some remarkable running onwards to Doncaster.'
Ivatt's 'Large Atlantics'
The top link drivers also became adept at handling the successors of the Klondikes, the very capable - if somewhat rough riding - early Edwardian 'large Atlantics' incorporating a further boiler 'upgrade', a wide firebox, which increased both power and range.
In The Railway Magazine for June 1916 C. J. Allen ,  describes '...the work of driver Wright on the superheater Atlantic No. 1404 being quite superlative in character' when working an express between London and Grantham.
Gresley's 'Pacifics'
In 1923 six senior Grantham drivers were entrusted with three of the first  class A1 'Pacifics', identical to the subsequently world famous No. 4472 Flying Scotsman.  These were brand new locomotives designed by Ivatt's successor, Nigel Gresley with three pairs of driving wheels.  Each Pacific locomotive was assigned to a pair of drivers and their firemen.  The 'Pacific crews' included three of the drivers in our photograph: Joe Baines, Bob Chatwin and one of the Wrights.
A local lad who knew these locomotives and their drivers very well was Harold Bonnett.  Born at Barkston, he was a cleaner at Grantham Loco in 1924 and 1925, then a fireman until he moved away in 1927.  In his memoirs Harold writes:
The really promising showpieces at Grantham in 1924 were the three Gresley Pacifics built the previous year.  We had No. 4476 Royal Lancer, No. 4479 Robert the Devil and No. 4480 Enterprise.
Two crews were allocated to each Pacific for the purpose of sharing daily 376-mile round trips: Grantham - London - York - Grantham, with a crew change at Grantham in either direction.  The crew on the London leg ran 210 miles while the York trip involved only 166 miles. 
[T]he Pacific crews … had taken kindly to their new engines.  The cabs were roomy and comfortable, whilst the pitch and roll of the Atlantics' riding was eliminated.  Drivers at once found that they had ample power - at last the GN Section has an express engine absolutely boss of its job. 
from Smoke and Steam!  footplate memories of the G.N. and L.N.E.R. in the 1920s (author: Harold Bonnett).
Through technical improvements carried out during the 1920s the A1 design was developed into the even more free-running, efficient and powerful Class A3 'Super Pacifics'.  They were the first locomotives capable of making the London to Edinburgh trip non-stop.
Progress: from 'Singles' to 'Super Pacifics'
By the 1920s our three top link men had attained the summit of their profession.  Their final years at work were spent in charge of some of the world's most modern locomotives hauling fast, prestigious passenger services over a railway built and maintained for high speed running.   No footplatemen on earth surpassed them in status and skill.
During retirement they witnessed the culmination of East Coast Main Line steam traction in the development of the A3 class into the streamlined A4s of the 1930s one of which, No. 4468 Mallard, attained the unbeaten world speed record for a steam locomotive. 
From Stirling's elegant 'Singles' through Ivatt's advanced 'Atlantics' to Gresley's sleek streamlined 'Pacifics', these men really did see it all.
---
---
Personal  Biographies
Below are biographies of each of the six retiring drivers.  They are shorter or longer, depending on material currently available. 
If you are able to help fill out the accounts - particularly the shorter ones - or supply more photographs, please get in touch.  There is a Contact Form on this page.  We are also unsure which of the Wrights, Arthur or Joseph K., was the top link man.  
Unfortunately we cannot post an email address on the site because it would attract spam.
---
Joseph King Wright was born in 1864 close to the east coast main line at Wood Walton (sometimes 'Woodwalton'), then in Huntingdonshire but now in Cambridgeshire.  He began working for the GNR in 1883, was a fireman at Leicester* in 1891 and 1901, and by 1911 a driver at Grantham.  He retired on 24th August 1929.
---
*The Leicester Connection
Something that came to light while researching these men's careers is that in 1891 three of the six were working at Leicester and living as lodgers with local families near the Great Northern station, Leicester Belgrave Road.
The GNR opened a branch line to Leicester in 1882.  There was an impressive terminal station from which passenger and goods services reached Grantham (via Melton Mowbray and the Vale of Belvoir) and other towns including Peterborough. 
Near the station there was a small engine shed which, until about 1920, operated as an outstation of Grantham Loco.  Thus the men based at Leicester were managed from Grantham shed and could transfer into vacancies at Grantham. 
As another consequence of oversight from Grantham, in the early 1900s three Stirling 'Singles', having been displaced from their east coast main line duties by the 'Atlantics', were transferred, in semi-retirement, to operate out of Leicester.   
---
Arthur William Wright was born at Boston, Lincolnshire in 1865.  In 1871 the family lived near March, Cambridgeshire, where his father was a railway fireman, later promoted to driver.  In 1881, at the age of 15, Arthur was an apprentice grocer in March.  By 1891, aged 25, he'd become a railway engine cleaner at Leicester.  By 1901 he had moved to Grantham, married and become a fireman.  Arthur was still a fireman at the age of 45 in 1911, because promotion was based on the number of years served in the footplate grades and he hadn't started on the railway until he was in his mid-20s.  He retired as a driver on 26th October 1929 and died in 1950 at the age of 84.
---
Joseph 'Joe' Baines was born in 1865 at Clifton, north of Newark in Nottinghamshire.  In 1881 at the age of 15 he was working in Nottingham as a maltster, lodging with a family in Carlton.  He began work on the railway in 1883 at Newark, then moved to Leicester where in 1889 he became a fireman.  In 1891 Joe moved to Grantham where he gained promotion to driver in 1899.  He retired on 2nd July 1929. 
Between 1923 and 1928 Joe's regular engine, shared with  Bob Chatwin, was the new Gresley A1 pacific No. 1476, later No. 4476 Royal Lancer.   Joe or Bob worked this engine from Grantham south to King's Cross, then north to York with a crew change at Grantham, and finally back to Grantham - or the reverse.
Harold Bonnett wrote:
These Pacific Link enginemen thought they were the cat's whiskers, all coming to work very smart in well-washed and well-ironed company-issue blue jean overalls plus caps with soft tops.  Drivers like Joe Baines or Bob Chatwin who shared Royal Lancer also came to work in boots as brightly polished as those of the General Manager at King's Cross.
Eight cleaners, picked for the job, were arranged in two shift to clean only the three Pacifics.  As may be imagined, all the Pacific drivers expected that we should make a particularly good job of cleaning their charges.  Joe Baines, the roundish, short-necked and peppery driver of Royal Lancer was, in particular, a terror to us at times for he found fault wherever he could.  Fortunately Bob Chatwin, who shared Royal Lancer with Joe, was a quieter type of driver altogether.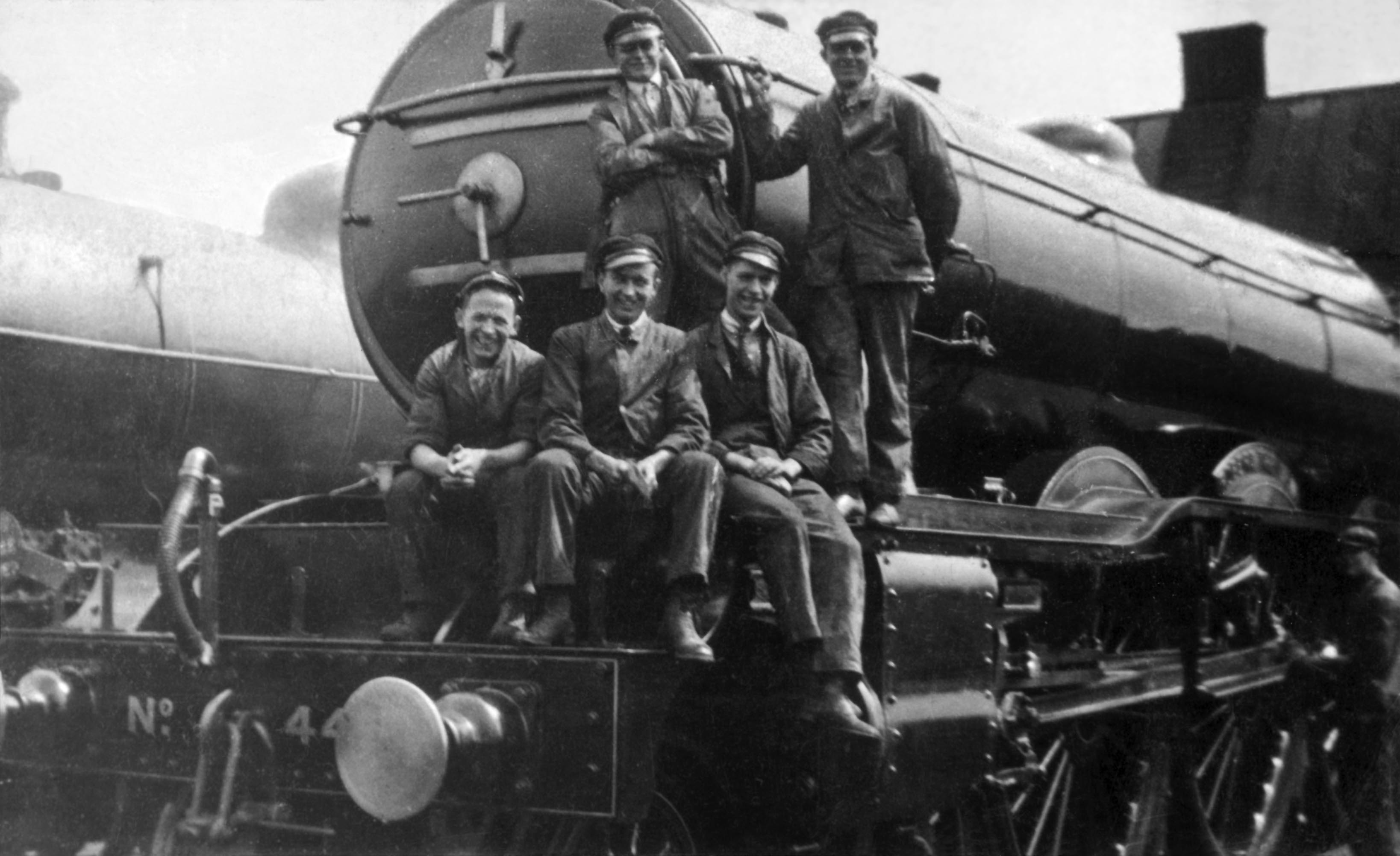 Here's how The Grantham Journal marked the retirement of Joe Baines:
Express Engine Driver's Retirement
After completing forty-nine years' service with the L.N.E.R., latterly as an engine-driver, Mr. Joseph Baines of 41 Huntingtower Road retired on Saturday.
A native of Newark, he started his railway career in that town as a carriage cleaner, and … came to Grantham for a short period before going to Leicester, where he eventually became a fireman.  About thirty-seven years ago [i.e. in 1892] he returned to Grantham, and during the past thirty years he has been a driver of express trains between Grantham, London King's Cross and York.  Among notable people he has, at one time or another, had in the train driven by him is the King, when he journeyed back to London in a special train after a visit to Cranwell.
From The Grantham Journal Saturday 3rd August 1929.
---
Robert Cocking 'Bob' Chatwin was born at Ordsall, Retford in January 1868.  He began work on the railway in 1882 at the age of 14½.  In 1889 he was a fireman at Grantham where, by 1901, he achieved promotion to driver.  In the 1920s he became one of Grantham's six 'Pacific' drivers, sharing No. 4476 Royal Lancer as noted previously.
On his retirement he served at St Wulfram's parish church.  He is remembered by Rev. Arthur Cawston, assistant curate there from December 1929 until early 1933, in his book A Railway Photographer's Diary,  'On the staff as assistant Verger was Mr Chatwin who had been a top-link driver with the Great Northern Railway. … He was a man of short stature, and with a fund of stories...'
Bob outlived the other five gentlemen in retirement, attaining the age of 88 upon his death in 1956 as recorded below in The Grantham Journal:
He Drove Crown Prince of Japan
…Mr Chatwin lived at Welham Street for just over 60 years but was from Retford, where he first joined the railway service as a young cleaner.  After moving up and down the country he came to Grantham in 1894 where he remained, rising to the rank of main line driver some 20 years later.
It was in his capacity as a top link driver that he conveyed the Crown Prince of Japan about the country during his State visit in 1921.
From The Grantham Journal Friday 28th September 1956.
---
Tom Whitehead was born at Aslockton, Nottinghamshire in 1864.  In 1871 and 1881 his family was living at Sleaford, where his father worked on the GNR as a driver.  Tom began his service with the Great Northern Railway in 1882.  In 1891 he was a fireman at Grantham and living in lodgings on Commercial Road, being promoted to driver by 1901.  He married in 1906 and appears to have returned to live at Sleaford, where the shed and crews were managed from Grantham. 
---
Walter William Ledger was born at Old Lenton, Nottingham in 1864.  His father was a cooper, and the family appears to have moved to Grantham when Walter was 5 or 6 years old.  He began his railway service in 1880 and was an engine cleaner at Grantham in 1881, a fireman by 1891,  a driver by 1901 and retired on 23rd May 1929.  Walter's younger brother James 'Jim' Ledger was a top link 'Pacific' driver at Grantham in the 1930s.
Harold Bonnett had Walter as his driver when he passed out as a fireman in 1925:
The 9.5am Grantham to Bourne slow, or pick-up goods, was the one selected to give trial trips to cleaners passing out as spare firemen.  Bowler-hatted Inspector Allen accompanied me on 10th November 1925, a fine, clear day for the time of year as I recall.  Walter Ledger, a man in his sixties who walked with a decided limp and did nothing but branch line freight work, was my driver.
When the signal from the yard out on the main line fell into the 'off' position, I looked back down the twenty of so wagons and saw that the guard was leaning out of his brake van, with his arm outstretched as the indication that he was ready to go.  "Right away," I called out to driver Ledger, who pushed the reversing lever into the forward position before tugging at the long regulator handle.  No. 4155 budged forward slightly, gave her first slow puff, then another and another as we started on our way.
---
Summing Up
Concluding an article on locomotive practice and performance in The Railway Magazine of June 1916 C.J. Allen says, 'I need only add that the whole of the engines and drivers concerned hail from Grantham in order to emphasise further the reputation enjoyed by that shed in the matter of painstaking locomotive performance.'
14 years on, in June 1930, Mr Allen again drew his readers' attention to the performance of Grantham's drivers.  Describing several recent timed journeys between King's Cross and York he remarks, 'On the bulk of the journeys it was at Grantham that the enterprising feats of driving began. … All honour to Grantham Shed, which was responsible for all these runs, and which is still determined to maintain its old-time reputation as one of the best time-keeping sheds of the erstwhile Great Northern system.'
During their years at the top the retiring drivers passed on the tradition of fine enginemanship to their firemen who became the express drivers of the 1930s, 1940s and 1950s.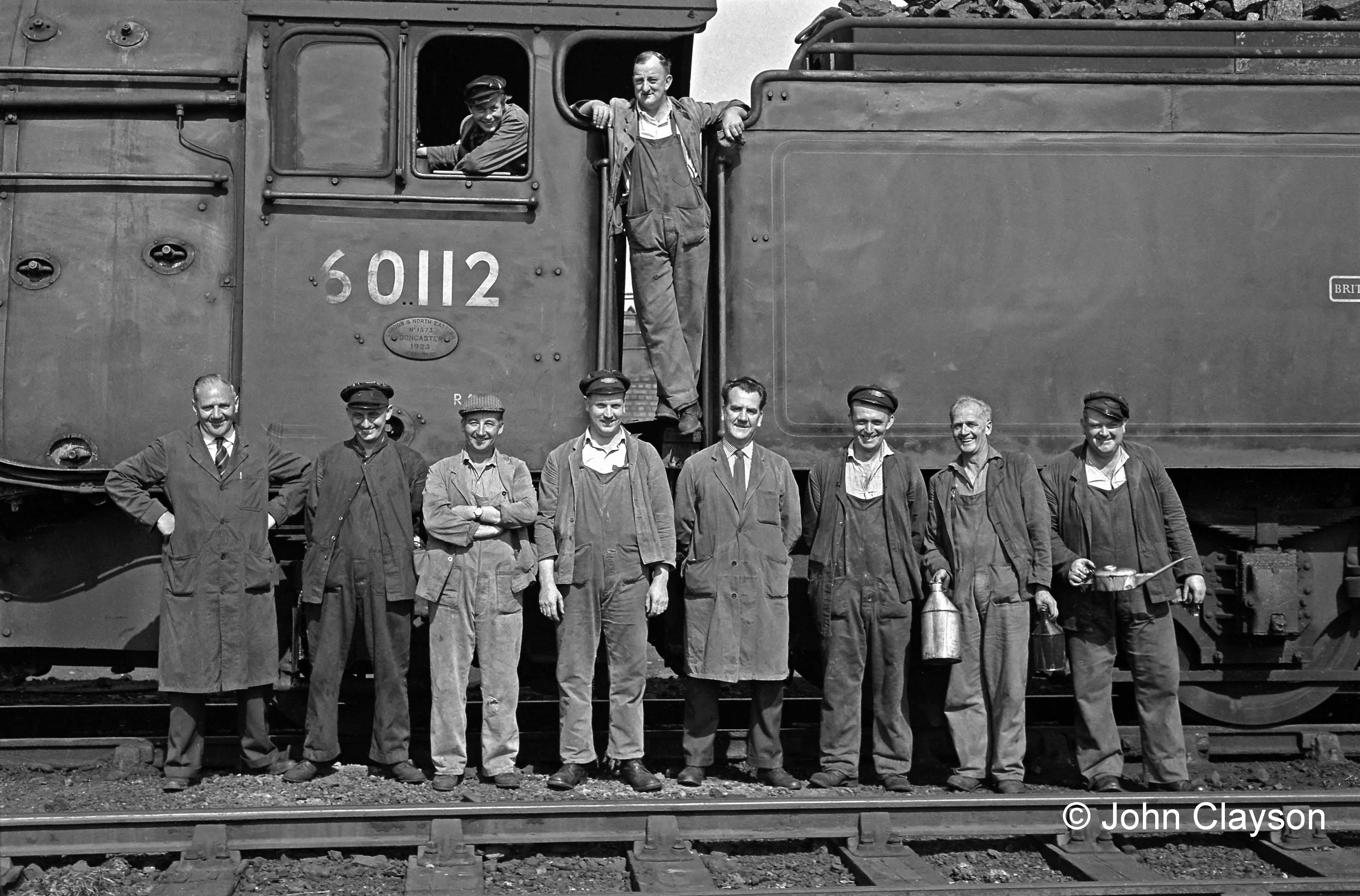 ---
Sources include:
Digital sources
Printed sources
Smoke and Steam!  footplate memories of the G.N. and L.N.E.R. in the 1920s* (author: Harold Bonnett)
LNER Steam at Grantham* (author: Rev A.C. Cawston)
A Railway Photographer's Diary* (author: Rev A.C. Cawston)
Great Northern Railway Engine Sheds Vol. 1 Southern Area (authors Roger Griffiths and John Hooper)
The books marked * are well worth getting hold of for an insight into railway life at Grantham between the mid-1920s and the early 1930s.
---
Copyright note:  the article above is published with the appropriate permissions.  For information about copyright of the content of Tracks through Grantham please read our Copyright page.
---