By Roy Vinter
I remember, with affection, the J6s.  I was cleaning at Grantham in the last year or so of them.  Indeed, as previously mentioned, I passed out for firing on one.  I don't recall being on the road with a J6 again, but I do remember shunting the shed with one; ideal for that with their lever reverser.  Three months after passing out I went on loan to King's Cross Top Shed for two years, 'til December 1960, and the J6s had gone by then, but I enjoyed my brief experience of them.
---
Here is a link to a photograph of a J6 locomotive at Grantham.
---
I'm sure I can remember A4s Nos. 60008 and 60030 being at Grantham when I started as a cleaner in August 1957; not sure of Nos.60003 or 60010, but they could well have been.  I don't remember A1s at Grantham, they must have just left I suppose.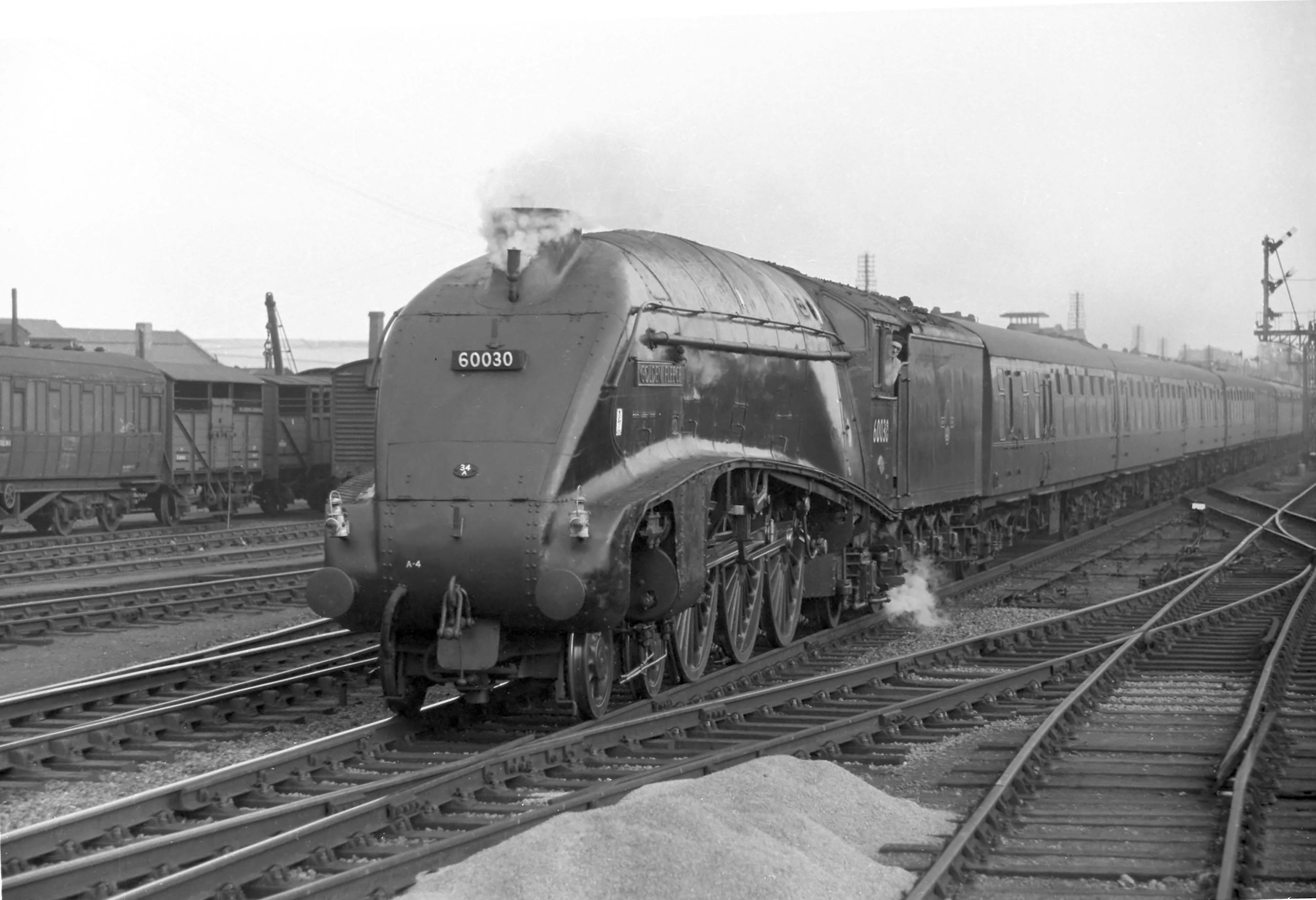 I remember V2s - certainly in 1957-58 we had Nos.60893 and 60966, but not sure of later years.
There were certainly a few C12 tank engines, used mainly for coach pilot and trips to the old yard (the wharf).
---
Here is a link to a photograph of a C12 locomotive shunting the carriage sidings at Grantham.
---
Most of the Nottingham/Derby trains and possibly Lincoln/Boston too, but not sure of those, were handled by J6s, of which there were quite a few at Grantham, and by J39s from Colwick.
I remember A5s Nos.69814 and 69827 were at Grantham when I started as a cleaner.  They were always turned to face north.
I also remember the down side goods shunt with a J69, I was on it a time or two with Joe Dickinson, a driver in the 'old men's link'.  These were men taken off the main line, mainly for eyesight reasons.  It had five or six jobs in it, generally within 'station limits': goods shunt, passenger shunt 'pilot', a job to the old yard, and the coal shunt in the Loco., though they had one job on days up the Stainby branch, four miles up the main line.
The 'old yard' or 'the wharf' – officially known as Ambergate Yard - was a branch off the Nottingham line at Barrowby Road 'box.  We would take a few wagons, do a bit of shunting around and bring other wagons back.
I reckon the B16s had gone when I started in August 1957.  I don't recollect seeing them.
There were two 9Fs around that time also, or perhaps a little later, to work the 'meat train' whatever exactly that meant; I think it was a late afternoon job up to King's Cross Goods.  I didn't go on them myself at the time - I had passed out for firing only a couple of months earlier.
On my return to Grantham at the end of 1960 the same L1s were there as I'd been on at King's Cross.  They were used on passenger trains to Derby Friargate via Nottingham Vic., which I fired on sometimes.  They were still as rough at speed.  I'm pretty sure we always used platform 5 for the Derby trains.  In my experience with L1s at Grantham in 1961 and 1962 we ran bunker first to Nottingham and Derby (though there are some photographs which show them running chimney first out of Grantham).   I've an idea that it may have been so that, on leaving Derby, we were chimney first up Breadsall bank, thereby making sure the firebox was well covered with water.  They were also used on the coach shunt, High Dyke shift changeover and the 'old yard' (Ambergate Yard) jobs.
---
I think we then had at least three B1s.  I remember Nos.61389/92/67.  By that time all the Lincoln and Boston trains were DMUs.  Odd times we had a B1 on the Derby jobs, which was brilliant - well boss of the job, and a far better riding engine than the L1.  Going out chimney first, after being uncoupled on arrival at Derby Friargate we would set off around a triangle of railways in the vicinity to turn, and so return chimney first.
'1389 was renowned at the time as a 'flier', a particularly free running engine.  I recall one day on it with Driver George Taylor.  We coupled up to an express going north with a Deltic on the front of us on which the steam heating boiler had failed.  So we were there really just to heat the train.  Old George remarked on the reputation of 1389, but nobody would have been as fast on it as we were that day, he reckoned.  The Deltics were very powerful of course, and its driver was no doubt making time up.  It was difficult to keep the fire in with all the draught and not having much work for the engine to do.  Happy days.
I don't think Grantham had any diesels allocated up to the shed closing, though in the last year or two we did have a 350 hp. shunter to go up to High Dyke with the changeover crews.  Where it was fuelled I don't know, but the diesel railcars were serviced by our steam fitters in the permanent way engineers' sidings on the down side, near the North 'box.  I'm pretty sure there was never a diesel standing pilot (main line pilot) before the steam shed closed (I can't say after that, 'cos I left the job in December 1963).  From the late 1950s there would occasionally be the odd diesel on shed, generally English Electric Type 4 (Class 40), Brush Type 4 (Class 47) or Brush Type 2 (Class 31).
I would add that I don't think trains were allocated a certain class of engine.  A1, A3, A4 and, to a certain extent, A2 and V2 and even B1 engines were all capable of express work.  Some sheds/drivers preferred certain classes, and engines were tried on different turns from time to time.  King's Cross had A1s for a time, but preferred A4s for various reasons I believe.
A lot of engine changes ceased at Grantham in the late fifties when King's Cross men started the lodge turns to Newcastle and Leeds.  After that there were still quite a number of engine changes, but not the 'crack' named trains anymore.  We had the 8.35 (or thereabouts) Grantham to King's Cross, but it was (in my time) a King's Cross engine and men return working, though a Grantham engine on the down train ex-King's Cross.
We had a job at Grantham we called the 'Newark bus' where we ran tender first with our A3 from Grantham to Newark with empty coaches (a bit draughty!!), ran round the train at Newark ready to start the service to King's Cross.  We had Sunday jobs that changed engines at Grantham, i.e. to King's Cross, Leeds, York.
---
Copyright note:  the article above is published with the appropriate permissions.  For information about copyright of the content of Tracks through Grantham please read our Copyright page.
---