Here is our growing archive of photographs taken by footplatemen. These pictures are sometimes a very personal record.  Young men are pictured with their workmates, who they may have been at school with and who often went on to become respected colleagues and lifelong friends.
For some of these young men a job on the railway was a start in adult life following a family tradition.  They had entered what was largely a man's world, treading a path which - with attention to duty, keeping out of trouble, good health and fitness, and patience while awaiting promotion - could eventually lead to appointment as a top link fireman, and ultimately driver, on one of the world's most prestigious high speed main lines.  In the first half of the 20th century this was many a schoolboy's dream.
We are very grateful to Grantham railwaymen and their families for lending these evocative photographs to Tracks through Grantham.
---
Boris Bennett was a cleaner and fireman at Grantham between 1940 and 1947.  On 8th September 2013, having celebrated his 90th birthday the previous month, Boris attended the display of No.4468 Mallard at Grantham station .  Afterwards, in a letter, he recalled wartime conditions on the railways, comparing Mallard's appearance during the war with her exhibition finish today: I had the good fortune to have fired No.4468 when she was allocated to Grantham Shed during the war.  She was painted in unlined black and had a good layer of soot, oil and coal dust, yet was no less impressive.
Boris has brought together a marvellous collection of photographs, press cuttings, drawings and much other fascinating material which is included in his own story here.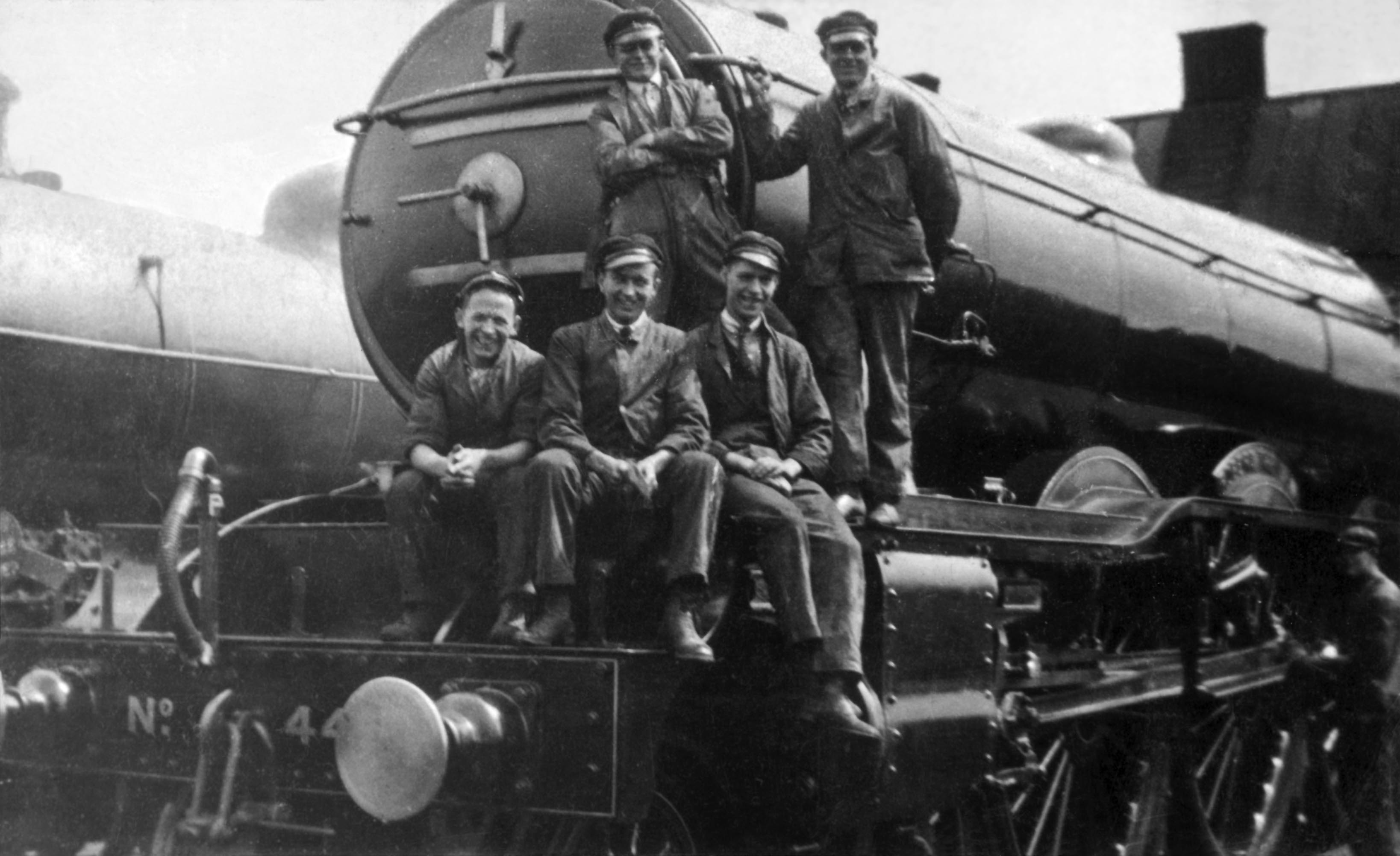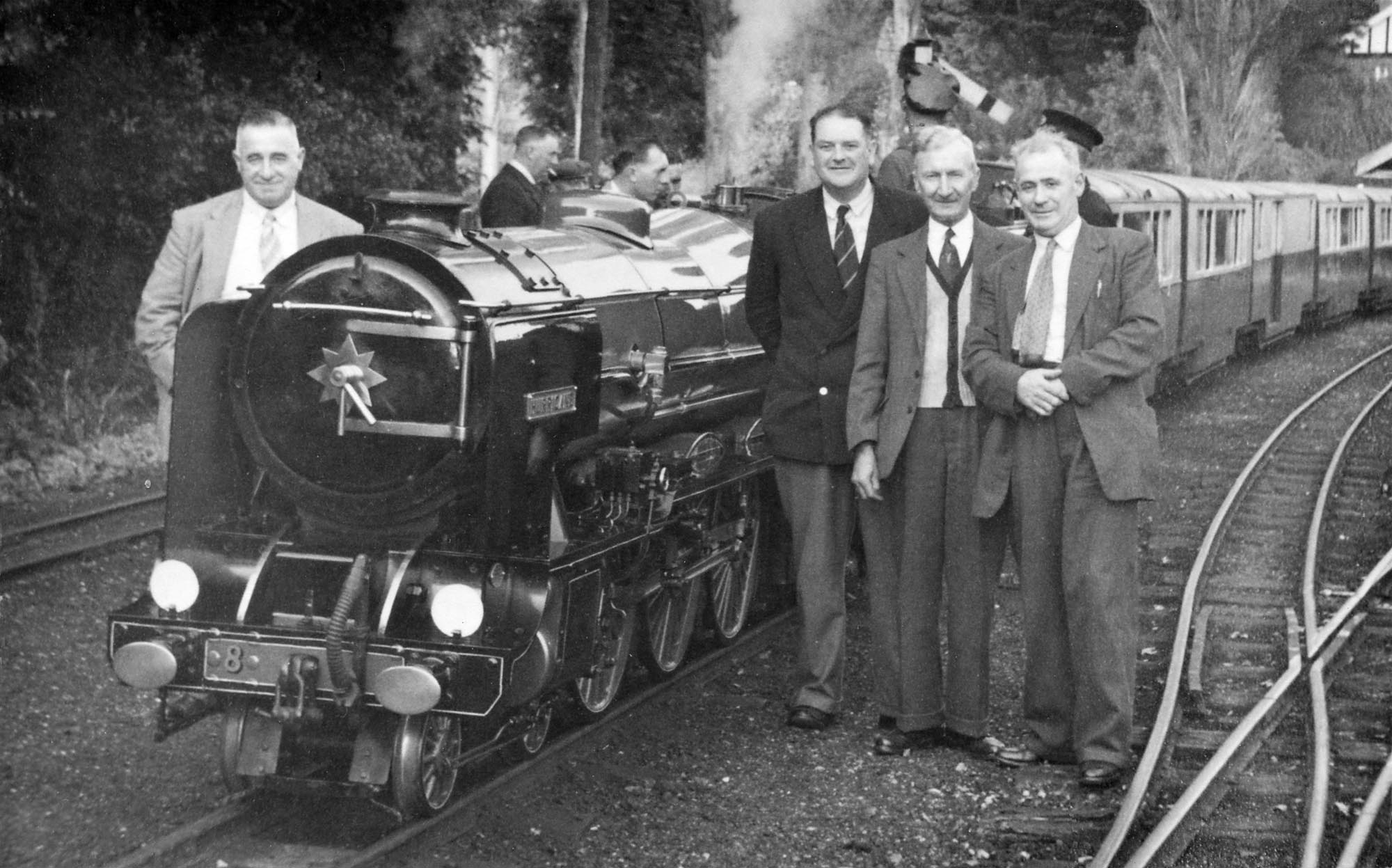 ---
Here is a link to a splendid photograph of Grantham locomotive cleaners with gleaming Great Northern Railway Class C1 large Atlantic No. 1418:
The GNR large Atlantics were the Edwardian predecessors of the Gresley Class A1 'Pacifics' exemplified by No. 4479 above.
---
Roy Vinter was a cleaner, passed cleaner and fireman at Grantham 'Loco'  between August 1957 and December 1963. In December 1958 Roy was transferred on loan to King's Cross shed in London, along with several other young Grantham firemen.   Drivers at King's Cross were being trained on diesel locomotives and the 'passed firemen' there (men who had qualified as drivers but were still working as firemen while they awaited driver vacancies) were covering the driving duties.  Roy and his mates from Grantham shed were called up to cover the resulting shortage of firemen.  They mainly worked on the suburban passenger services, but they did occasionally get trips on the main line so might appear back at Grantham shed as a visitor, heading south again an hour or two later on a return working.
---
John Aldous was born near Grantham but he grew up in Suffolk.  Having moved back to Ancaster with his family, at the age of 18 John joined the railway at Grantham 'Loco' where, after a short period as a cleaner, he became a fireman.  He worked many trips over the High Dyke Branch on O2 locomotives hauling ironstone.  The O2s, known as 'Tangos', were a heavy freight version of the express passenger A3 class, among which was Flying Scotsman.
When Grantham shed was due to close John applied to transfer to Stratford in east London to continue working on the footplate.  This was agreed, but in the event he ended up leaving the railway to work at RAF Cranwell.  Just a few months after he started there he received a letter asking him to consider returning to the railway at Grantham.  This he would have seriously considered, but for a union requirement that the period he'd already worked as a fireman would not be counted and he would effectively be re-joining as a cleaner.  John spent the rest of his working life in local industry including a long spell at Aveling Barford's, a world-renowned manufacturer of road rollers and dumper trucks for the mining, quarrying and construction industries.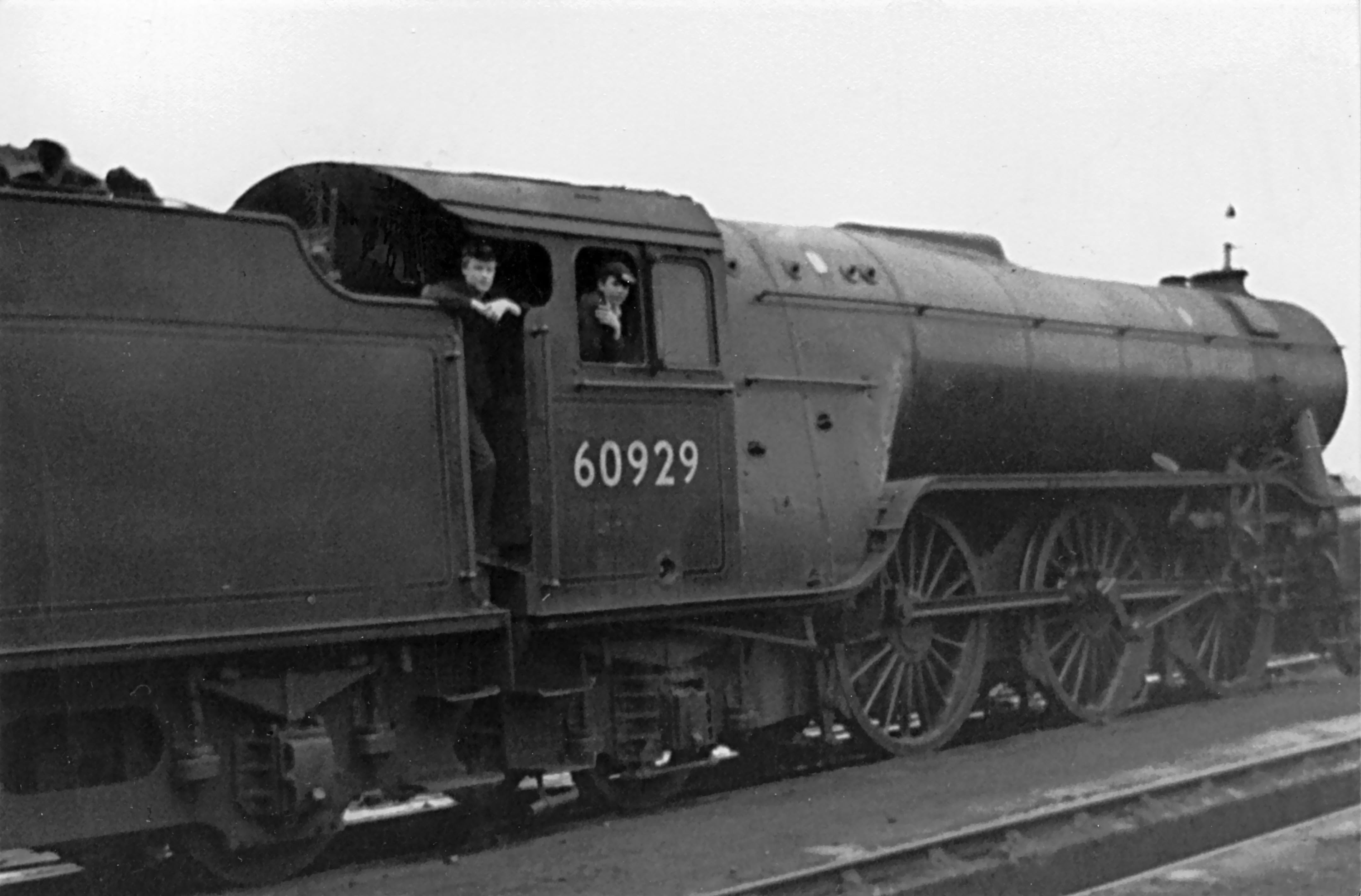 ---
George Fielding joined the railway at Grantham on January 17th 1955.  He remembers the 2-week ASLEF strike in May/June 1955 because he learned to swim while off work for the fortnight.  As a young man he competed in athletics, football and boxing through membership of the Grantham Branch of the BRSA (British Railways Staff Association) - the 'Railway Club'.  George gained the nickname 'Tiggy' from Tiggy Fielding, a character in the popular radio serial Mrs Dale's Diary.
Peter Wilkinson, former cleaner and fireman at Grantham, sent this note to me in December 2013 when he saw the photograph above:  I was delighted to see a photo of Bert Rudd.  He was my one and only 'rostered' driver but, strange to say, I hardly ever fired for him after that period, due to the peculiar seniority system that was always difficult to explain to anyone who wasn't involved with it.  I had been with Bert a lot during my time, and his, 'on the Shed', preparing and disposing of engines - which was, of course, where I got to know him well.  He was a good man to be with, both 'on the Shed' and 'on the Road'.
---
Phil Cunnington kindly lent the three photographs below.
---
Peter Wilkinson worked at Grantham 'Loco' from March 1948 until August 1954, initially as an engine cleaner and then as a fireman.  This is a selection of his photographs.  Peter's recollections of the six years he spent as a railwayman at Grantham are here, accompanied by more of his pictures.
---
Ken Willetts followed his father, Jim, onto the footplate at Grantham and lent this photograph.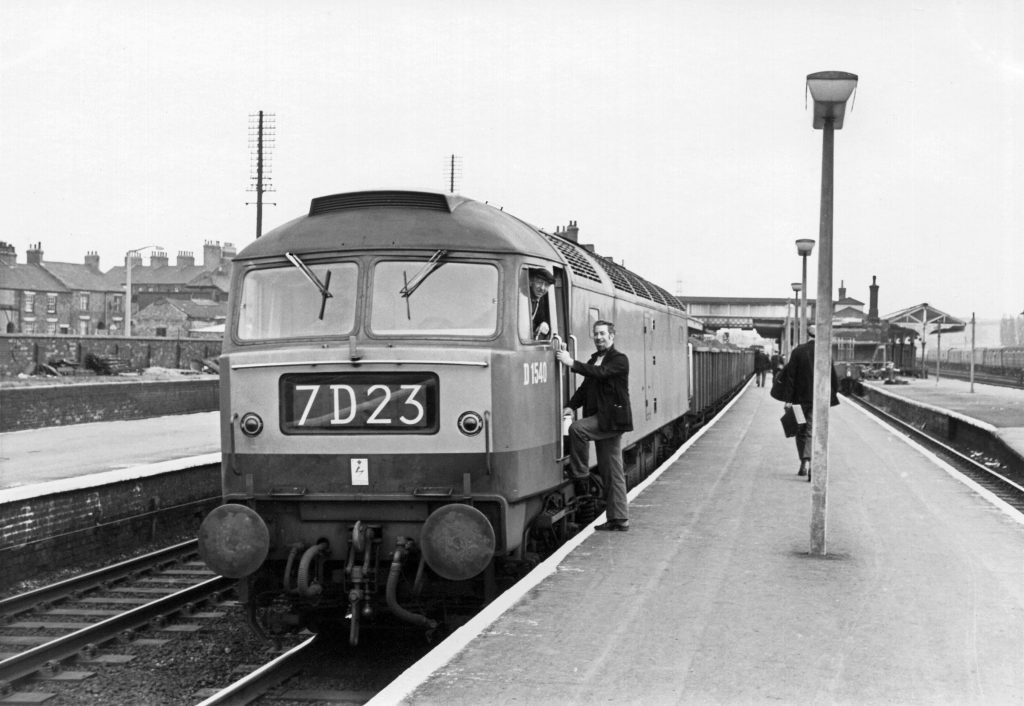 ---
Sidney Foweather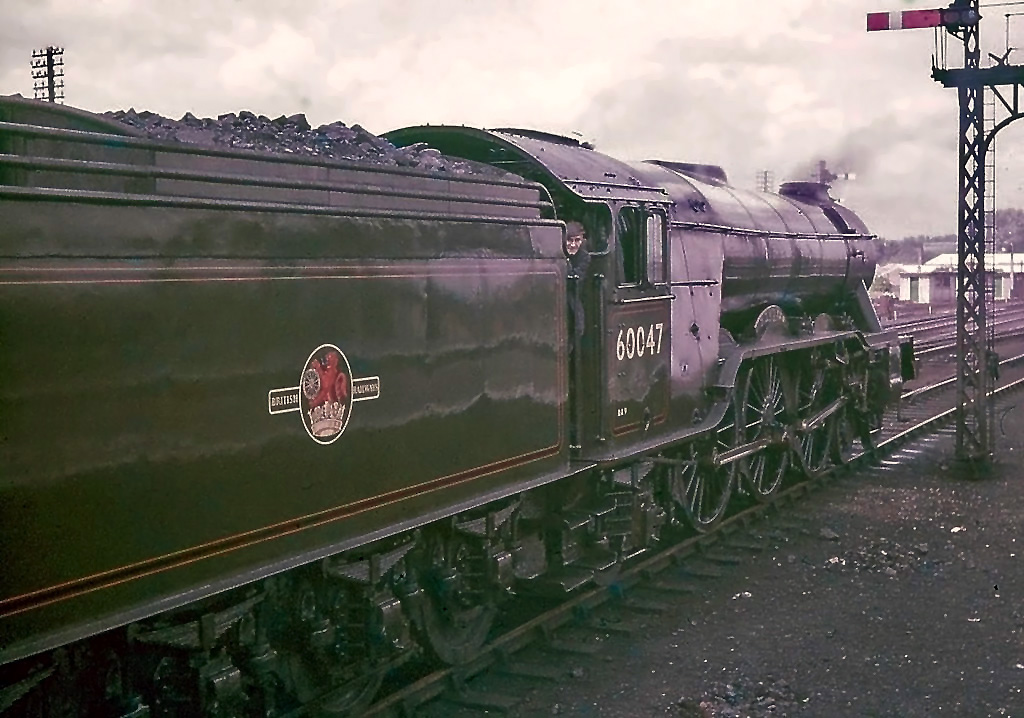 ---
Joe Bell kindly sent us the photograph below of his grandfather William 'Billy' Bell, who began his working life on the railway at Grimsby where his father was a goods guard.  This is the only picture we've seen showing a Grantham footplate crew in the shed's 'time office'.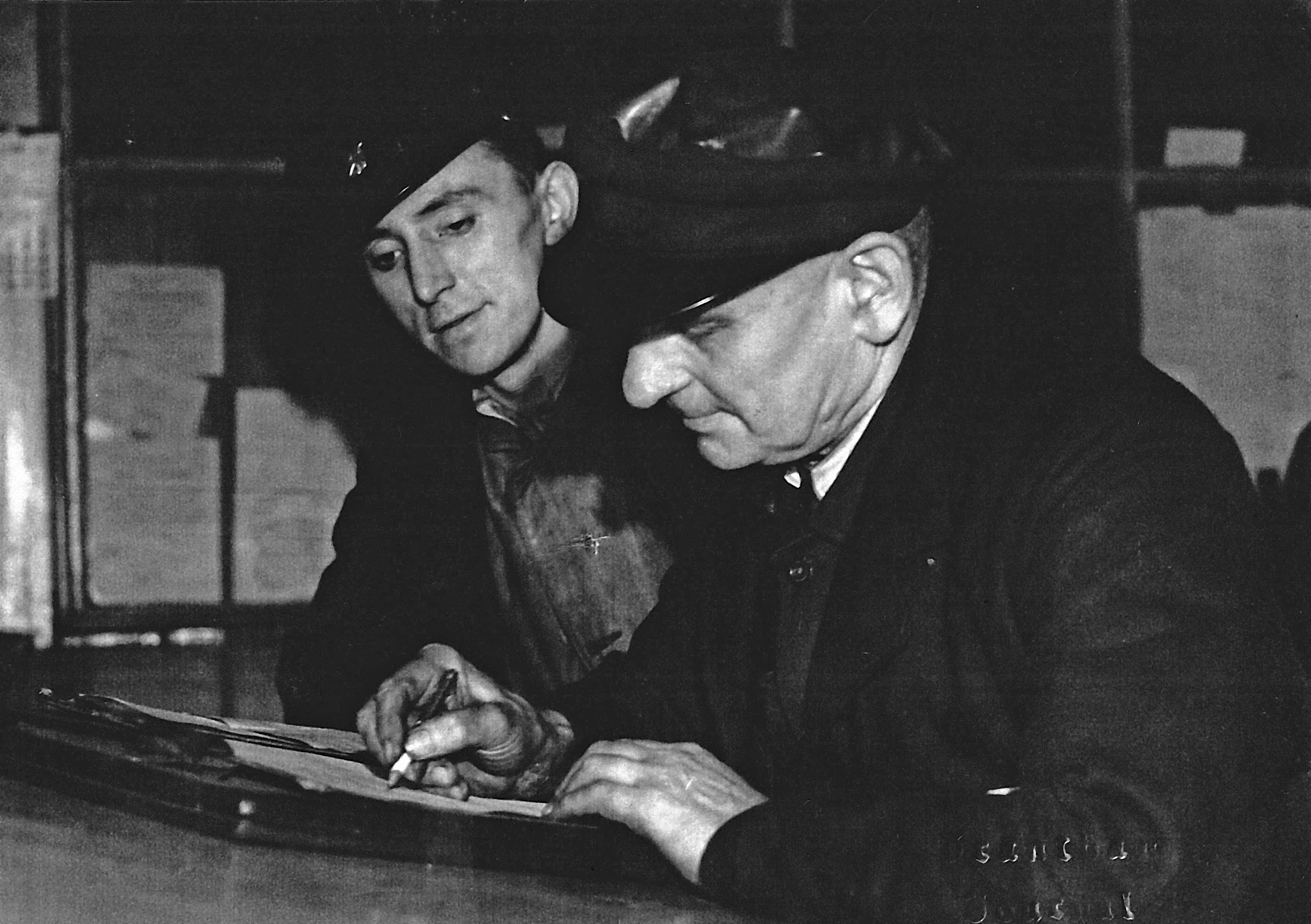 William Bell later became a driver at Grantham but, sadly, he died suddenly on the footplate of a stationary locomotive at Grantham in December 1972 at the age of 53.
---
Wilf Ryder. Graham Ryder lent the photograph below of his father, a driver at Grantham Loco.  Wilf is among a group of Grantham engine cleaners in a photograph of about 1922 which is at the top of this page.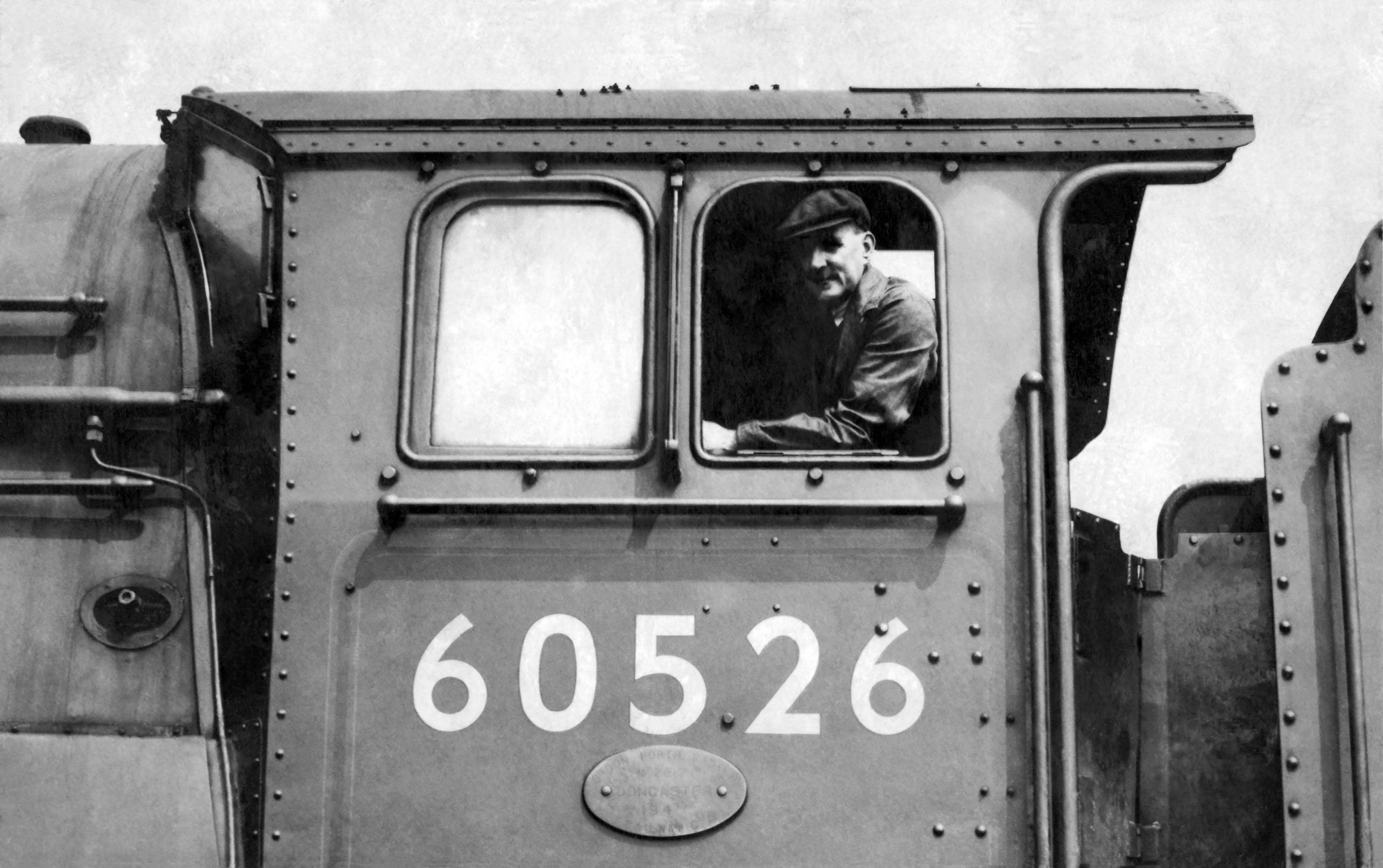 ---
'Charlie' Isaac and Dennis Fovargue
Gerard 'Charlie' Isaac appears as a cleaner in two group photographs above, taken in the 1930s. Here he is in the 1960s as a Driver.  His regular fireman was George Fielding, who is also seen in photographs above.
Charlie's granddaughter tells us that 'during the war Grandad Isaac used to drive trains to London during the night, so mum tells me, loaded with ammunition from from Marco's or 'the bullet factory' at Grantham as it was known.'  (Marco's was the  British Manufacture and Research Company)
Dennis Fovargue was a good friend of fellow fireman John Aldous.  Dennis stayed on the railway as a Guard when Grantham Loco closed, but eventually he left and went to Aveling Barford's, where John also worked.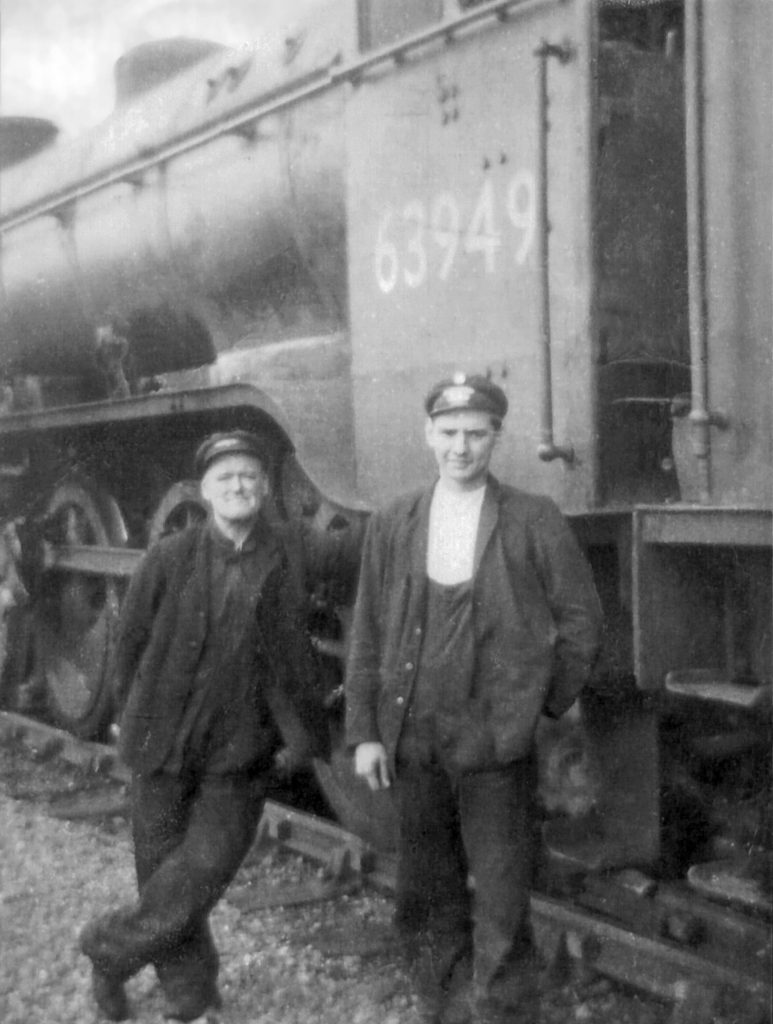 ---
Copyright note:  the article above is published with the appropriate permissions.  For information about copyright of the content of Tracks through Grantham please read our Copyright page.
---