by Mel Smith
I am delighted to present here a compendium of photographs taken by the late Rob Taylor during his many day trips to Grantham.  Like many other railway enthusiasts he was attracted by the sight and sound of mainline expresses thundering through Grantham station. This is very much a 'spotter's collection' composed of images taken on different occasions, but hopefully it will provide you the reader with a flavour of a typical day trip to Grantham.  Albeit an imaginary journey it still evokes many happy memories of my own trips to the station during this period, alas without a camera...
Rob was born in Nottingham in 1943 and developed his lifelong passion for railways, in particular steam trains, after visiting his aunt and uncle who lived in The Railway Cottage at Rolleston, situated on the Nottingham to Lincoln line.  At about the age of 10 his Grandpa bought him a cine camera and took him to view and film the busy railway scene at two local railway stations, namely Nottingham Midland and Nottingham Victoria.  Rob's Grandpa also bought him his first train set and, years later, he progressed to building a layout in the loft of his house where he was able to enjoy running his own collection of trains, just like the full size engines he loved so much.
When Rob was old enough to venture further afield he was often accompanied by his great friend Colin who later became best man at his wedding.  Over the years they embarked on many an adventure together which, until his illness, never ended.  Colin has many happy memories of those times with Rob, especially of the days when they would both buy a platform ticket at Nottingham Victoria and then jump on the first train to Grantham.  Somehow they were never caught out for not buying a ticket and they would spend the day trainspotting and taking pictures of the trains in and around the station.  Sundays of course were mostly spent looking around the vast engine sheds at nearby Colwick!
Rob never lost his love of railways and, thanks to the kind generosity of his wife Ann and son Kevin, we have been able to put together a gallery of Rob's black and white photographs.  They were taken during some of those memorable day trips to Grantham with Colin in the late 1950s and early 1960s.
As mentioned earlier, Rob was lucky enough to own a cine camera and it is hoped that we will be soon able to add to the website a short colour film taken on one of his Grantham trips during those glorious far off days of steam.  If you want to be notified when this evocative piece of film is added then please follow the instructions to subscribe here.
Let's go back in time to that period and imagine Rob and Colin getting off the Nottingham train. They busily move up and down the station, quickly jotting down the numbers of the engines as they appear.  As well as a notebook, Rob also has his camera with him, but film is precious so he is careful when choosing which engines to record with a photograph.  They see lots of old favourites and also bag a few new ones, or 'cops' as they are properly known in trainspotting circles.  Is there perhaps time for a sandwich and maybe a swig of Tizer before the afternoon session?  At lunchtime a relatively quiet spell descends, but not long after the activity of shed movements, engine changes and the thrilling experience of through trains soon picks up again.  Of course, like all enjoyable experiences, the time rushes by too quickly and in a few minutes they will have to board their train back to Nottingham.  Rob's notebook now has many new entries and his camera contains a roll of 127 film recording a typical spotter's day trip to Grantham.  Thanks to Rob, and of course his family, we are able to reminisce and enjoy those photographs again some fifty-odd years later.
---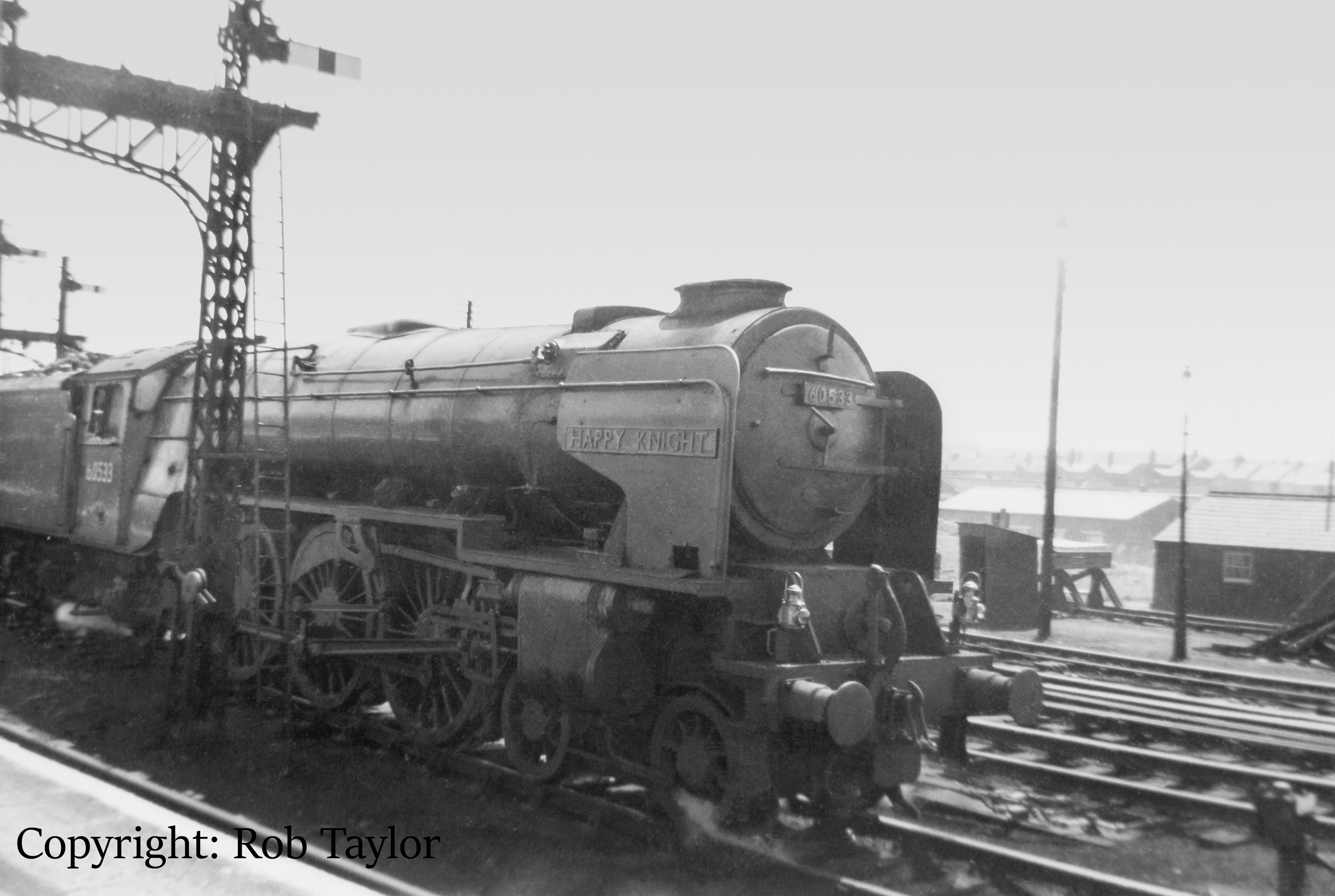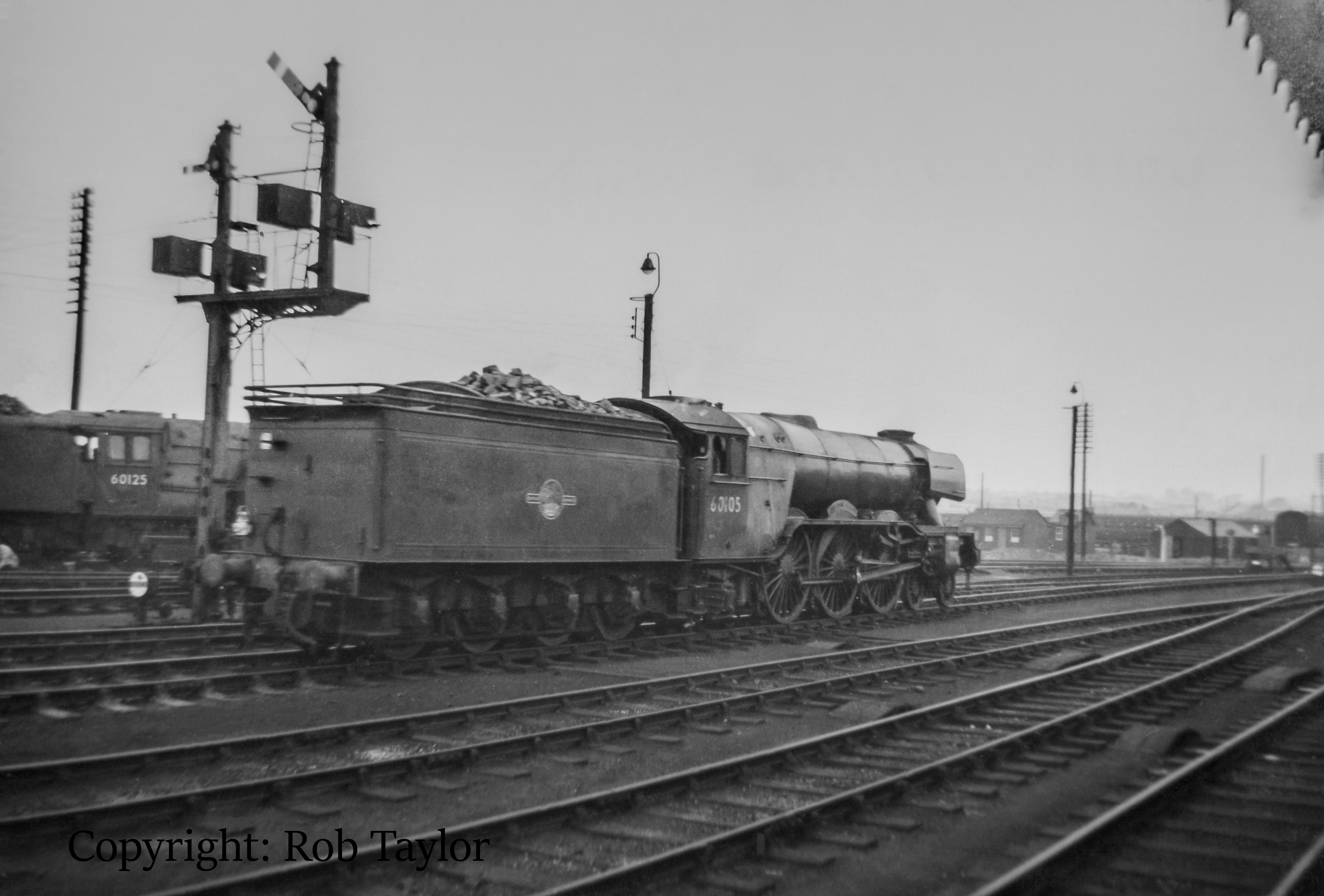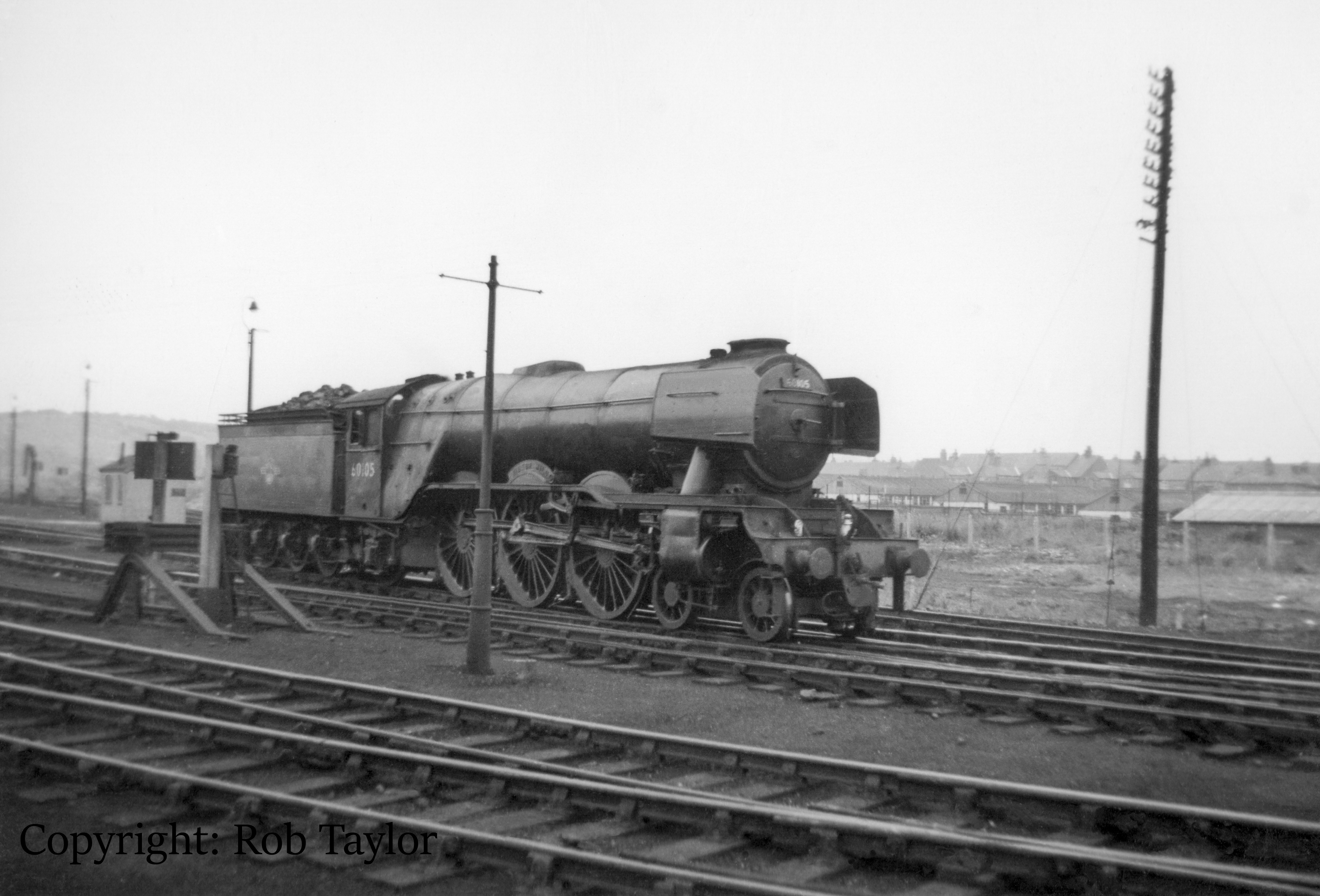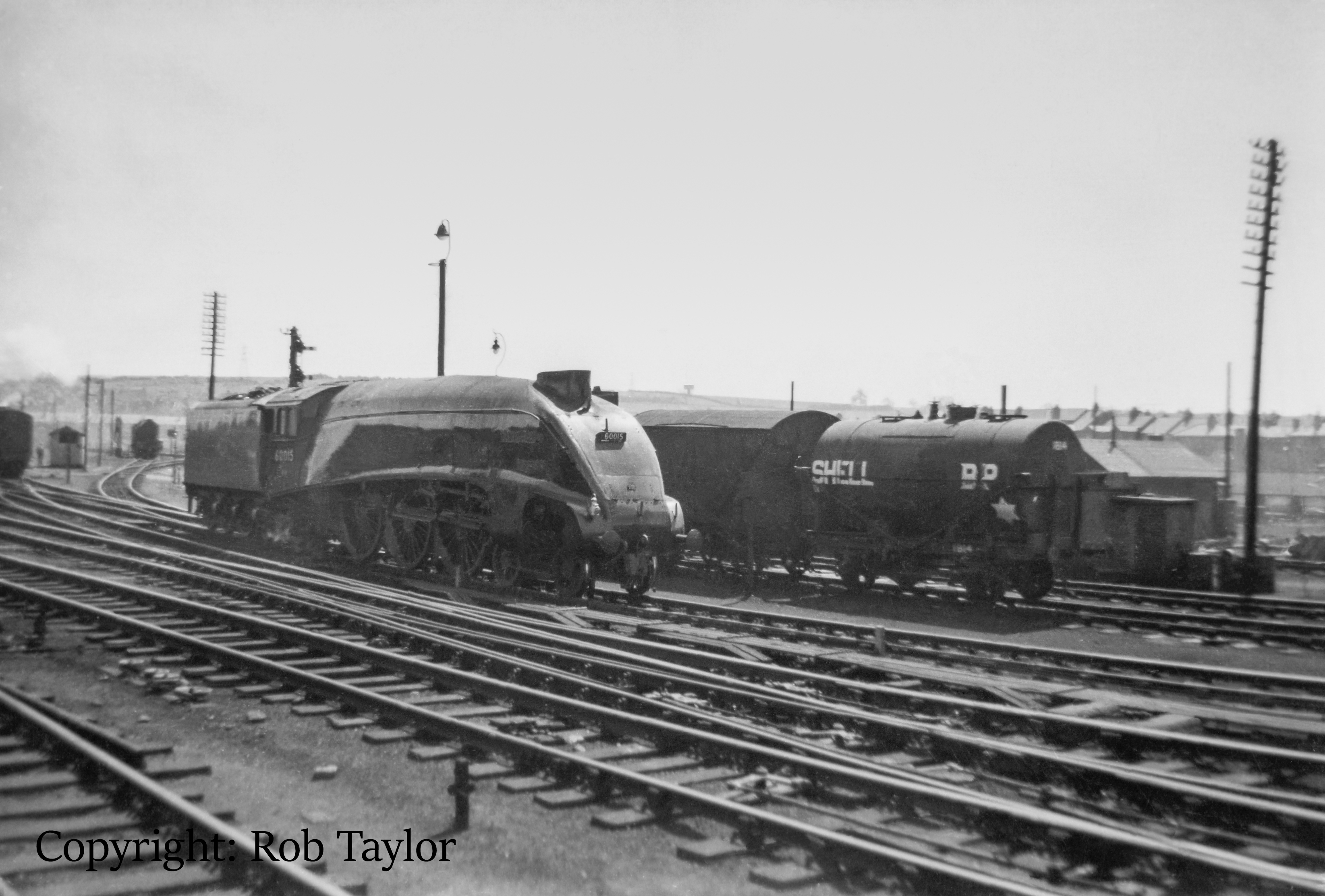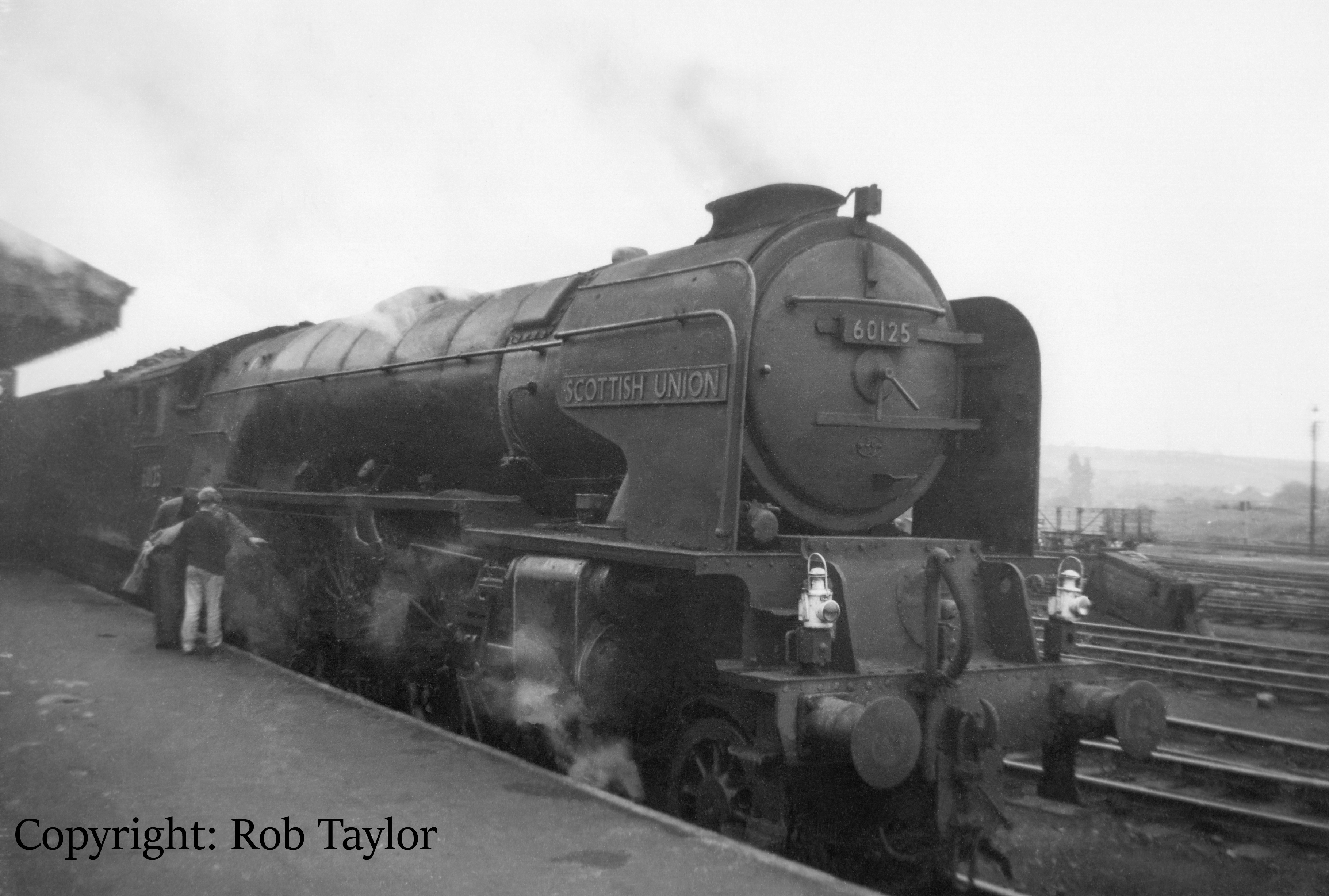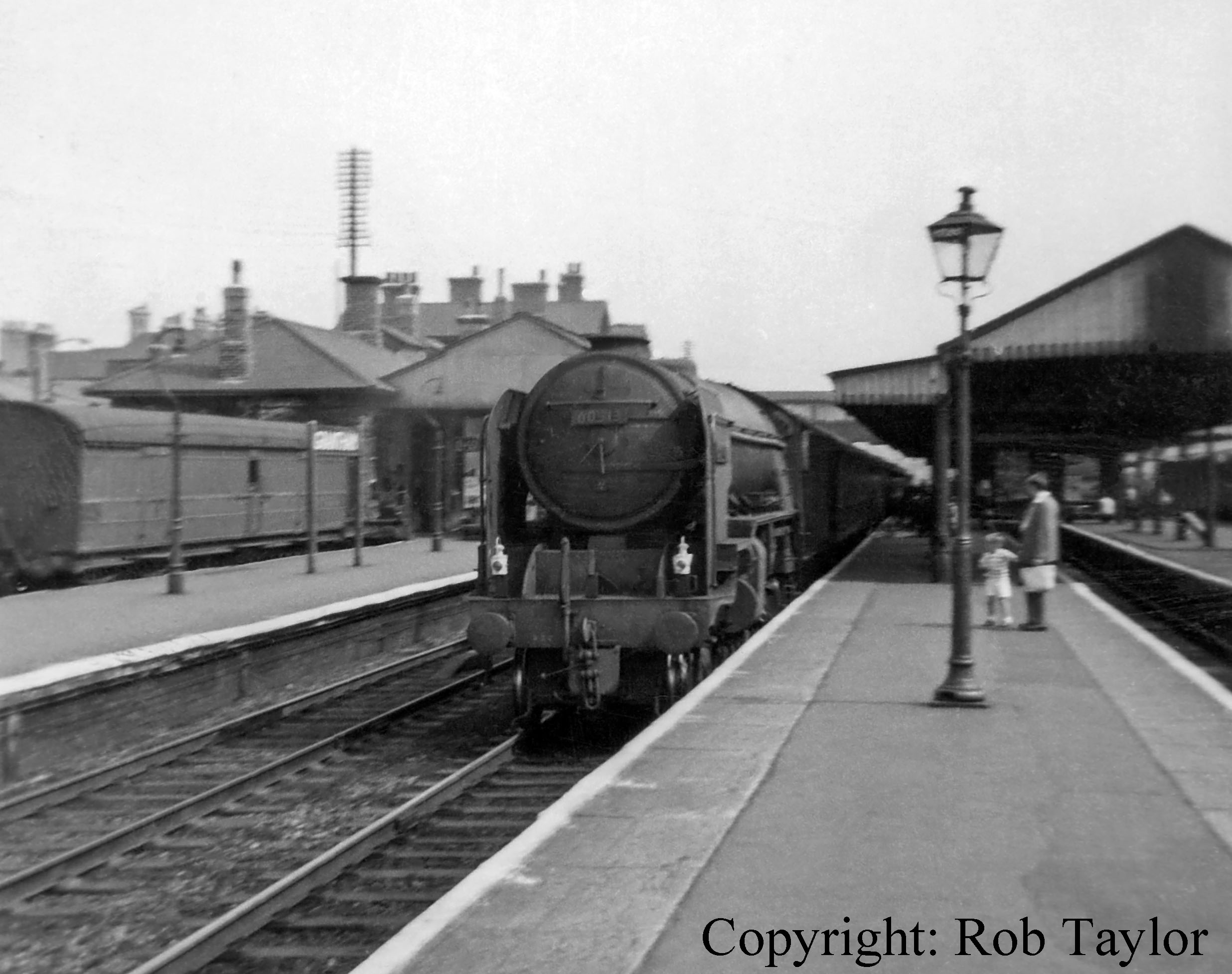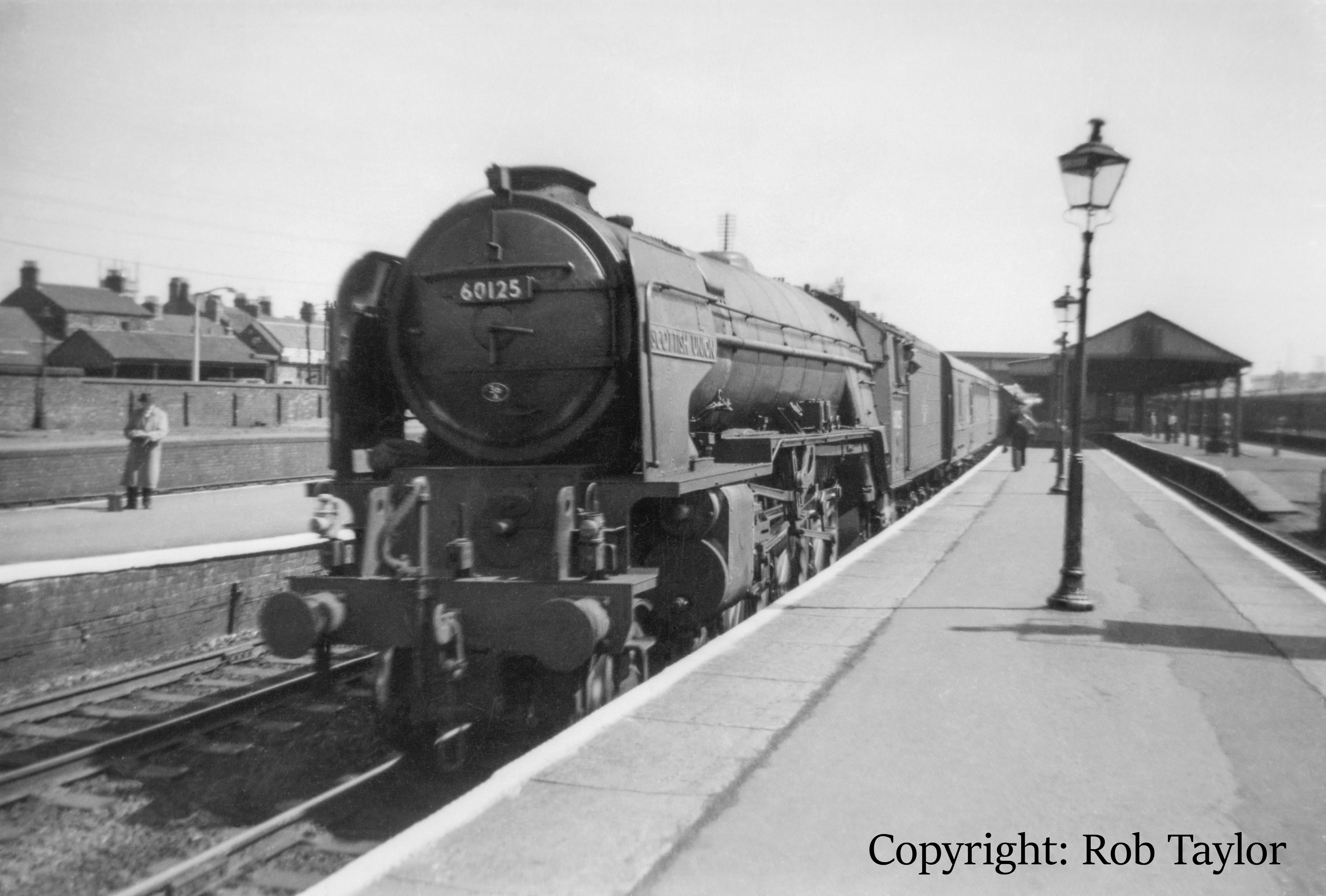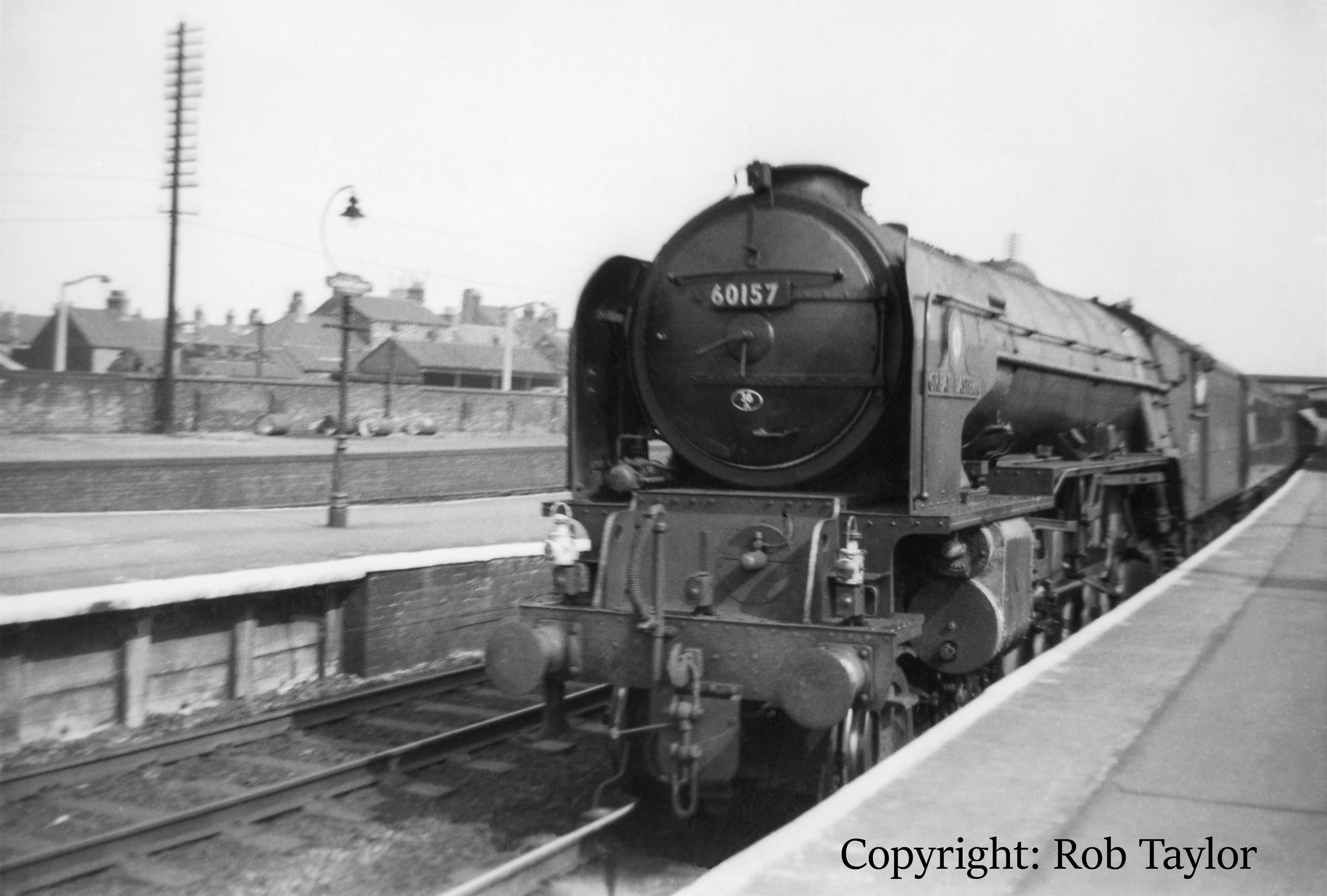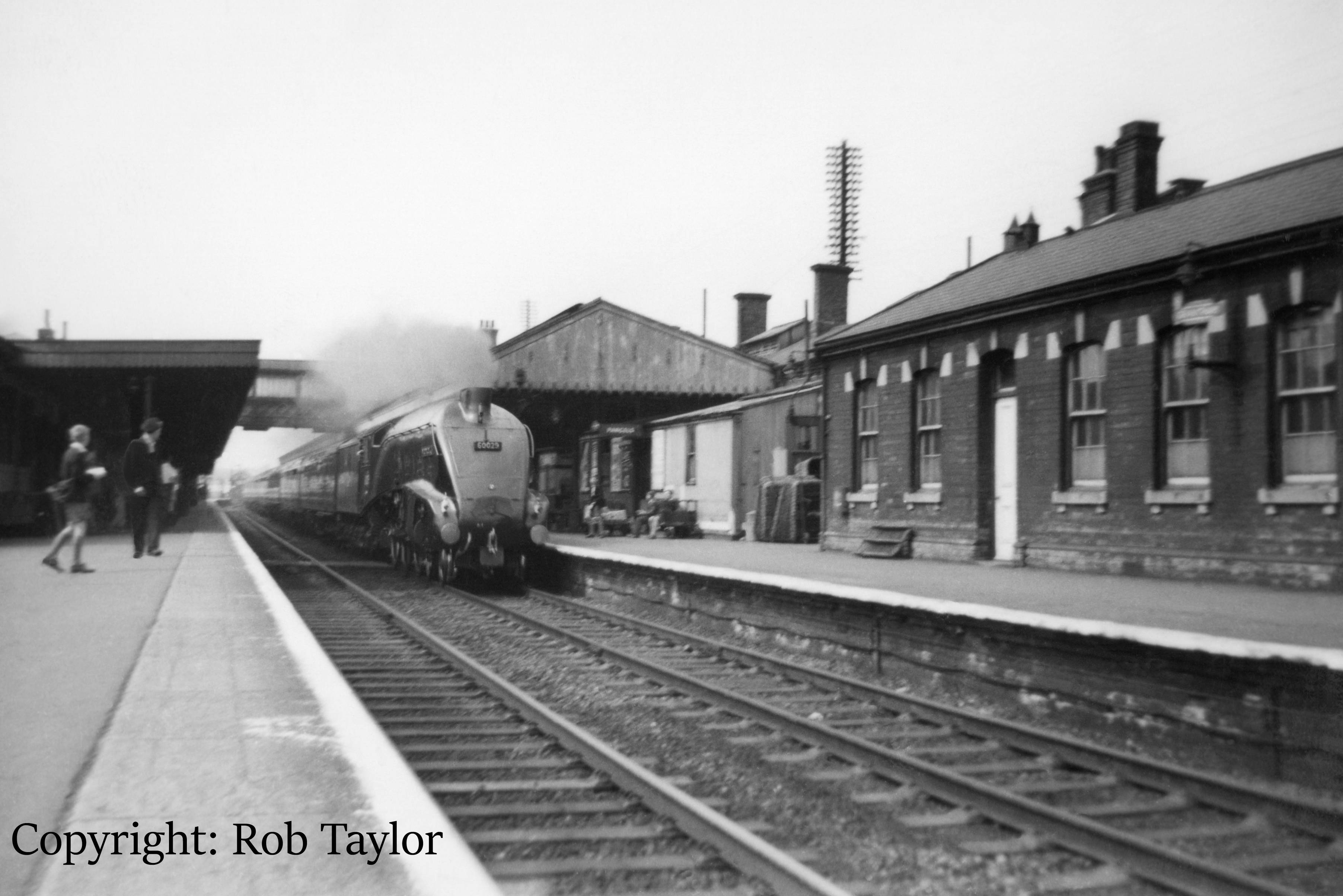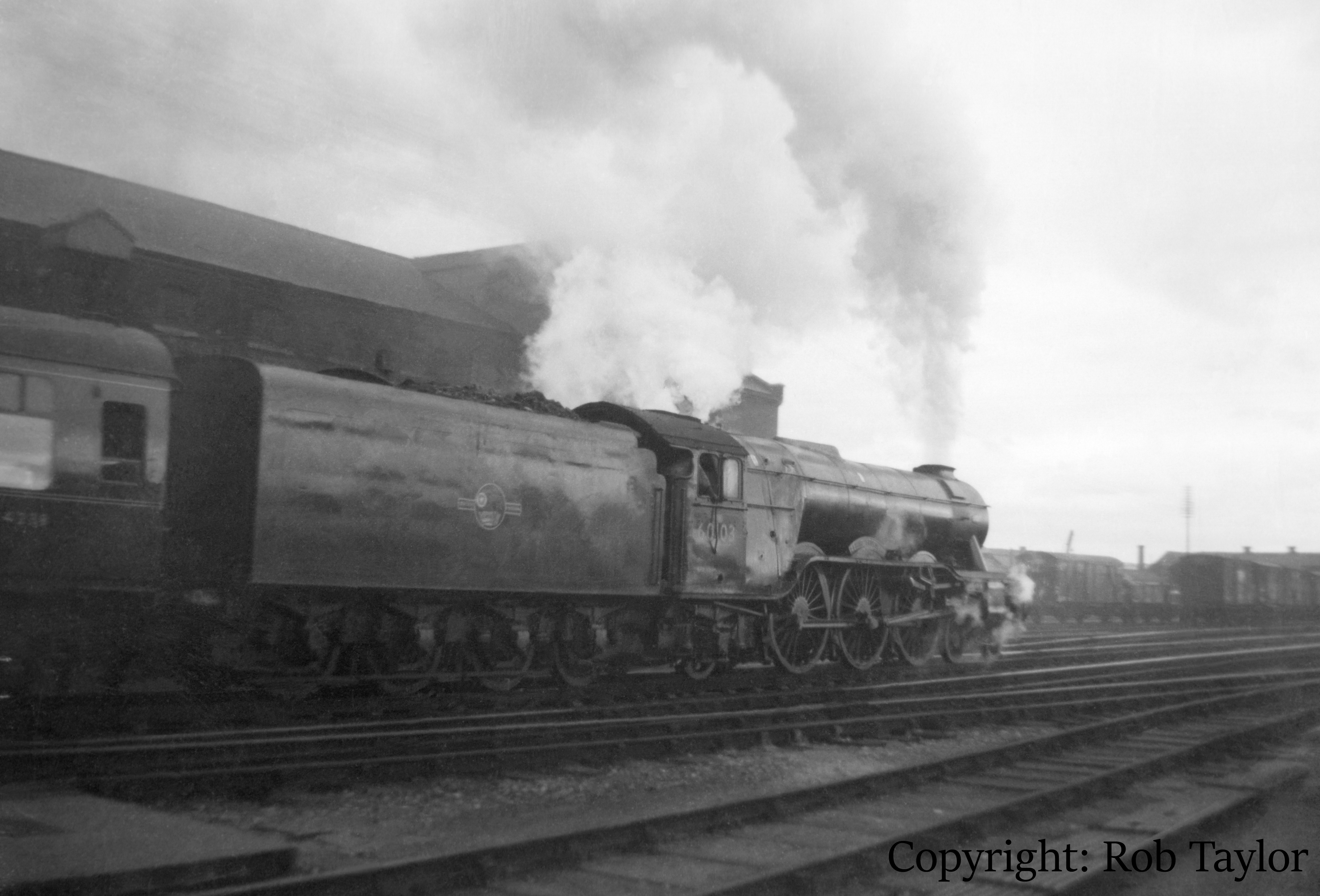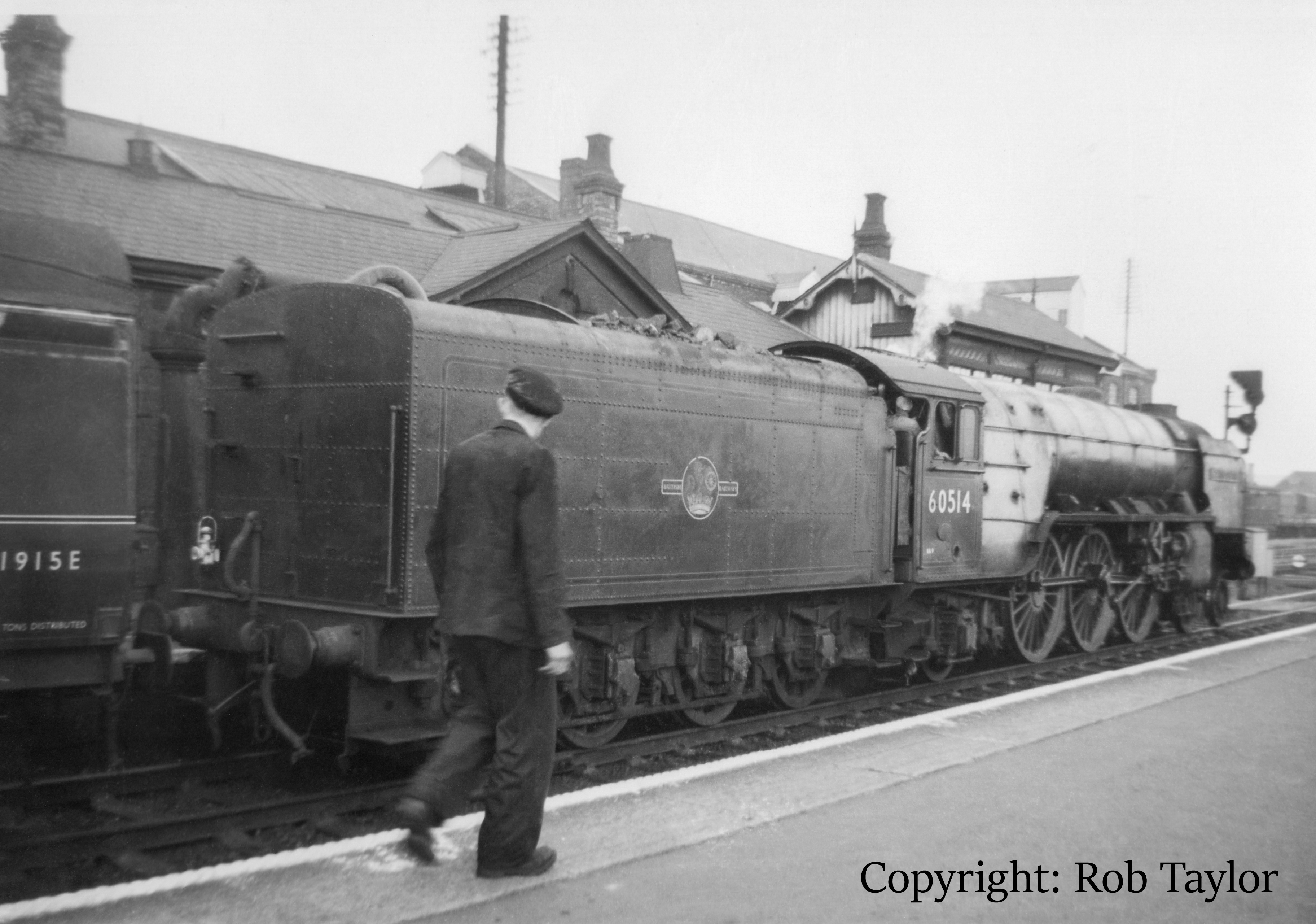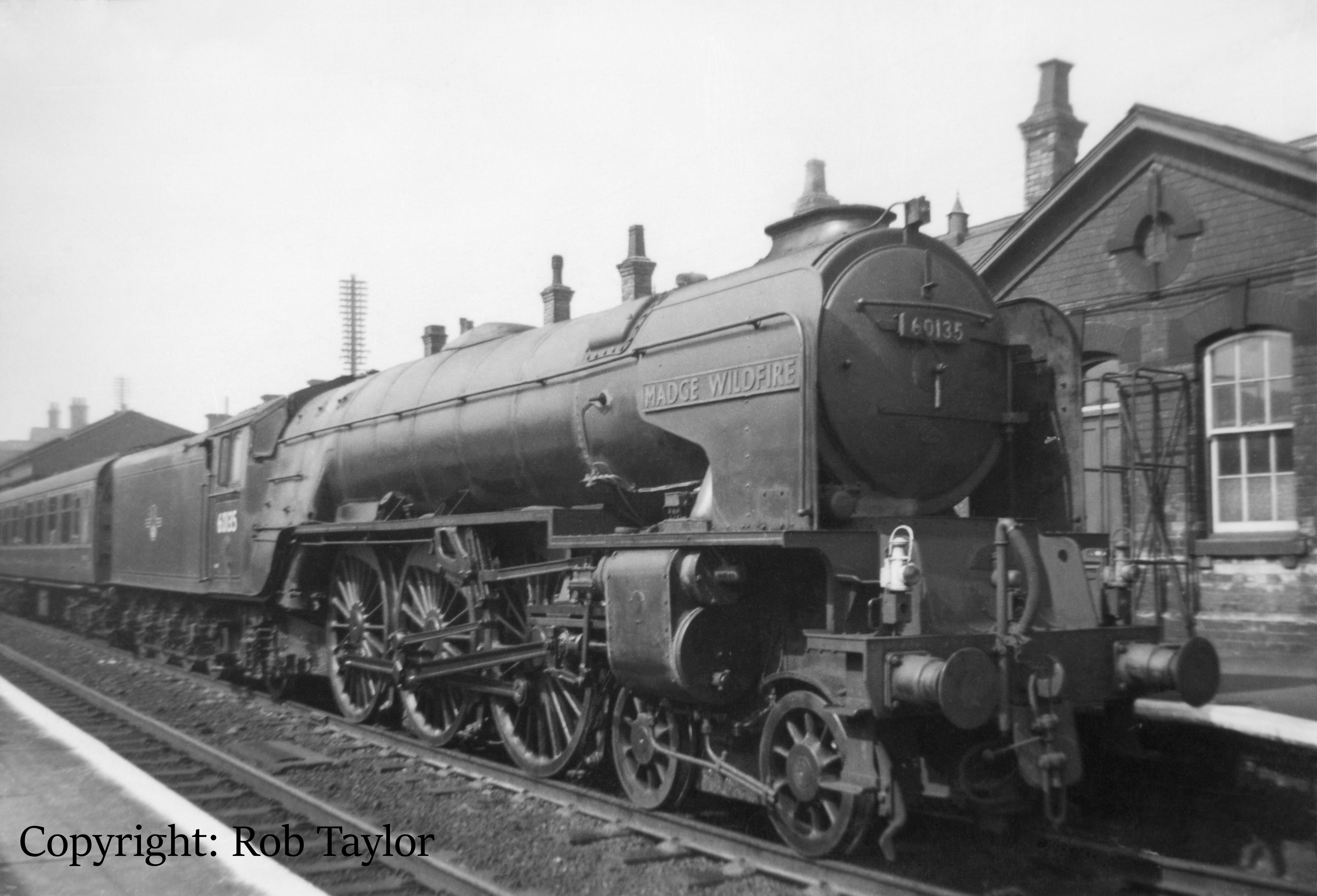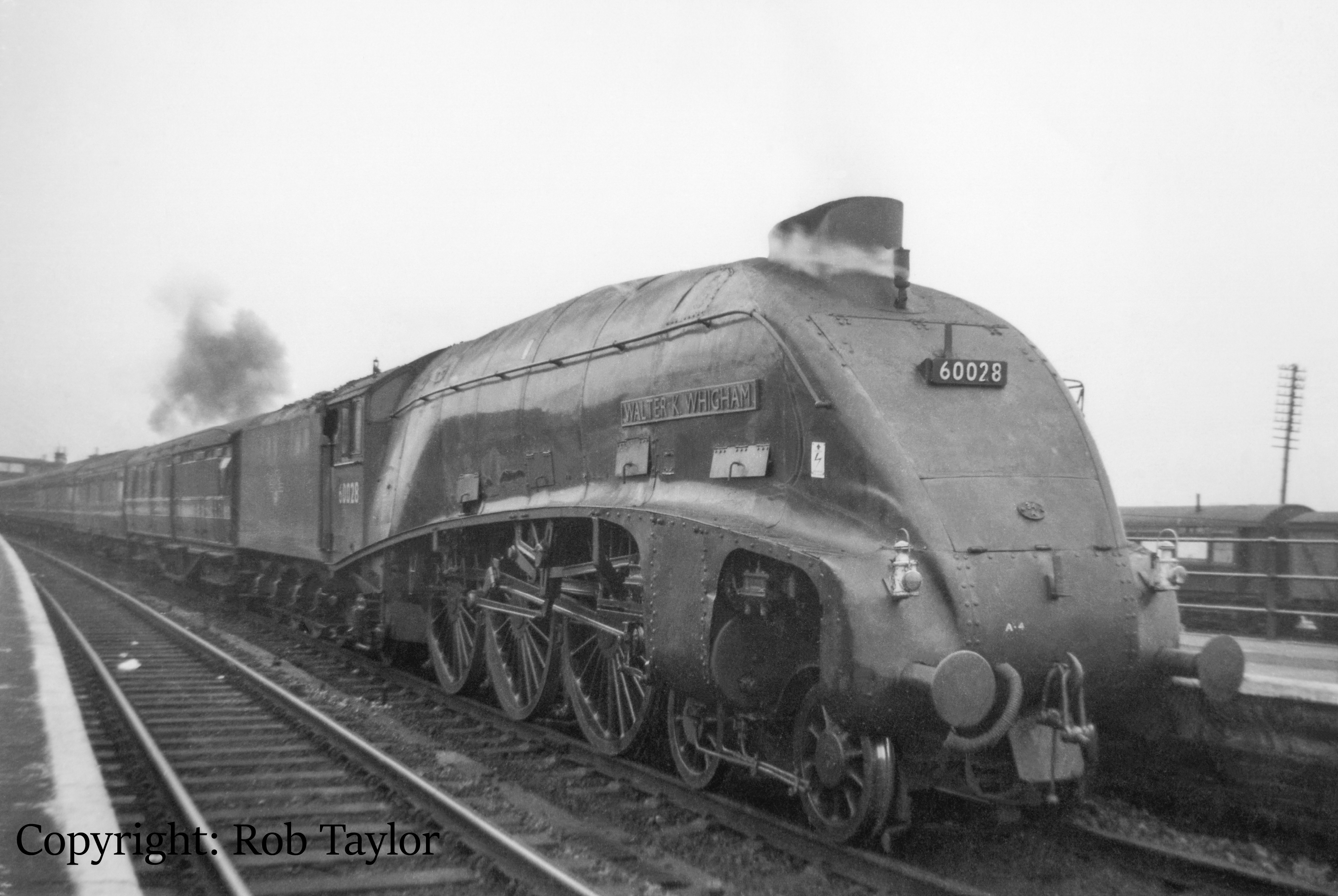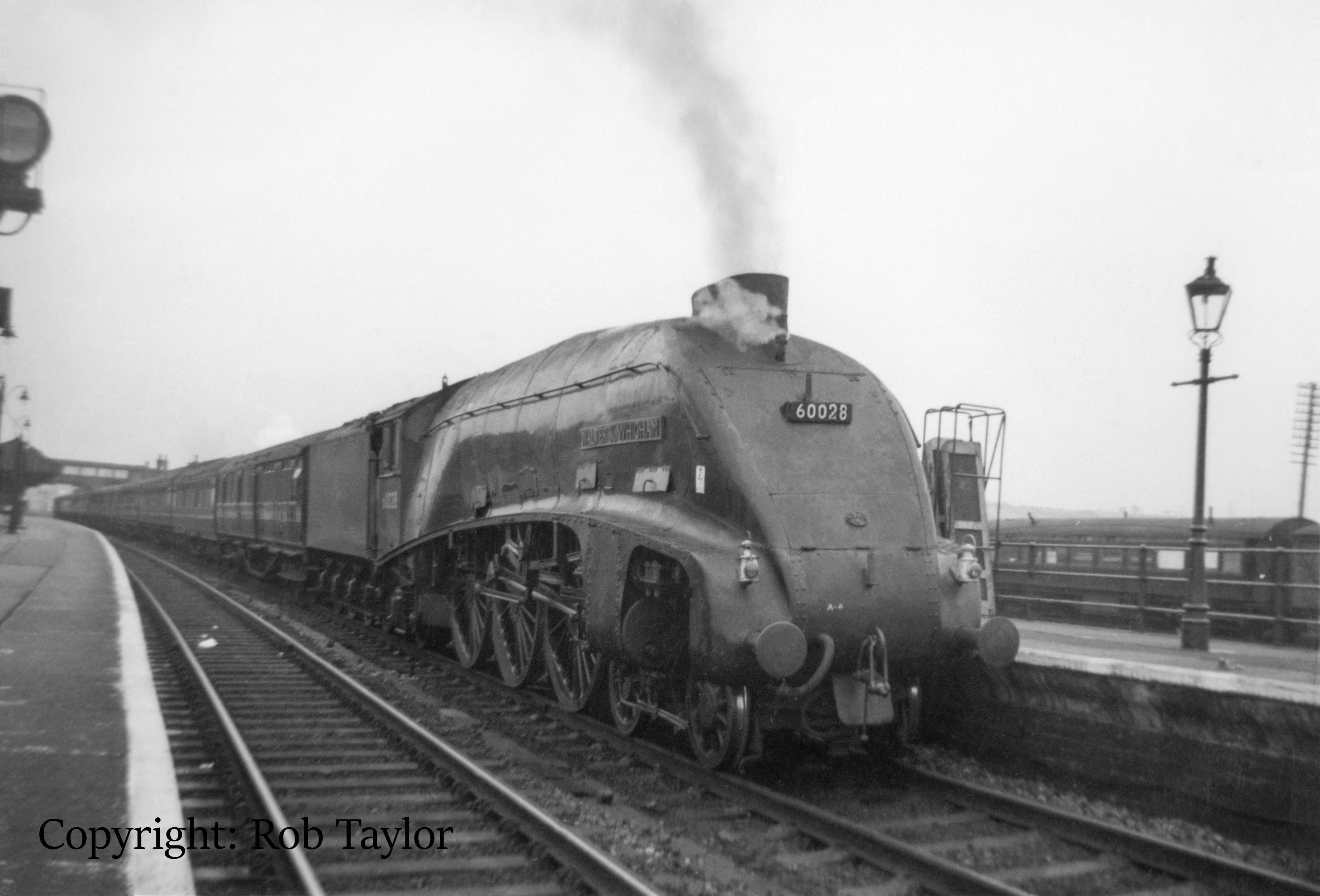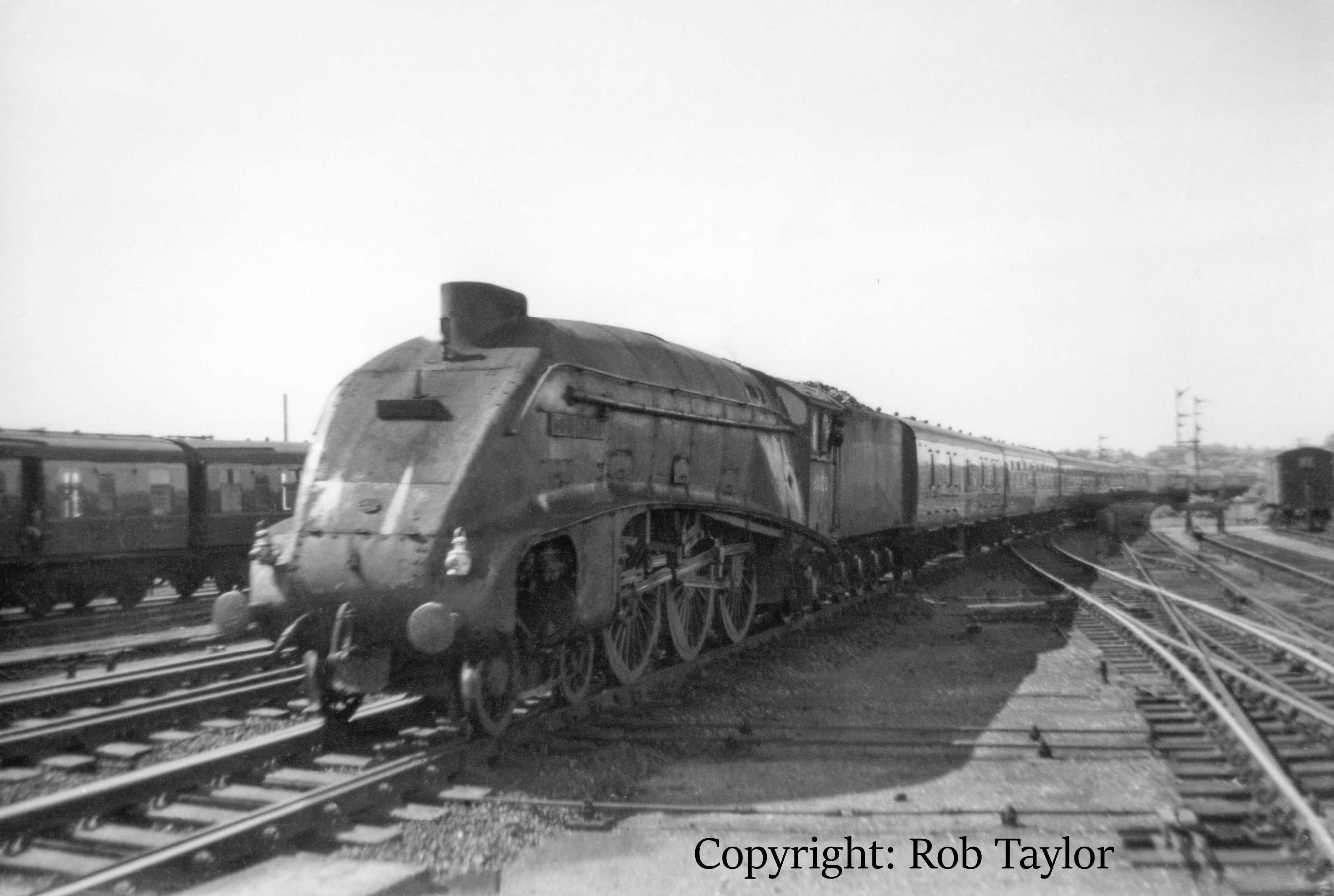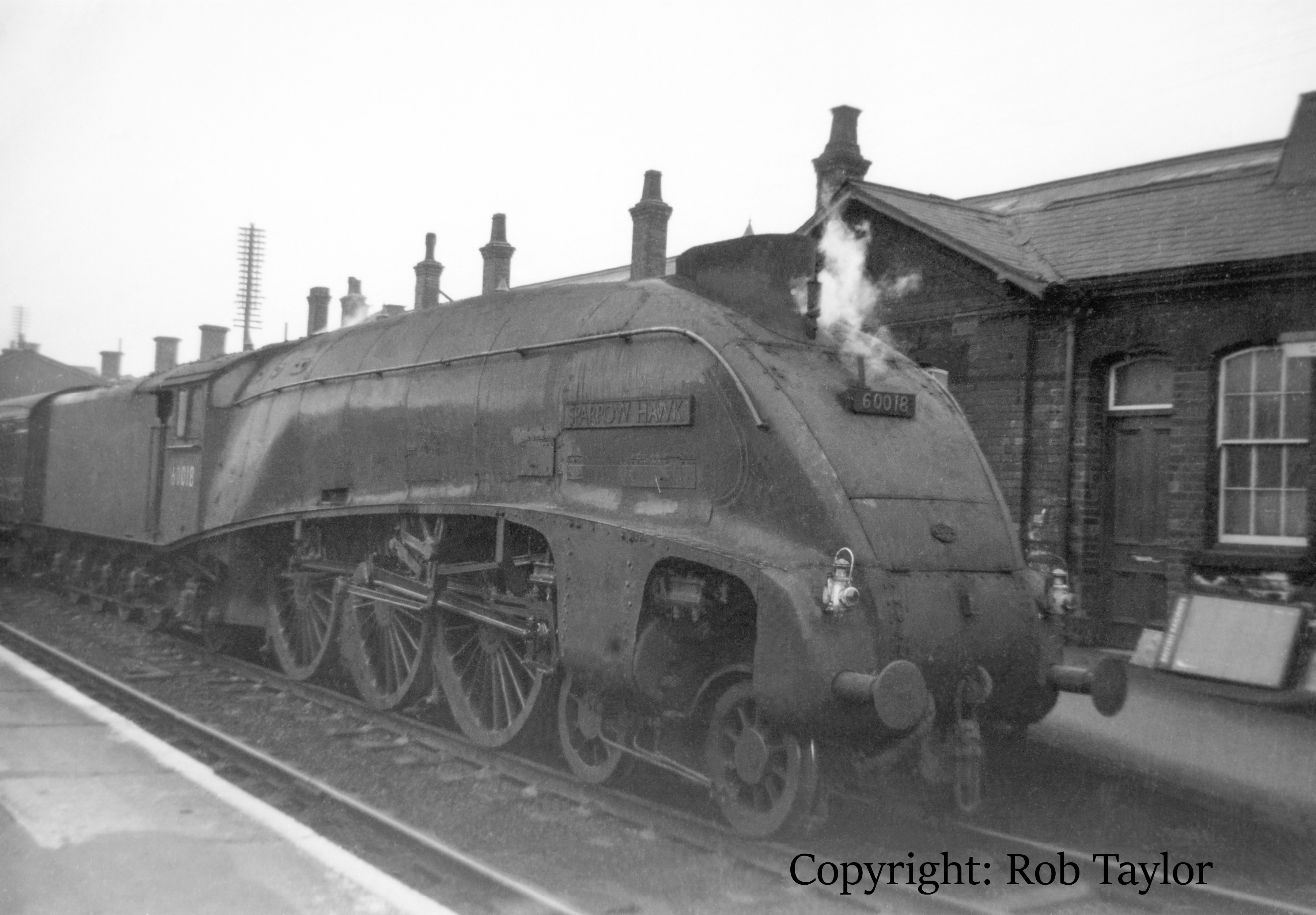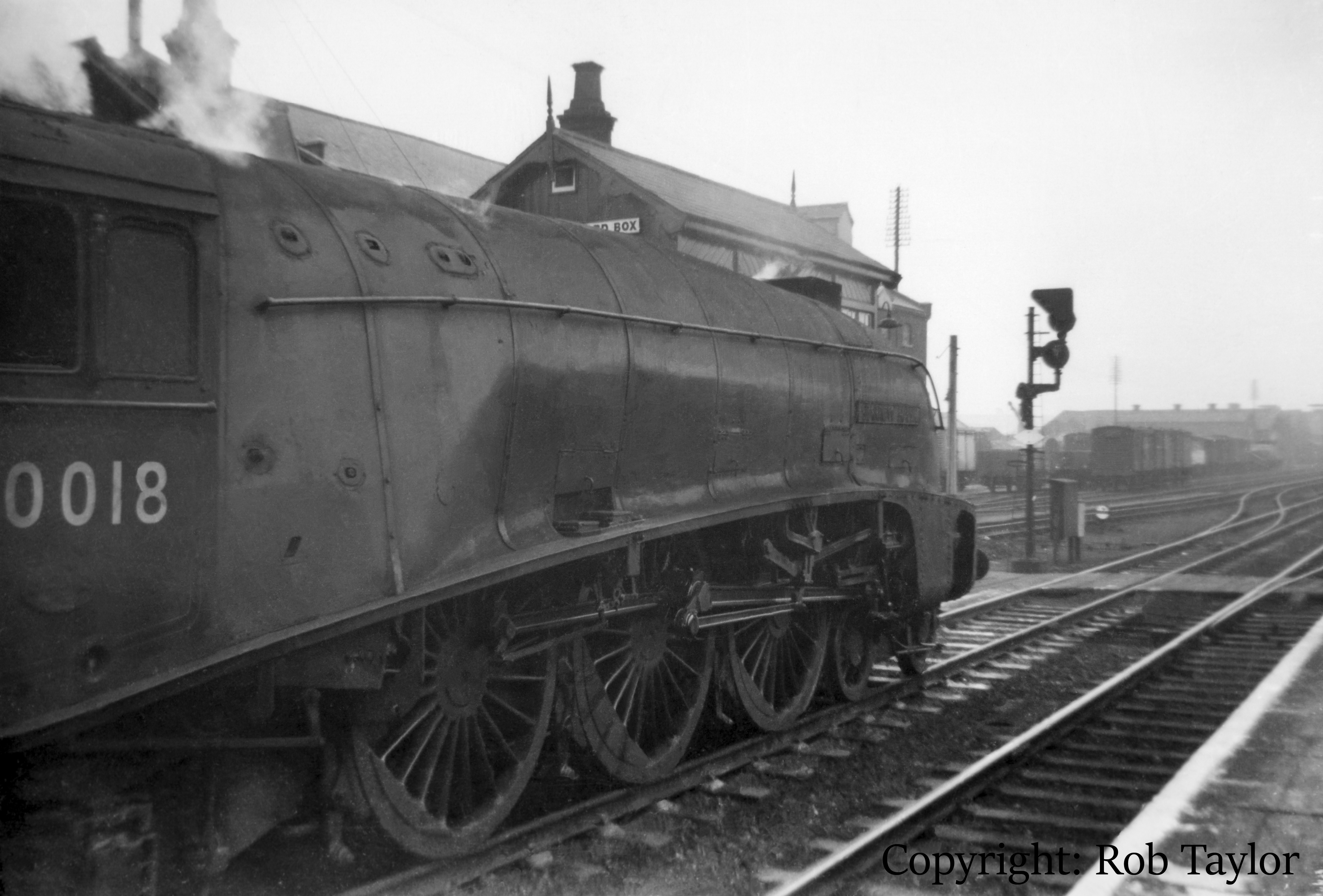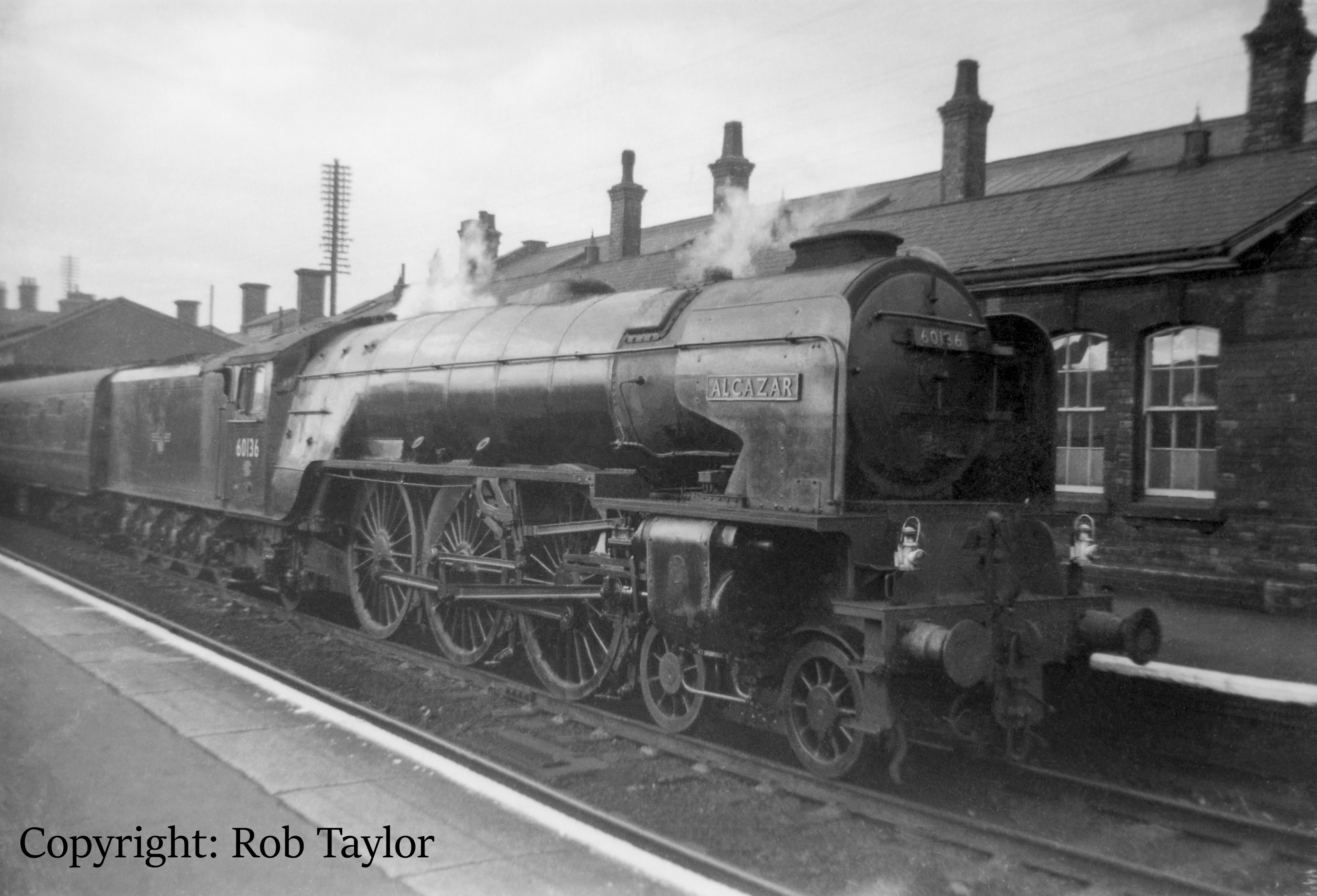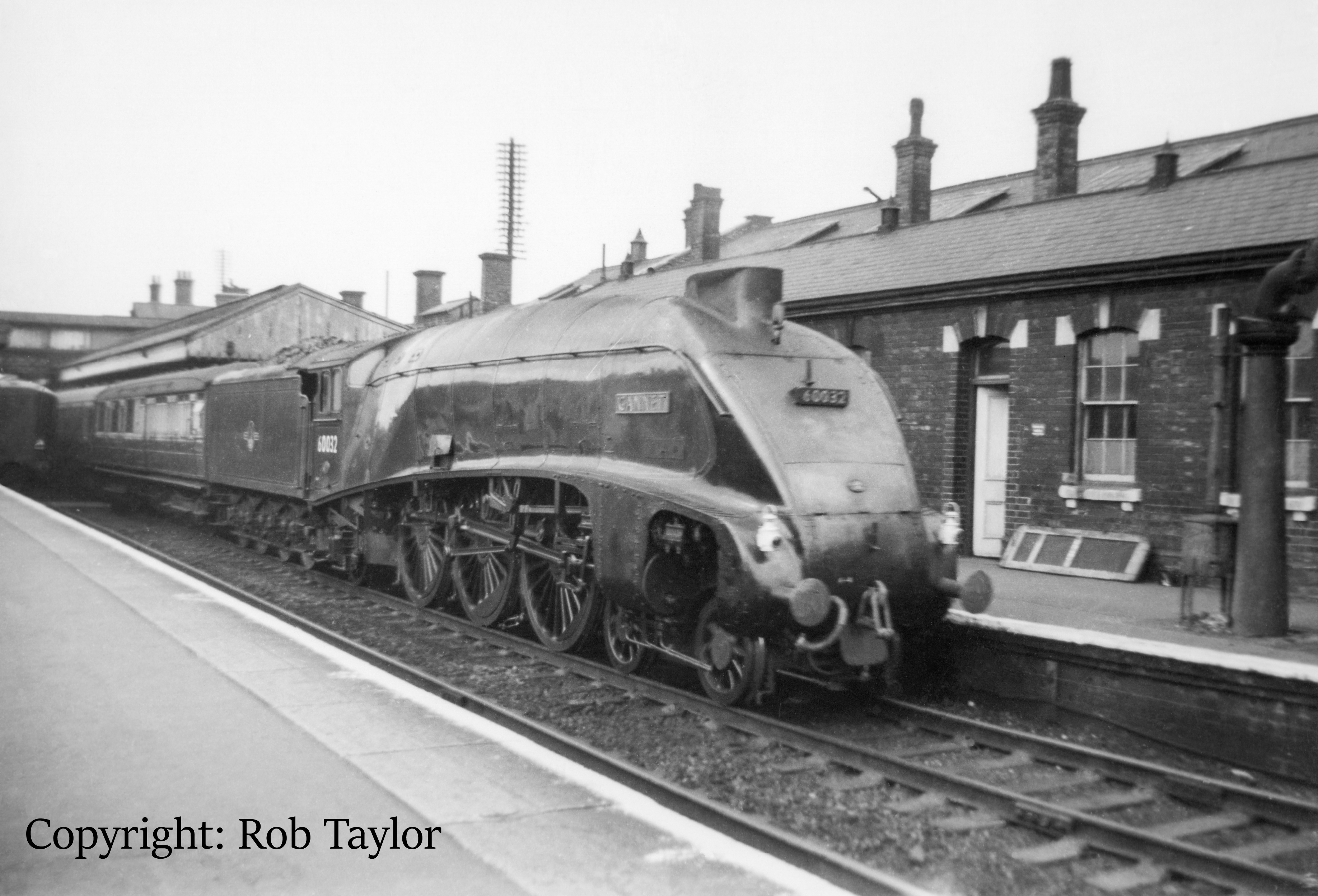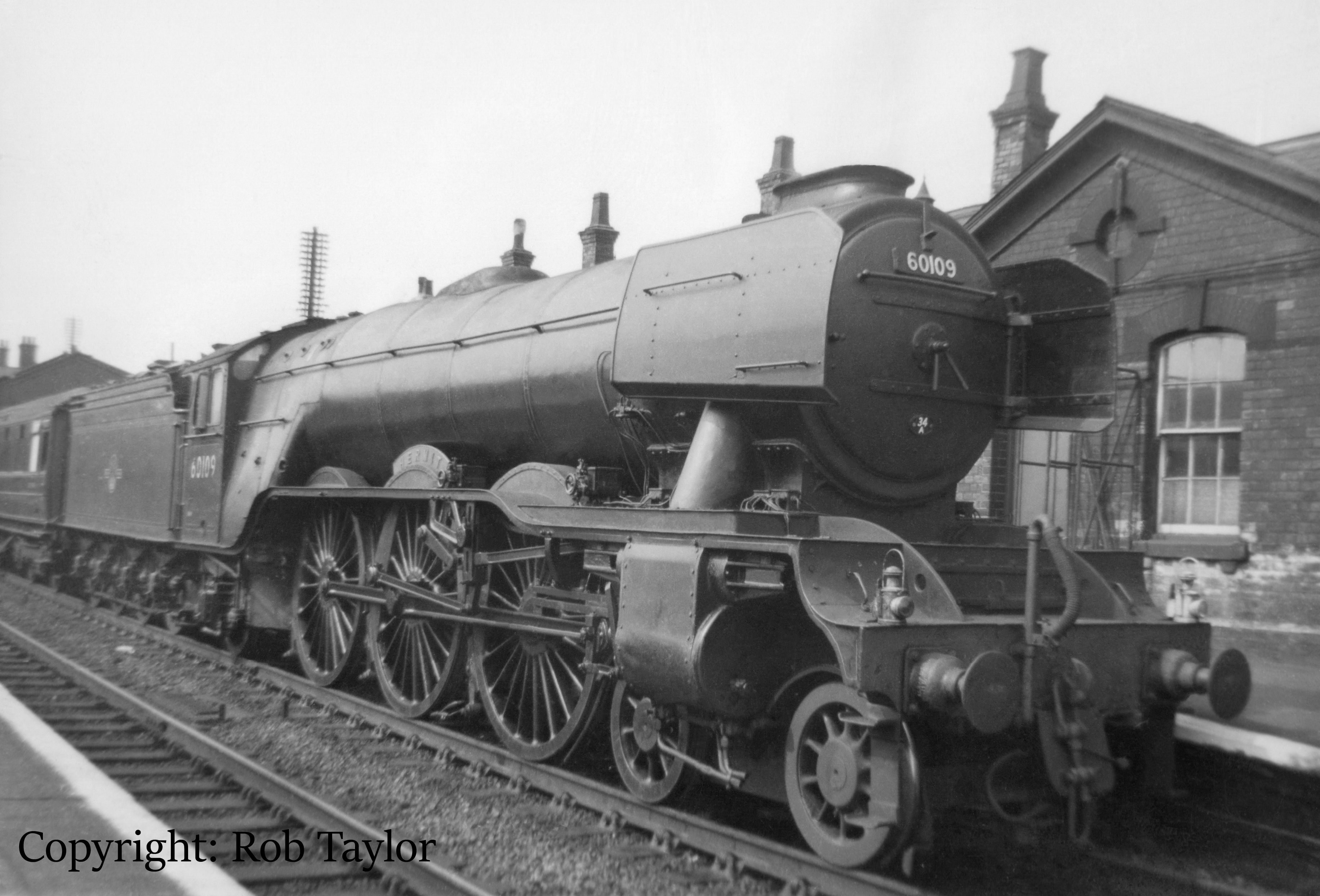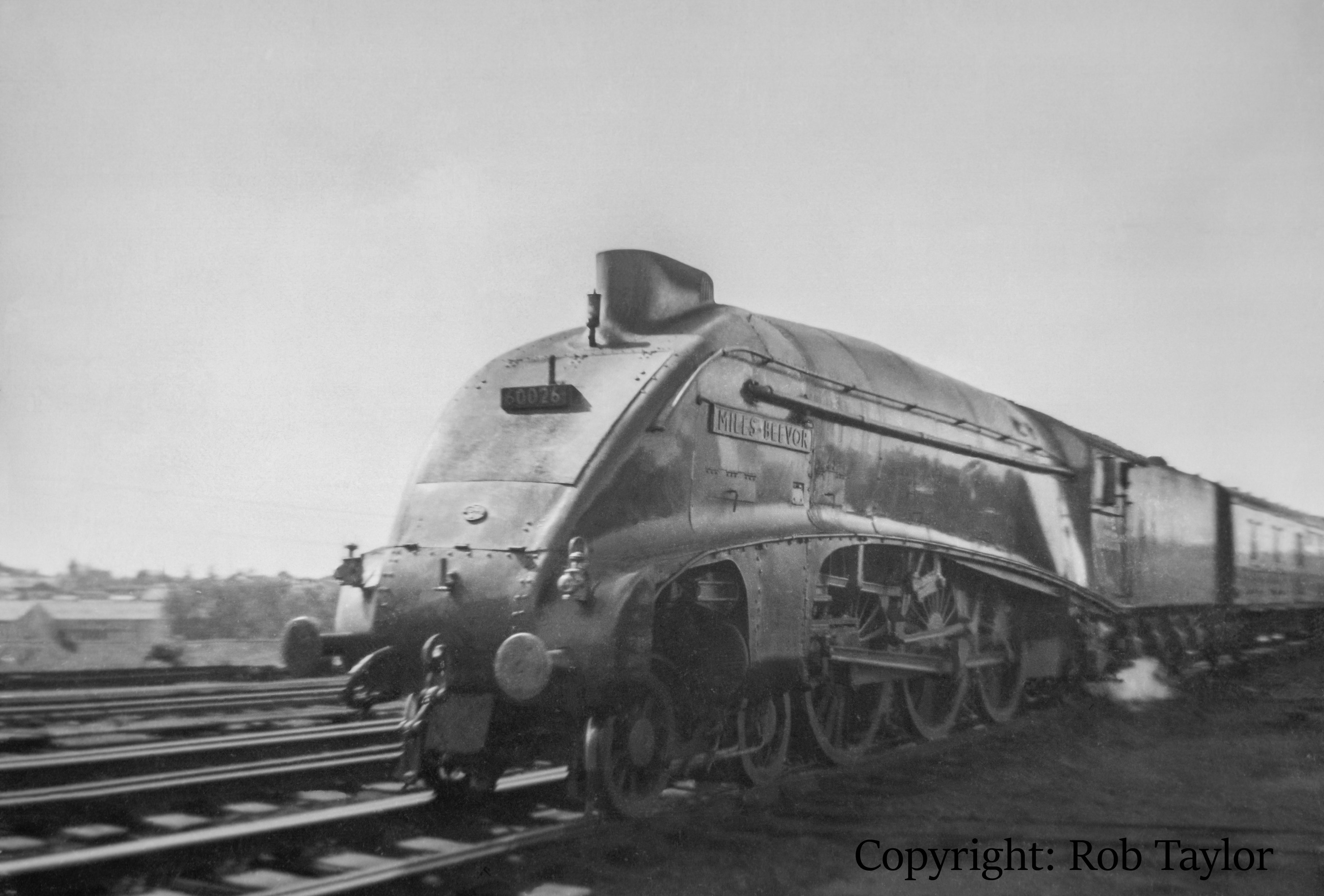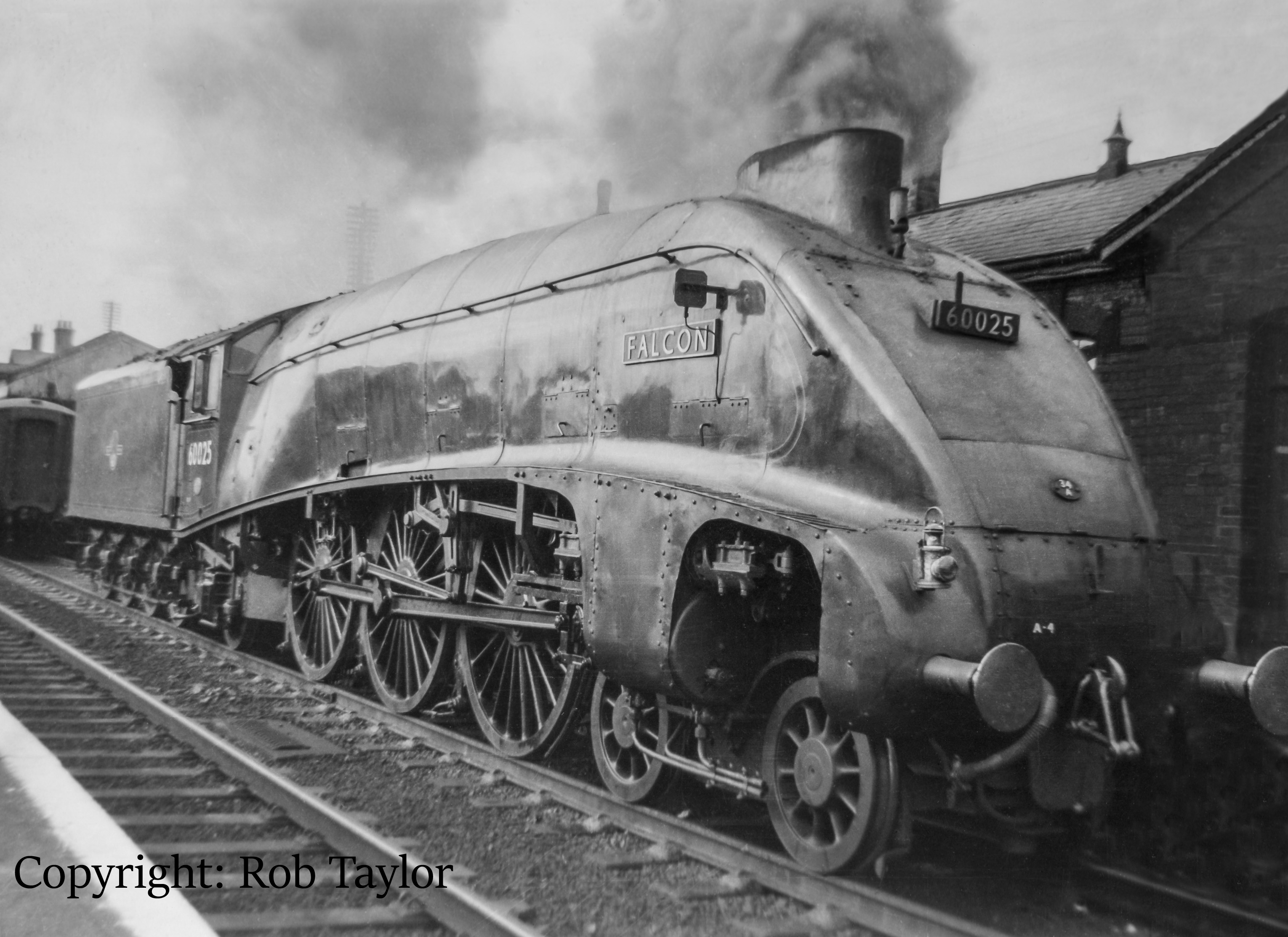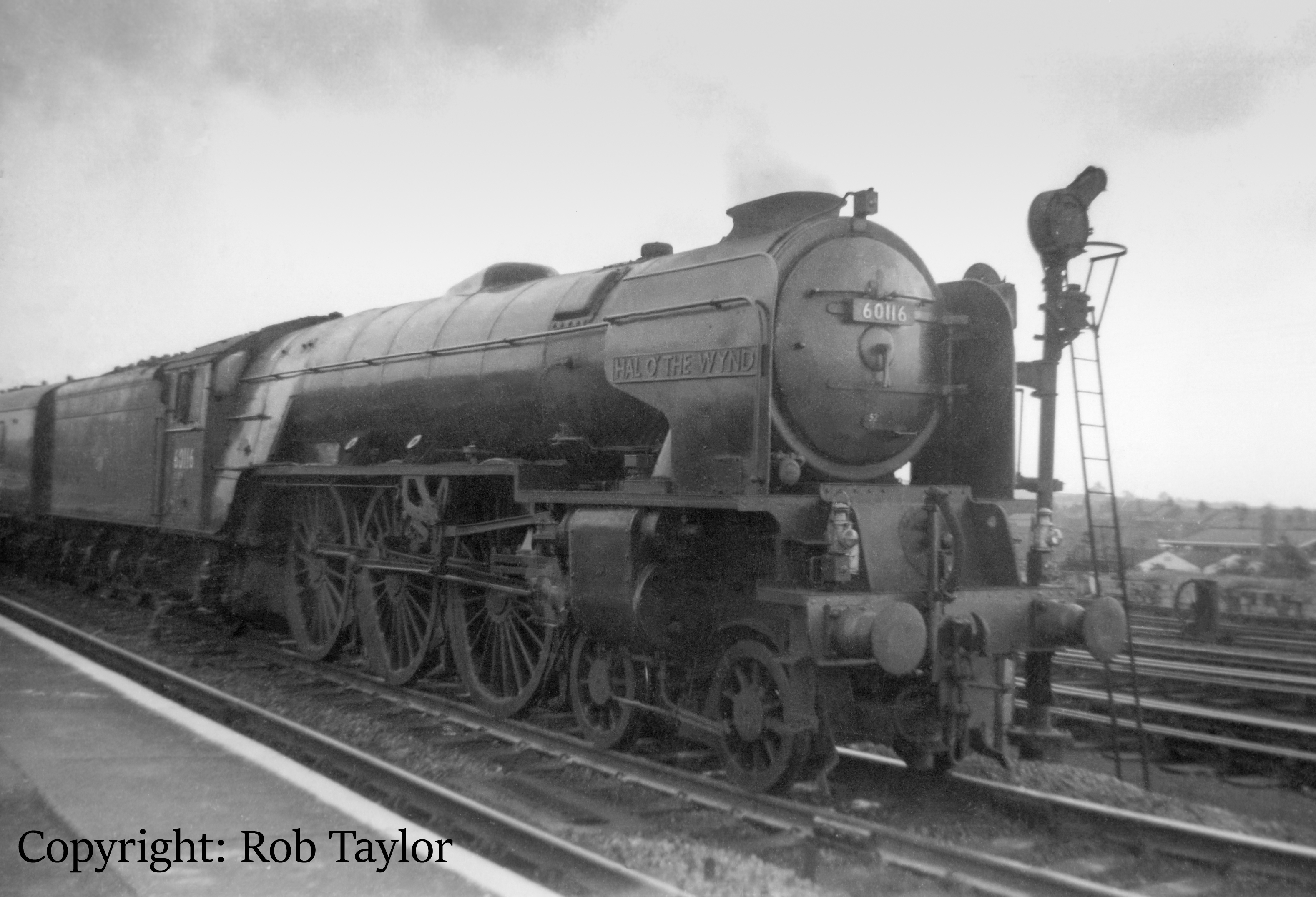 ---
Copyright note:  the article above is published with the appropriate permissions.  For information about copyright of the content of Tracks through Grantham please read our Copyright page
---