- a personal record of the BBC TV Top Gear 'Race to the North'
by Steve Philpott
It was during my attendance, in April 2009, of the memorial service for my great friend and ex-colleague, Bernard Staite, that I learned of the attempt to race between London and Edinburgh with a steam locomotive, a car, and a motorcycle a few weeks after.  It all sounded a bit far-fetched to me, but I was assured by several people 'in-the-know' that it would happen, and I became increasingly aware, as the day wore on, that it was being heavily discussed by a number of well informed characters attending this celebration of Bernard's life, and achievements, which was tragically cut short by cancer.
Apparently, the race was to be held on Saturday, 24th April, between Peppercorn Class A1 Pacific, 60163 Tornado, a Jaguar XK120 sports car, and a Vincent Black Shadow motorcycle to be recorded for television and shown nationally later in the year.
As anyone involved with the modern-day steam movement would appreciate 'anyone that was anyone' was there (and I'm NOT including myself in that group!), to pay their respects to Bernard, so, naturally, I ended up talking to quite a few of these acquaintances about all things to do with steam charter trains as I'd been heavily involved with that side of the business for EWS / DB Schenker for a number of years, and through this I'd got to know quite a lot of people in the steam movement.  On the day I'd given a lift to two of my greatest friends… Bernie McDonough and David Court… and it was because of David (and his determination to never take "No" as an answer) that things got quite interesting as the day progressed…  as it was during one of a few conversations I had with David over the course of the afternoon, and a few diet Cokes, that the subject of the Top Gear train came up.  David, subsequently, told me that he was on board on the day, from London, and asked me if I wanted to come too, to which I replied that I wouldn't say no, but it wasn't my decision to make (or his, for that matter).  He duly retorted that "Oh, that doesn't matter, I'll tell Graeme (Bunker) that you want to come", and he went straight over to said gentleman and said his piece.  I was mortified, as, although I knew who Graeme Bunker was and had spoken to him a few times, we were not that well acquainted.  However, he came straight across to me, accompanied by David, and said "Mr Court tells me you want to do the Top Gear in a couple of weeks' time" …  I rather sheepishly said "Yes, if that's okay" and Graeme replied "Yeah, that's fine, where do you want to do it from and to?"  I thought for a moment and, taking into account cost etc., I said "I'll do it from Grantham, if I can arrange it, and probably go as far as York."  So, Graeme was fine with that, the deal was done and we all, eventually, went our separate ways.
I was asked to keep the finer details of the train information to myself - the wider public weren't to be made aware of the running of it because of fear of trespass and all that goes with it.  Fortunately for me with my good railway industry contacts, I was, eventually, sent a full set of Network Rail timings several days before the train was due to run, so this enabled me to work out what I was going to do on the day.  Tornado, although not the original choice for the job (that was Flying Scotsman), was in high demand, so much so that on the Saturday before she hauled the VSOE Pullman to York and back, which necessitated her taking water at Grantham in the evening.  I'd already photographed her at Bathley Lane and then decided to drive south to Grantham to try to get a shot of her in the Down Yard whilst taking water, and this turned out to be a very good move as when I arrived at Springfield Road gates I was seen by the local Network Rail M.O.M., Paul Mellors,  given access to the train, and, as a result, got some very nice shots.  However, the real advantage of this turn of events was that I was able to mention to Paul about the next Saturday, and my invite to do the train, and that I was thinking about whether it would be possible to board in the yard during the water stop.  "No problem," he said, "I'm on duty next Saturday, so just ring me when you're about, and I'll conduct you to the train."  Brilliant!
A few days before the train was due to run I received, by e-mail, a full set of N.R. timings, so now I was fully prepared, and on the day I departed Hougham in good time to get to the Grantham station area to enable me to park the car and contact Paul to let him know I was about.  I was being kept up-to-date with how train 1Z63 was progressing and so I knew I had plenty of time to get in position in the Down Yard for its arrival, even though it was making very good time and running early.  So Paul and I donned our PPE, made our way onto the track and walked the couple of hundred yards into the yard.  By now Tornado was very close and I could see the watering crew with the road tanker rolling out the hoses in readiness for quick coupling up and a fast getaway!  It was now just after 09.00 and as we were getting into position I heard the unmistakable shrill whistle (as opposed to its alternative chime whistle!) of an A1, presumably in Saltersford Cutting…  she was here!  Within a minute or so 60163 and train was snaking into the Down Yard and along the Down Goods Loop behind the Western platform and came to a stand at the signal at 09.02½. Immediately, the watering crew got to work and the film crew alighted en-mass onto the ballast.   I was already armed with the camera and took quite a few shots from various angles, with one being of a very blackened Jeremy Clarkson who just happened to walk past Tornado at the appropriate moment!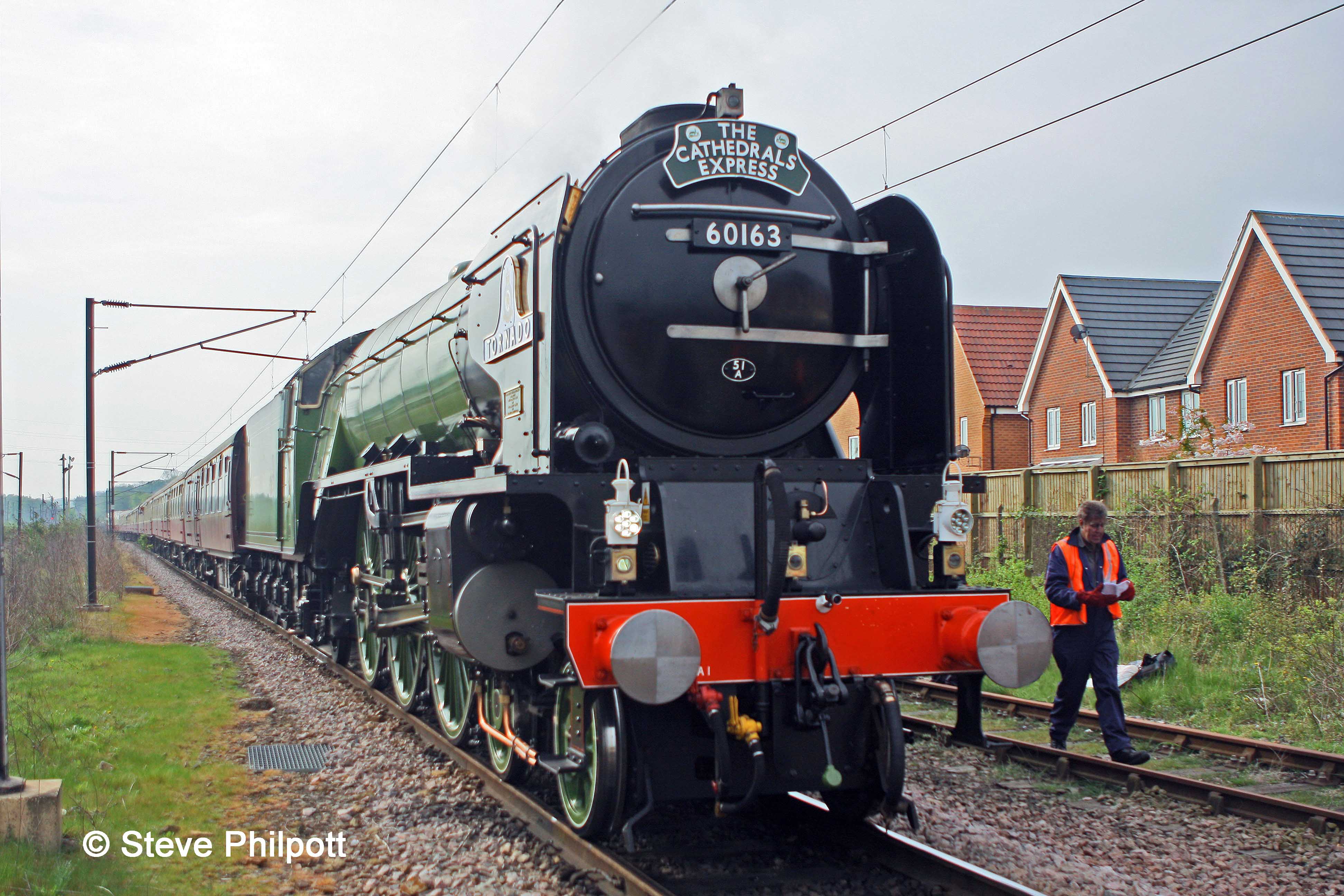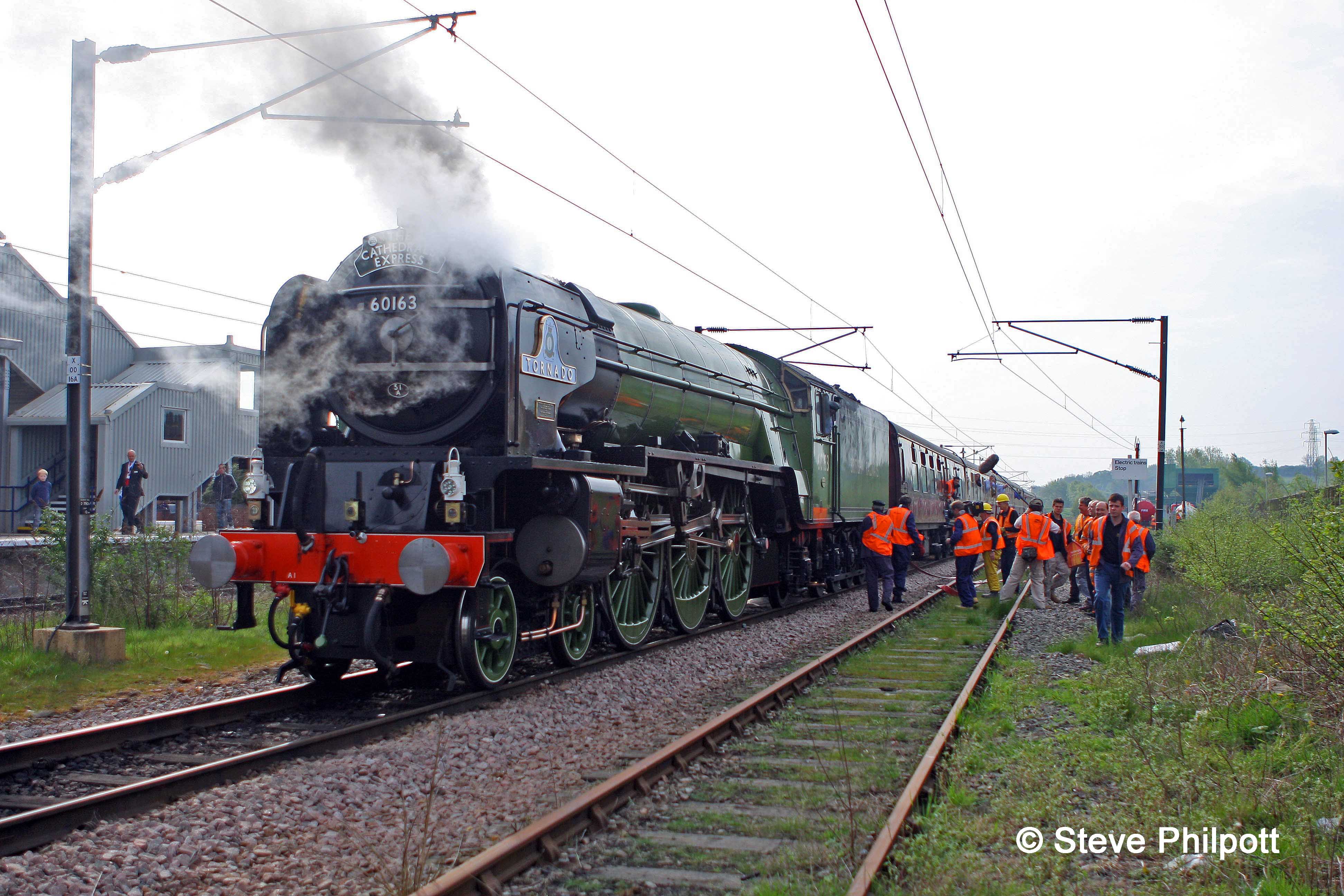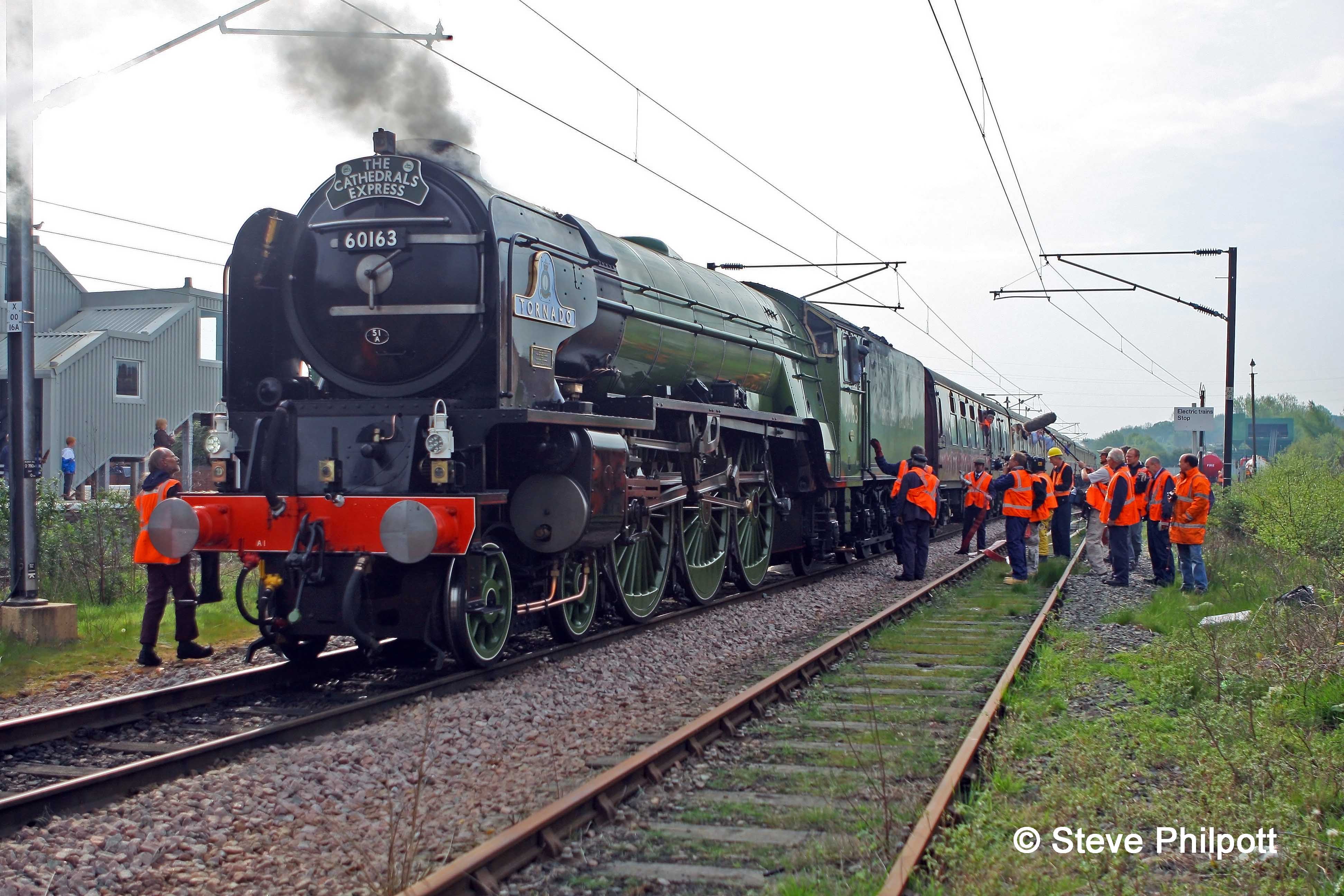 By now there seemed to be plenty of punters on the platform and there were a few people I knew, so I got shouted at, and after a few more minutes I made my way to the support coach and, after thanking Paul for his assistance, boarded the train where I was met by Dave Court, Graeme Bunker, and Mark Allatt who, along with everyone else in the coach, were wearing tee-shirts proclaiming "I AM THE STIG".
I found myself a suitable position to time from and found my train timing colleague, the late Mike Notley from Steam Railway magazine, in a similar position further down the vehicle.  I was almost immediately offered a cup of tea, which was very welcome.  I got the timing gear out (GPS these days!) and the trusty notebook and pen and eagerly waited for the off.  We were soon underway at 09.17 with the A1 lifting her 10 coach train out of the back and gradually drawing out over Harlaxton Road bridge with Hither Green Driver Don Clarke at the controls and T.I. Colin Kerswill keeping a careful watch on things.  The progress was somewhat short-lived as we had a red aspect at D25 signal above Dysart Road bridge, due to a late running down GNER service which should have been well out of the way by then, and came to a stand after 3min 47 sec.  However, as almost as soon as we'd stopped the signal came off to yellow and we were moving again but, annoyingly, this had cost us about 5 minutes on the schedule which needed to be pulled back.  Once we were rolling and out on to the Down Main, after 'Diana Bridge' the speed began to increase quite nicely as the line is level and then drops slightly at an average of 1 in 440 by Belton Lane, and then 1 in 200 after Peascliffe Tunnel towards Barkston South Jcn which we passed in 10 min 08 sec at 59½ mph.   The speed was steadily increasing as we passed my abode at Hougham and we were through Claypole in 15 min 12 sec doing 74 with Tornado purring away at the front.  Newark Northgate was dealt with in 1 second under 19 minutes, but we were still 6 minutes adrift of the schedule.
1Z63 was now travelling along the Trent Valley at an average of 72½ mph, which, as we know, is slightly under the maximum permitted speed for preserved steam locomotives on the main system in the U.K.  However, once through Crow Park the gradient starts to rise as the line climbs Weston Bank, towards Egmanton and Tuxford, and the speed reflected this as it started to drop off slightly to a minimum of 64 mph just after Dukeries Jcn and before Tuxford.  From here, though, the speed increased again to 67, and then to a maximum of 75 after topping Markham Summit, running through Askham Tunnel and dropping down through the cutting on Gamston Bank.  More tea was offered, and gratefully accepted, and Tornado was now bearing down on Grove Road and Retford, with a new maximum of 76 mph being recorded just before the level crossing.  Retford was passed in 34 min 40 sec, but we were still 5 minutes down and for once I wondered, just for a second or two, where the Jag and the Vincent were in the context of the race… I had absolutely no idea!
As we crossed the River Idle, just north of Babworth, the A1 was eased slightly due to a double yellow at Botany Bay, but this soon cleared to green and we accelerated back up to 75 by the time we thundered over the level crossing at Barnby Moor & Sutton… and so onto Torworth and Ranskill while maintaining a steady average of 74.  However, as we approached the long viaduct at Bawtry the speed tailed off a little and I recorded a minimum of 66½ at Piper's Wood Summit before the A1 began to accelerate again as we dropped down the 1 in 198 descent towards Rossington, hitting a new maximum for the day, of 77, and the outskirts of Doncaster.  By now various members of the support crew and others had enquired as to how we were doing with both Mike and myself, to be told "Alright, a little behind schedule but steadily pulling a minute or two back," and if we required more tea?
We raced past Decoy North Jcn and I was hoping for a clear run through Doncaster. However, within seconds that hope was somewhat dashed as the regulator was firmly shut off and the brakes applied, albeit for just a few seconds, due to two sets of double yellows at D233 and D245 signals as we ran past Doncaster Carr T.M.D. and towards Bridge Jcn and the station area, and quite a bit of our momentum was lost.  As we rounded the curve and ran under the A630 road bridge I could see that D271 signal, just before Hexthorpe Road bridge, was at green and as we approached, at 58 mph, Don opened Tornado up and had the whistle blowing all the way through the platforms…  quite a sight (and sound!) I imagine!  We were now 3 minutes down and Donny had been passed in 49 min 21 sec at 10.08.  The power was now, very firmly, back on again and we headed north towards Arksey gathering pace all the time.  As we passed the long-time closed Shaftholme Jcn signal box we were doing 74 mph having taken 53 minutes exactly from our starting point at Grantham.  From this point (MP160) to Temple Hirst Jcn (MP169¾) the speed range was between 71½ and 75½ with a maximum of 76½ being recorded just after the junction, where the old ECML route splits off towards Selby these days, as the train swung north west and began to traverse the 'Selby Divergence' route of the ECML towards Hambleton and Colton Jcns.  By now we were just 2 minutes down on the booked schedule without any excessive speed being recorded on this leg of the journey.  Throughout this final section of this part of the run the speed was kept fairly constant as we had favourable signals all the way past Colton Jcns and into York itself with, once again, the speed never dropping below 71½ until the final approaches to the station with the loco being allowed to coast past the site of Challoner's Whin Jcn and Dringhouses marshalling yard before the brakes were applied on the final approach to Holgate Jcn and the platforms… with 1Z63 arriving in platform 11 in 79 min 33 secs from Grantham at 10.36½, just 3½ minutes down.
Of course, and as you'd expect, by now, most people that would be interested in this type of event were aware and a lot of folk had assembled at York to witness it all.  The platform was quite busy. However, being as I was travelling in the support coach I was able to get up to the locomotive before most people on the train had arrived, just to have a quick word with Don and Colin, who both looked like a pair of Black & White Minstrels!  It was also an opportunity to see who the relief crew were and I spotted TI Steve Chipperfield and Driver Brian Grierson waiting to board the locomotive further up the platform.  After a brief conversation with them all it was time for me to make a move to get in front of the train, as my next venture was to photograph it crossing Durham Viaduct.  But that was not before I was collared by the Train Manager, MartinWard, who I knew well, to ask me if I was available the next day to ride back with the empties.  I said I'd gladly take him upon the offer and arranged to phone him later in the day to tell him of my plan.  By now the watering process was well under way with the road tanker being parked just the other side of the perimeter fence adjacent to platform 11 and a mass of onlookers crowding both the platforms and the walkway between the station and the National Railway Museum.  I decided it was now time to acquire some validity to get me further north, and to cover me for the next day's travel, so it was off to the travel centre to purchase a 3 in 7-day North East Rover which would enable me to travel anywhere between Retford and Berwick for the next week!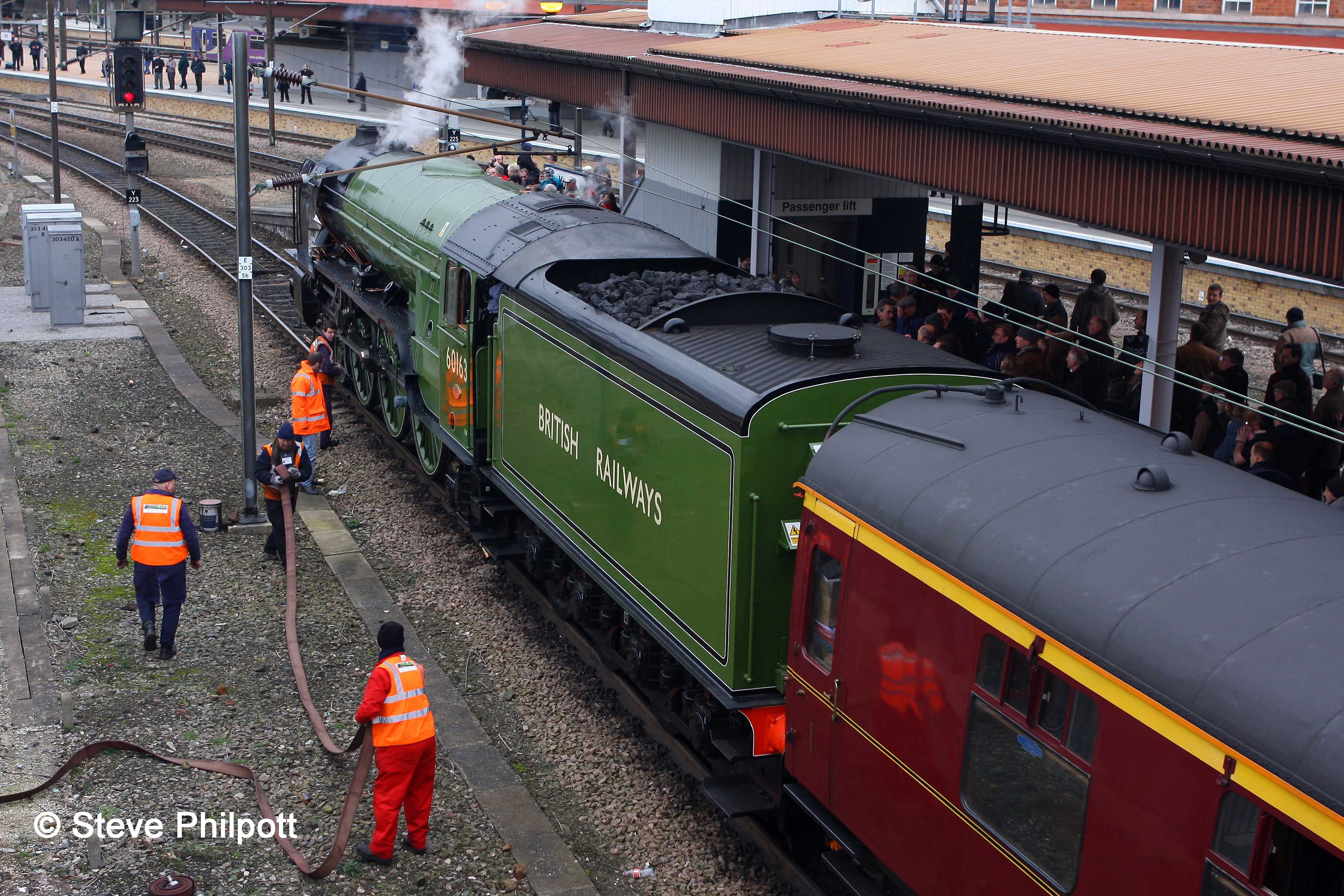 Once that transaction had been successfully completed I set about finding a service to get me to Durham in front of 1Z63 to enable me to get my favoured shot of it traversing the viaduct.  I had no choice but to take the next advertised northbound service which, unfortunately, was an XC Voyager unit (not very nice!) in the shape of 221 131 which, fair to say, got me to Durham in good time for the walk up to the battlements overlooking the 'big bridge'!  Indeed, that was the case as the XC service arrived at Durham at around 11.30 and Tornado wasn't due until a little after noon, which gave me ample time to climb up to the viewing area on the battlements and set the camera up.  Various passenger trains came and went, but none were interesting enough for me to contemplate taking a shot which, for me, just shows how bland and boring the U.K. rail scene has become…  Anyway, at around 12.05 I thought I could here the sound of steam and sure enough, a few seconds later, the A1 came rumbling over the viaduct although, disappointingly, not under power, and she ambled through the platforms and, subsequently, disappeared.  Remarkably, I was on my own for the duration, but I'm sure that was because very few people were in possession of any validated timings!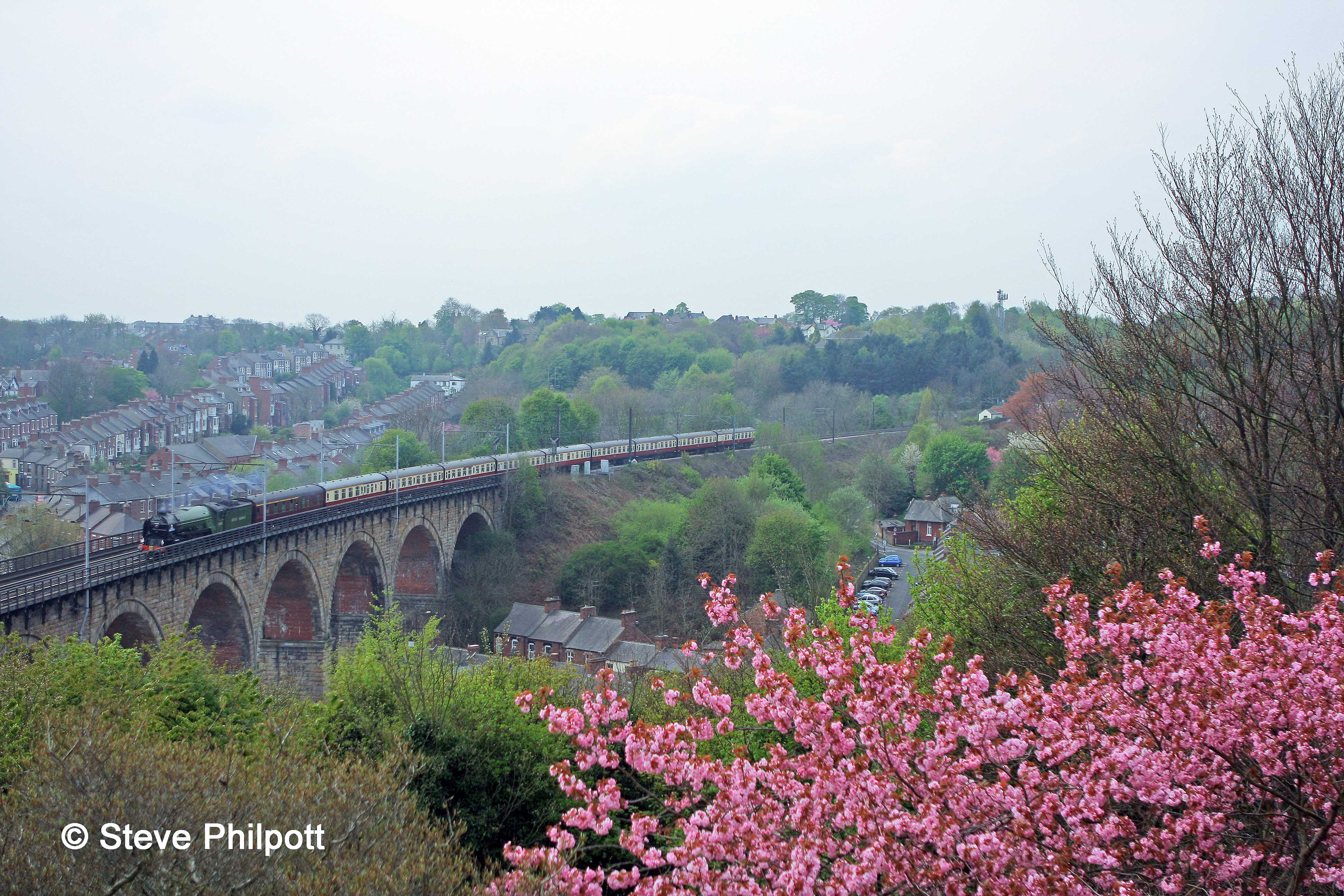 So, the next move in my plan was down to the station for the next northbound service train, 1S10 which, this time, fortunately, was a GNER MkIV set with 91104 at the 'sharp-end'.  It departed on time at 12.27, some 20 minutes behind the steam.  A fairly uneventful journey north ensued with the cl. 91 doing its stuff in its normal efficient manner with me carefully trying to observe proceedings in Tyne Yard, where the coaling and watering was booked to take place, as we sped past.  All seemed well… and so it was.  We departed Newcastle Central on time with another on-time arrival being achieved, at 13.32, at Berwick-on-Tweed where I alighted.  I now had about 45 minutes to get into position up high on even more battlements just north and west of the Royal Border Bridge.  Now, to get to that particular vantage point one has to exit the station, turn right and walk down the path which drops quite sharply towards the River Tweed then goes under the bridge on the north bank of the river.  Then it's a very steep climb up the other side to the base of the battlement wall, where there is an access point and a lot of stone steps to climb.  It's hard work, but well worth it once you get to the top and see the actual view of the west side of the bridge.  At that time of the day the sun is rather head-on, which makes it much more of an afternoon shot, but, in this instance, I didn't have much choice.
Again, and I'm sure, not by coincidence, I was alone up there, and that's how it stayed right up until Tornado finally appeared in the distance at Tweedmouth at around 14.10, with a full head of steam and smoke on show until the regulator was shut on approaching the bridge and slowing to go into Berwick D.P.L. to take on water.  As a result of that I was able to fire off quite a few shots as she rolled past me on the bridge at a fairly low speed.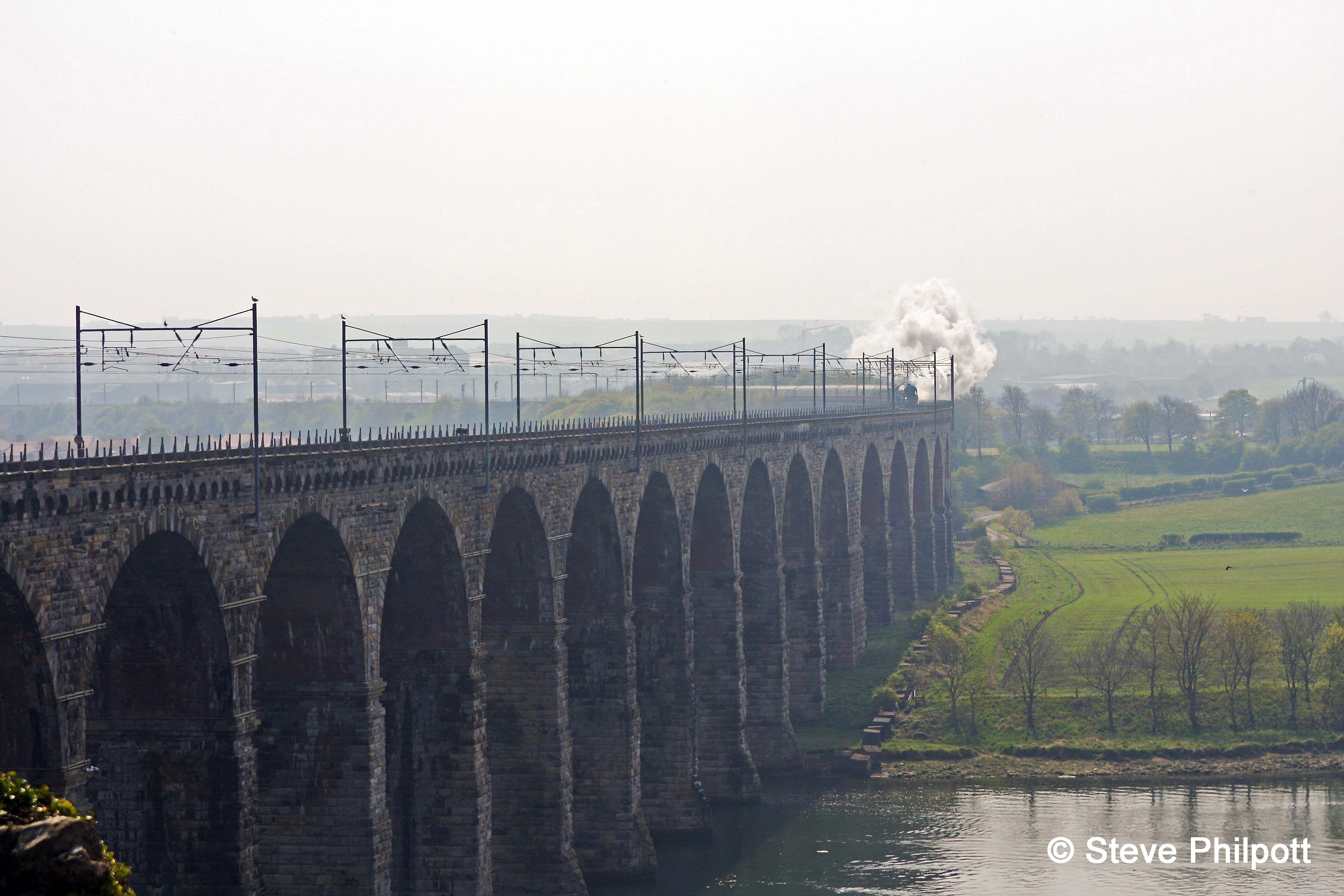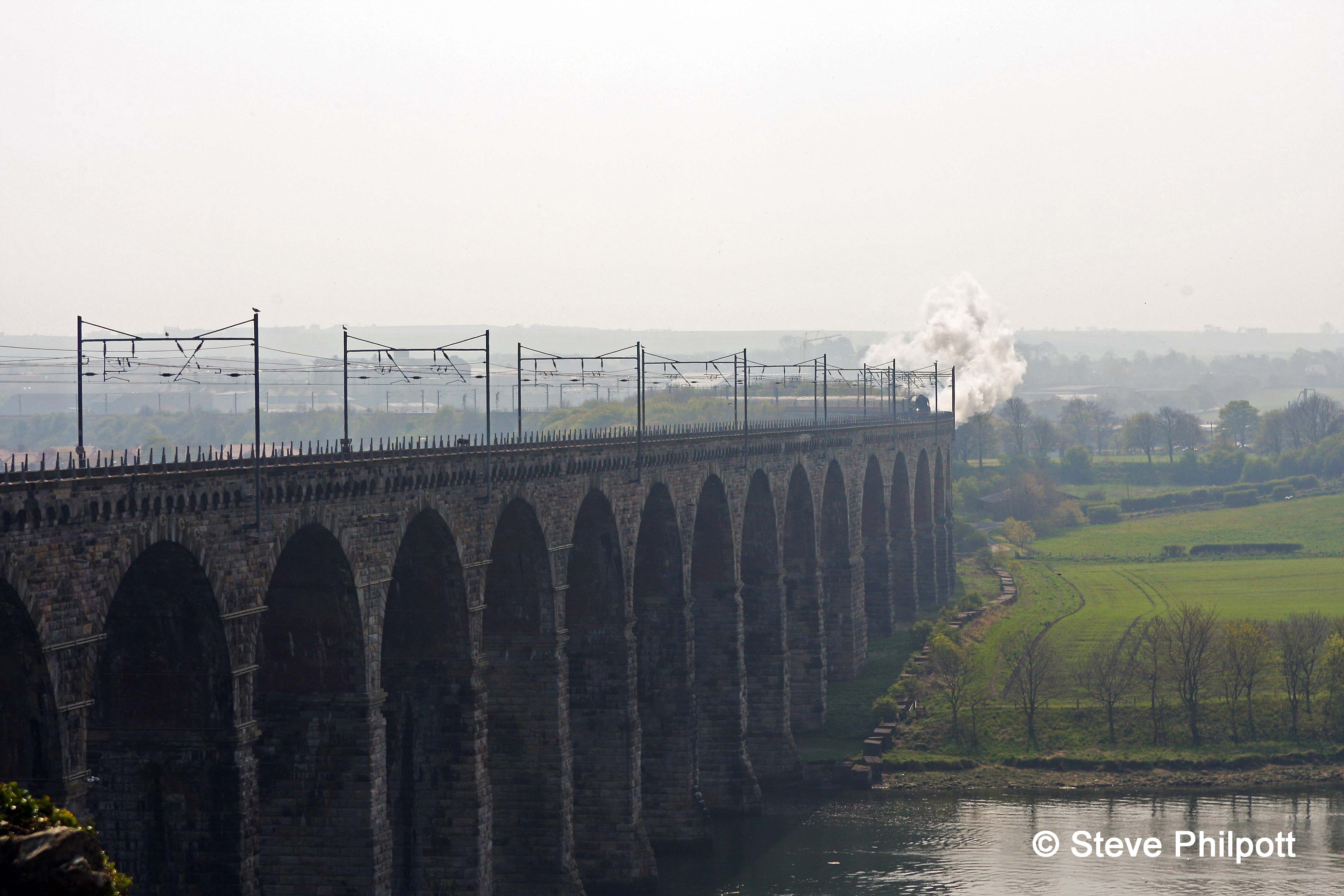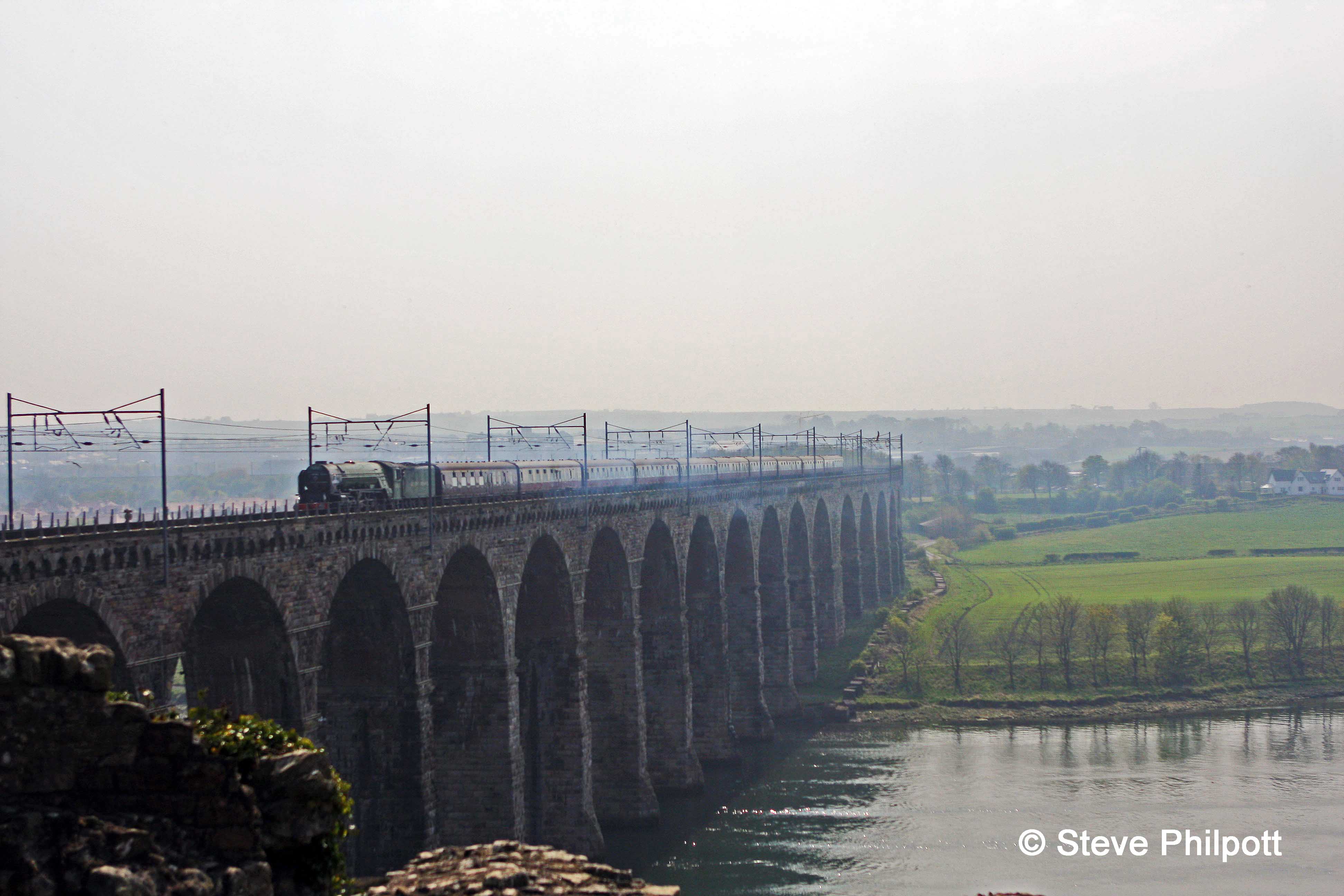 Job done, and I turned around to watch the rest of the train draw into the loop before I gingerly descended from my lofty, and somewhat precarious, position and made my way back to the station for the next train south, which was due to depart at 14.39.  So, that was that…  91112 was my motive power, on the rear, of course, and I enjoyed a fairly leisurely trip back to Grantham after quite a memorable trip earlier in the day with the steam!  Bizarrely, though, I didn't get to learn of the winner of the race until the day after, and that it was James May driving the Jag and poor old Richard Hammond who had to ride the Vincent.  I'd returned to Northumbria, at Martin's (the Train Manager's) request, to board the southbound E.C.S. in Tweedmouth sidings when Tornado was taking water.  However, that's another story…
Below is a log of the run between Grantham and York.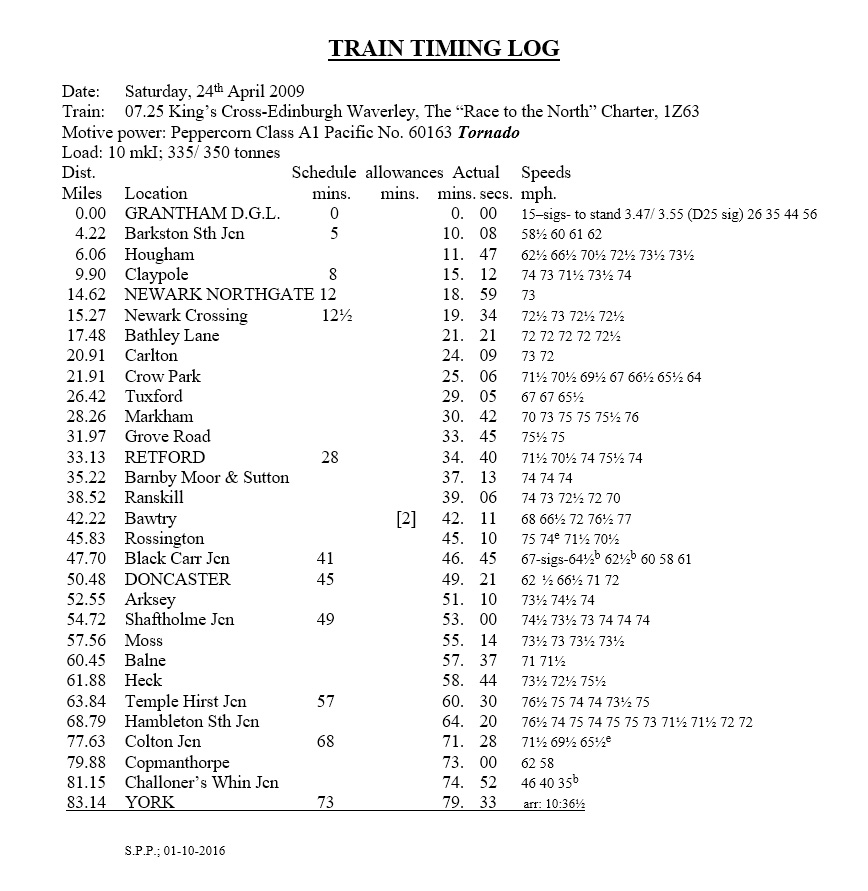 ---
Back to Events on the Railway at Grantham
---
Copyright note:  the article above is published with the appropriate permissions.  For information about copyright of the content of Tracks through Grantham please read our Copyright page
---