by Roger Bryant
---
The buffet had the longest marble counter I had ever seen.
Above: The main refreshment room at Grantham station on the afternoon of 30th April 1964.  Worthington 'E' is on draught and Dairy Box, Milk Tray and Contrast chocolates are displayed on the mirror-backed shelves.  Cakes are available at 4d, 5d and 6d.  One of the glass display cases has the LNER 'winking eye' logo, the other the British Railways totem design.
Photograph taken by Cedric Clayson
---
My introduction to Grantham as a railway centre came about because of the routes permitted by a particular British Railways '7-day Holiday Runabout' ticket.
I lived at Mablethorpe and possibly become interested in trains because the Mablethorpe to Louth section of the Mablethorpe loop ran past our back garden.  When we moved there from East London in 1954, C12 locos were still on the local passenger services.  They were such graceful 4-4-2 tanks.  One was No. 67379.  I was lucky to see them - and I was hooked.
Two or three similarly minded friends and I decided to spread our wings from 'spotting' in the East Lincolnshire area, so we investigated the Holiday Runabout Ticket which gave 7 days' travel within a specific area.  In our case it was to Skegness, Peterborough, Grantham, Lincoln and Louth.  The price was 13 shillings and threepence (13/3), or 66p in decimal terms.  Grantham offered the East Coast Main Line, an engine shed and, most importantly, engines coming from the north being changed at Grantham for servicing and returning north later.  These were the engines we would not see at Peterborough, along with engines on other services in the Grantham area.
We used runabout tickets a few times from about 1958.  However, the records I still have relate to a later trip and they enable me to have a vivid memory of Grantham station on possibly my last visit there before steam was eliminated.  Soon after, I started working for a living - on the railway - and subsequently came to live in Grantham many years later.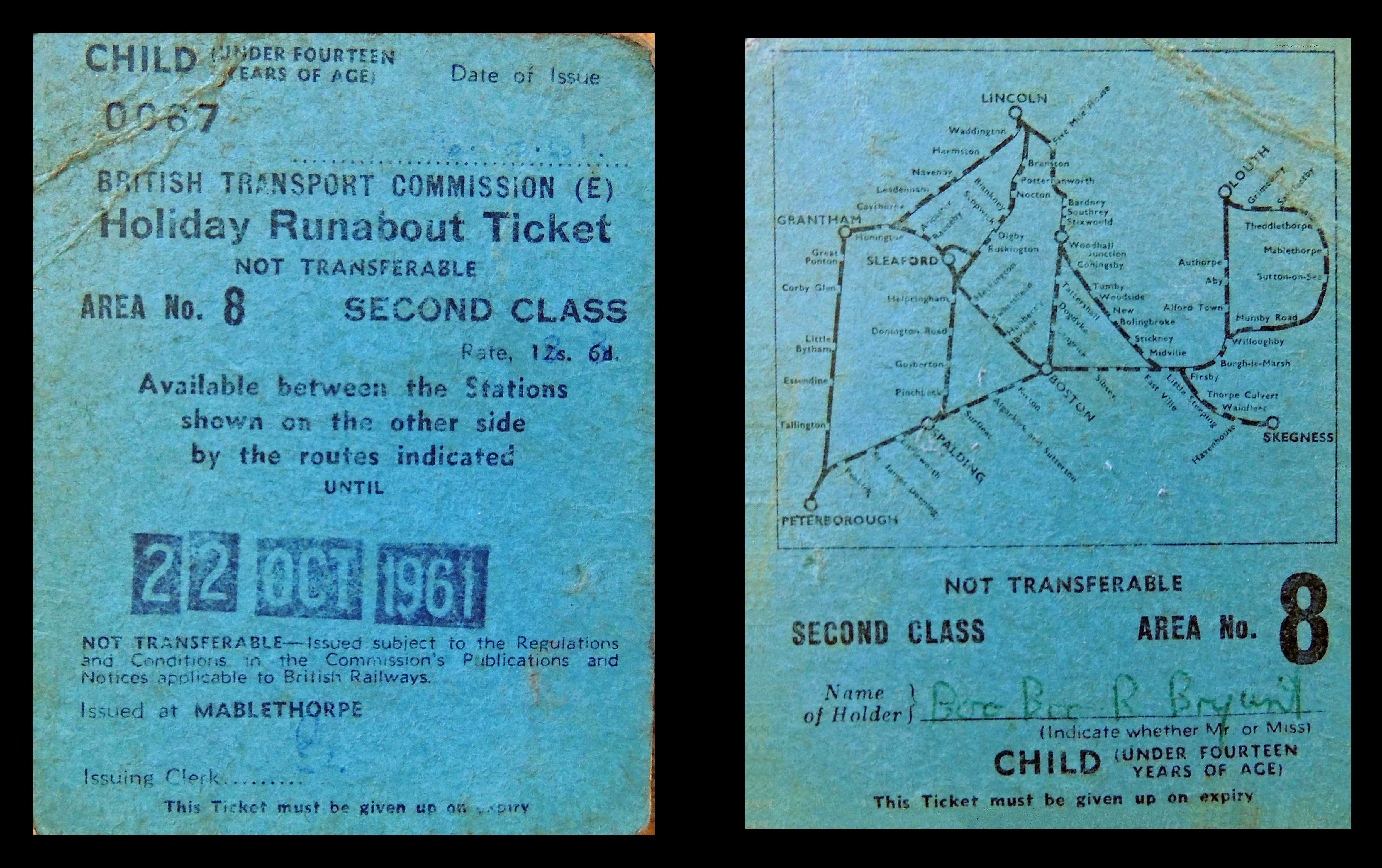 Monday 16th October 1961 was our first runabout day of the week, and Grantham was the goal.  John F. Kennedy was US president and Helen Shapiro was near the top of the hit parade with Walking Back To Happiness.  We boarded the early morning DMU from Mablethorpe to Willoughby, where we caught the Cleethorpes and Grimsby to London express, nicknamed 'the Flying Flea', to Peterborough.  By this time the B1 4-6-0s had been displaced on the 'Flea' by Britannia Pacifics.  No. 70039 Sir Christopher Wren was at the head and whisked us to Peterborough.
Immingham's Britannia No. 70039 passes Brookmans Park with a Cleethorpes to King's Cross service on 1st May 1962. ©Rail Photoprints Collection
We then caught a northbound express to Grantham hauled by Deltic No. D9003 Meld.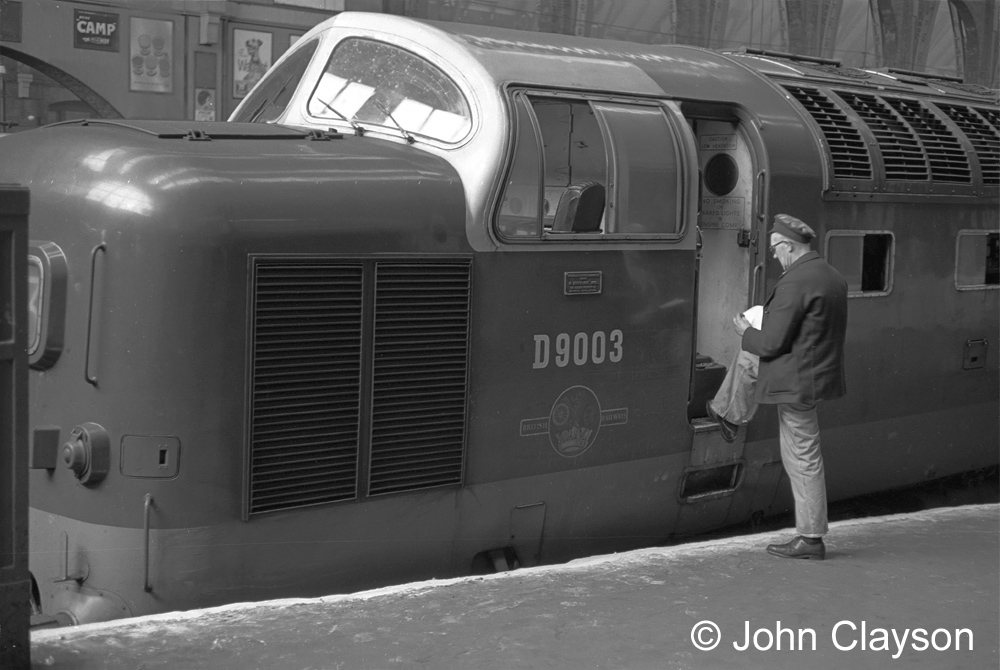 Obviously the writing was well and truly on the wall for steam and we needed to make the most of our trip.  As it transpired it was a day to remember and never to be repeated.  As normal at Grantham we positioned ourselves on the south end of platform 3 so that we could observe the engine shed, engine changes on southbound trains and easily move north along the platform as needed.  In those days there was also a seat near the end of platform 3, a foot crossing between platforms 2 and 3 and a signal box at the end of platform 2.  With ironstone trains, movements on and off the shed and engine changes it seemed that we had something to see all the time.  Most spectacularly, we saw non-stop expresses passing through at high speed, possibly up to 90mph.
During our stay at Grantham that day we observed 68 engines, steam and diesel.  Classes included (steam) A1, A2, A3, A4 (Mallard being one), V2, K3, L1, 9F, J6, O2, O4, WD 2-8-0 and Ivatt 4F/4MT 2-6-0.  Diesel: shunters (Class 08), Brush type 2 (Class 31) and EE type 4 (Class 40).
By now I was an avid tea drinker, inherited from my mother, and I enjoyed visiting the buffet on platform 2 for my cups of tea - no plastic then. The buffet had the longest marble counter I had ever seen.  A friendly lady stood behind a large number of BR teacups rapidly dispensing milk into them from a tiny long handled ladle.  Portion control with speed - most efficient at a time the critics could only find fault with British Railways.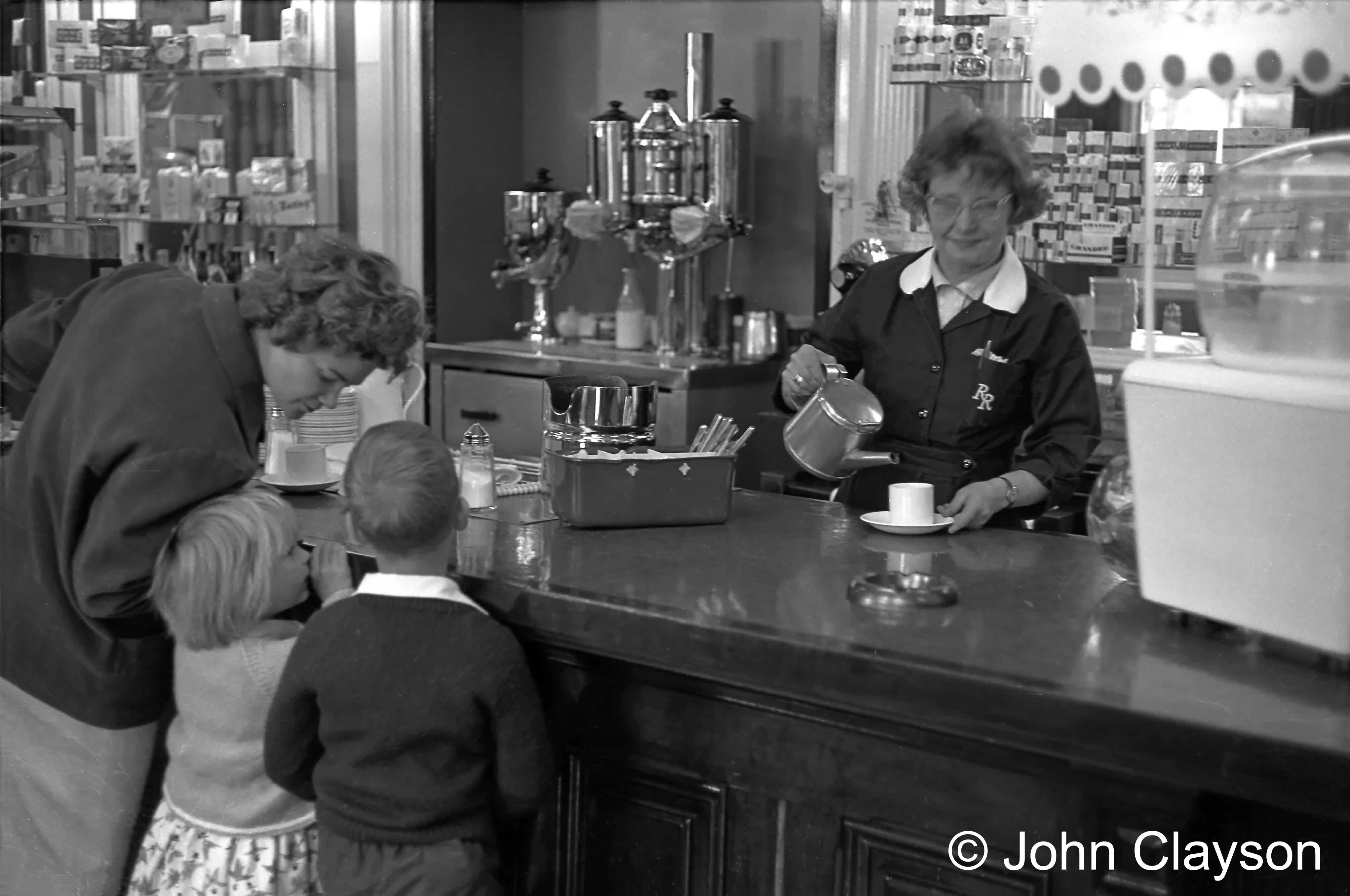 The tea was normally drunk whilst eating our sandwiches on the seat during what we called the 'dead hour' which seemed to occur between about 1pm and 2 pm, when there were few trains movements about.
A memorable occurrence happened in mid-afternoon.  I was standing at the south end of the bay platform 4 when a northbound express came through at speed with whistle blowing.  It was a spotlessly clean green A3 No. 60091 Captain Cuttle, possibly ex works and out for a test run before returning to its home shed at Gateshead.  Coal was spilling off the nearside of the tender and bouncing along the platform.  I skipped over each piece as the coaches flashed past.  Quite thrilling and not what the health and safety department would appreciate now.  I never saw 'the Captain' again, he (she?) met his end at Draper's scrap yard in Hull on 31/12/1964.
[According to online records No. 60091 had emerged from Doncaster works five days previously, on 11th October 1961, following its final general overhaul]
In order to have as long as possible at Grantham and still make it back to Mablethorpe, the last train to Peterborough for our 'Flea' connection was a Pullman.  To use this train we had to purchase an upgrade ticket for the princely sum of 9d (just under 4p)!  Earlier I had come up with a plan to bet the driver he could not break 100mph down Stoke Bank, the scene of Mallard's 126mph exploit 23 and a quarter years or so before.  As I was 16 I was able to buy cigarettes, so we clubbed together and I bought a pack.  If the plan failed I could always give them to my Dad.
We waited at the end of the platform and when the Pullman came in it was headed by A1 No. 60122 Curlew.  I put my bet to the driver and I think his reply was "Get on the train, boy!"  Down Stoke Bank we timed the speed using the quarter mile posts and a watch.  We reckoned we had made the 100 so the man got the fags at Peterborough.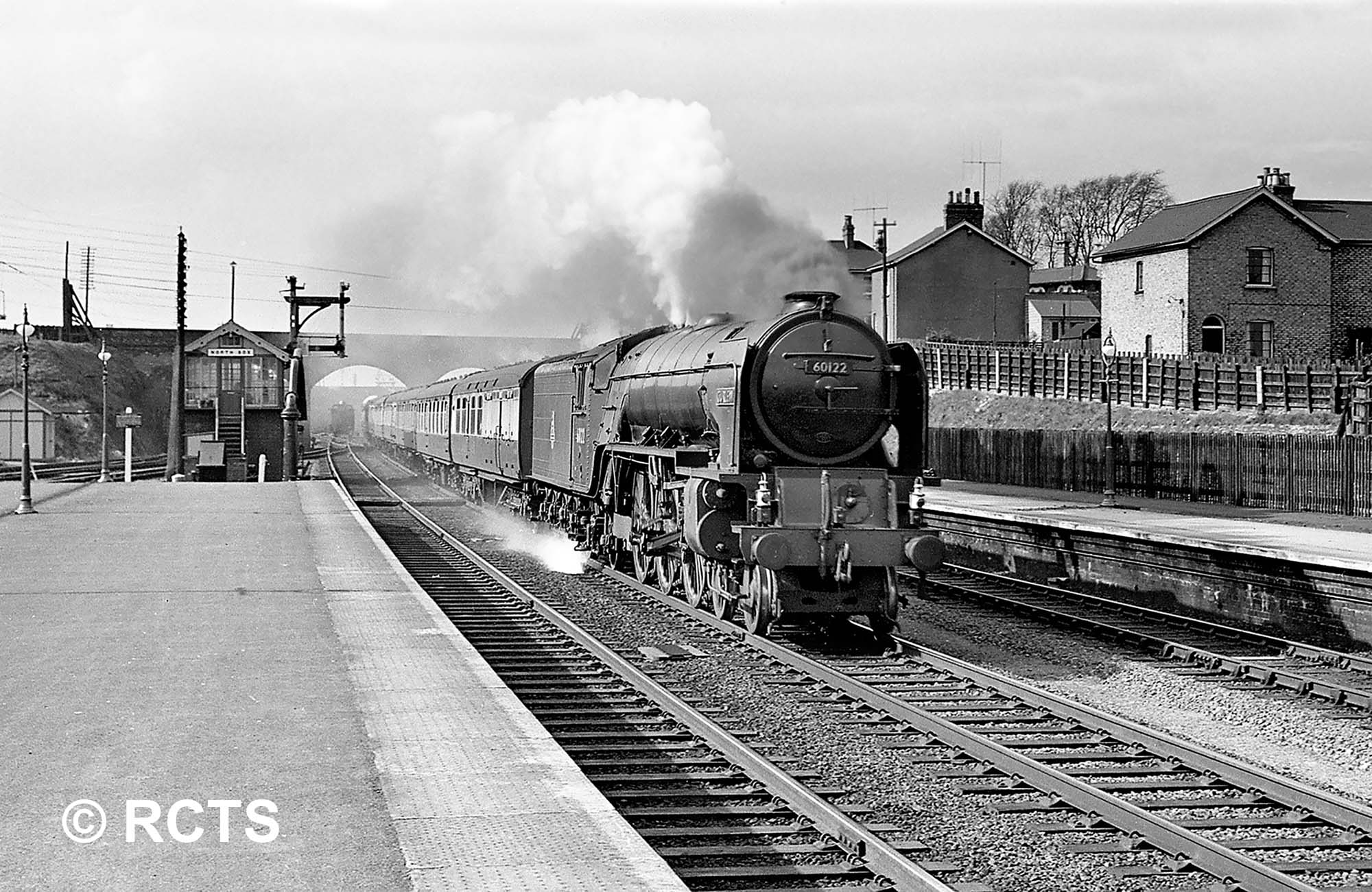 What an end to a day, what a driver and what an engine - which was cut to pieces in its prime just 14 months later at Doncaster.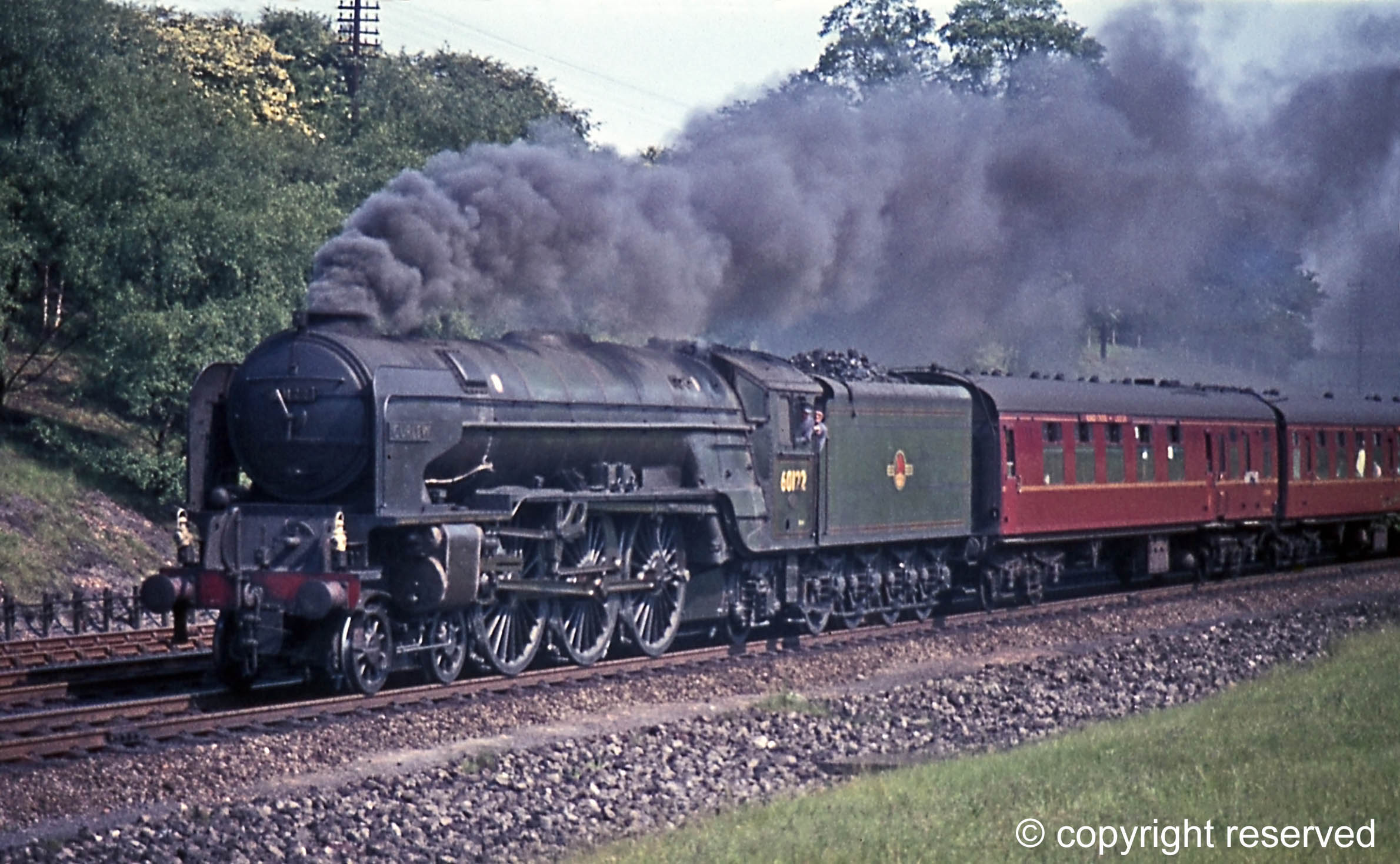 A Footnote
A few months later I joined the railway at Mablethorpe to be employed as a lad porter, summer season only.  Yet I stayed many years, mostly as a signalman.
To become a signalman one had to attend signal school at Retford for a few weeks, travelling each day from Mablethorpe.  One foggy day I was stood on the platform at Retford during a tea break when A1 No. 60130 Kestrel burst out of the mist on a very rapid empty stock train going south.  Seconds later it had disappeared back into the murk.  Kestrel succumbed to the cutter's torch in October 1965, one of the last to go.  I did not see another A1.  Little did I realise that some enterprising and resourceful individuals would make another A1, No. 60163 Tornado.  What a good thing they did - they were fantastic machines, as is being proven again.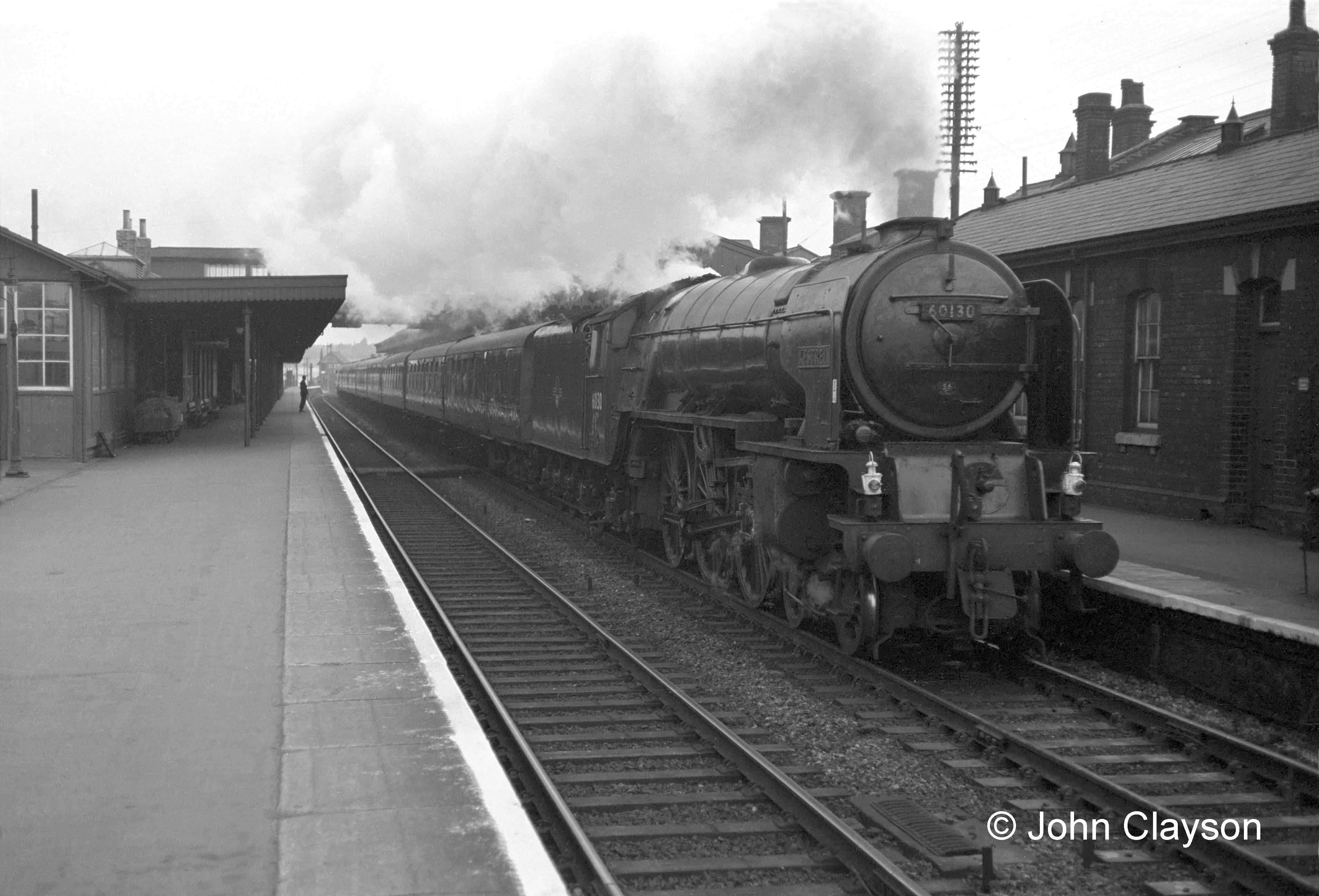 A few years later as a signalman at Pyewipe Junction, Lincoln I signalled coal trains when another Kestrel - the Brush diesel HS4000 - was on trials.  I had the opportunity to go in the cab and, for a diesel, it was a fantastic machine - yet something we let go.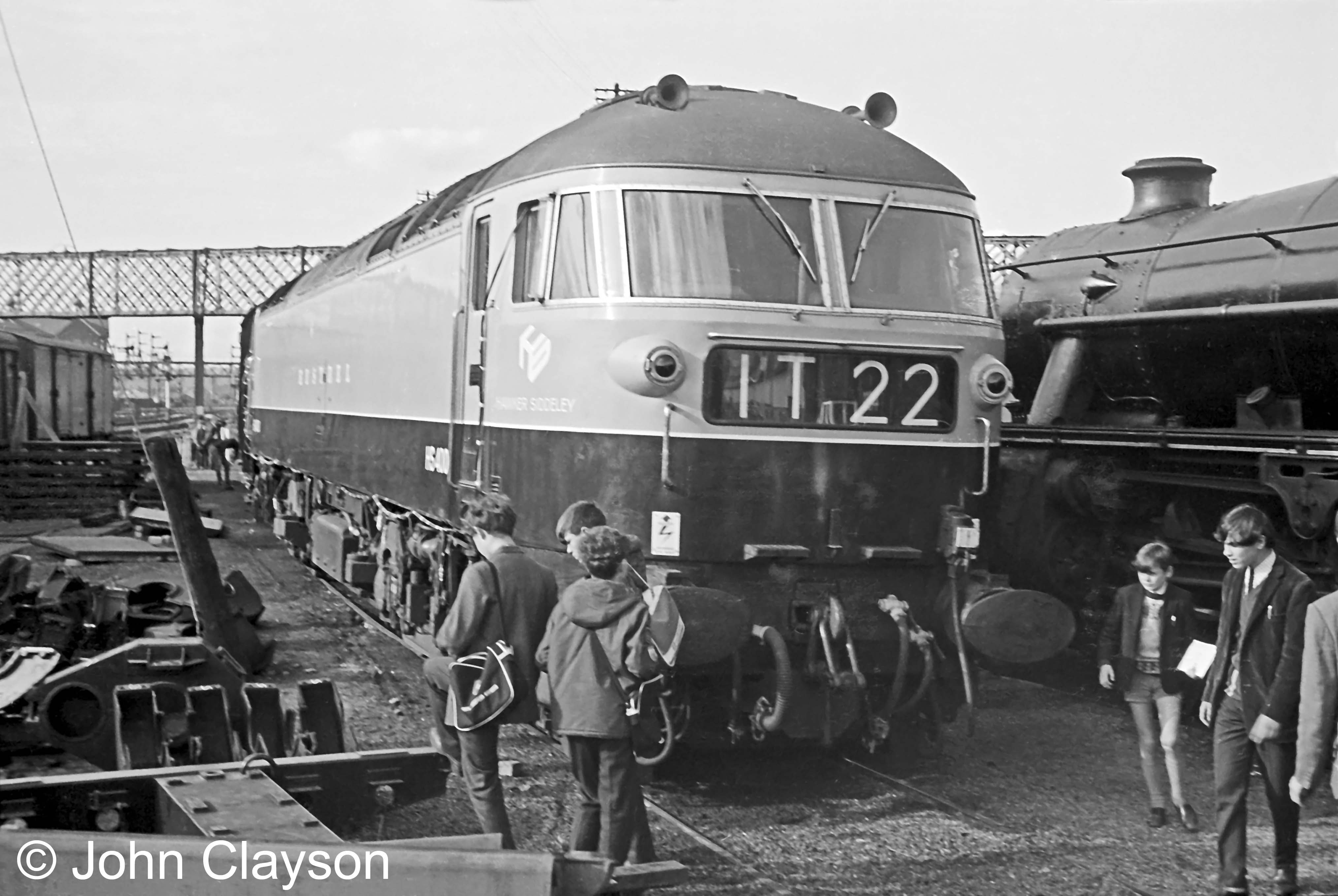 ---
Please note that, as with all pre-1970s historical features, we have used platform numbering appropriate to the period, when there were five platforms at Grantham station.
In 1968 the old Platform 1, a bay platform on the Up side at the north end, was taken out of use.  During the 1970s the remaining platforms, 2 to 5 as referred to in the article above, were renumbered 1 to 4 as they remain today.
North Bay platform (Up side) : was Platform 1 - today is no longer in service
Up (southbound) Main Line platform: was Platform 2 - today is Platform 1
Down (northbound) Main Line platform: was Platform 3 - today is Platform 2
North Bay platform (Down side) : was Platform 4 - today is Platform 3
Western Platform: was Platform 5 - today is Platform 4
---
Copyright note:  the article above is published with the appropriate permissions.  For information about copyright of the content of Tracks through Grantham please read our Copyright page
---