We were very sorry to receive in recent weeks the sad news that these two former Grantham footplatemen have passed away.
Steve and John both appear below in a photograph of former Grantham footplate crew which was taken during the visit of the world speed record holding A4 locomotive Mallard to the Festival of Speed held in the town in September 2013.
Steve Taylor was a cleaner and fireman at Grantham Loco in the 1950s-early 1960s period.  Friend and colleague Roy Vinter tells us that 'Steve and I started cleaning the same year, were the same age and went to King's X shed at the same time on loan, indeed we shared a flat with another lad in Finsbury Park for a while.'
Steve went back to Grantham after 6 months, but Roy stayed on in London as he recalls in his page here.   When Roy was still working from King's Cross shed, Steve came onto the footplate of No. 60007 Sir Nigel Gresley at Grantham early one morning as Roy and his driver were preparing for the return trip.  He 'built up the back corners' of the firebox with coal so as to give Roy a good start for the journey.
John Angus Michael, known as 'Jock' to his railway colleagues and friends, came from the Isle of Skye to Grantham as a young man to work on the LNER.  John loved the job, describing how the footplate of a railway locomotive was a special place where the team of driver and fireman held a unique position of responsibility.  Writing to us in June 2015 he describes how he felt soon after starting out as a cleaner. 'Seniority meant so much to us in those days.  Looking longingly from the lower rungs of the ladder to the dizzying heights of the top link and the rich rewards and status attainable there.' 

In 2017 John kindly lent us some photographs taken in 1959, when the Grantham Loco Mutual Improvement Class arranged an outing to the Romney Hythe & Dymchurch Railway in Kent.  He told us then - rather poignantly - that he was the only man in the photos who was still living.  They are on our page here, along with John's typically amusing account of the trip and more photographs of the day lent by the late Boris Bennett.
John succeeded in attaining the position to which he aspired as a young man, retiring from the railway as a highly respected Grantham driver.  He is third from right in the photograph below, which was taken in May 1990 on the closure of the Train Crew Depot at the station.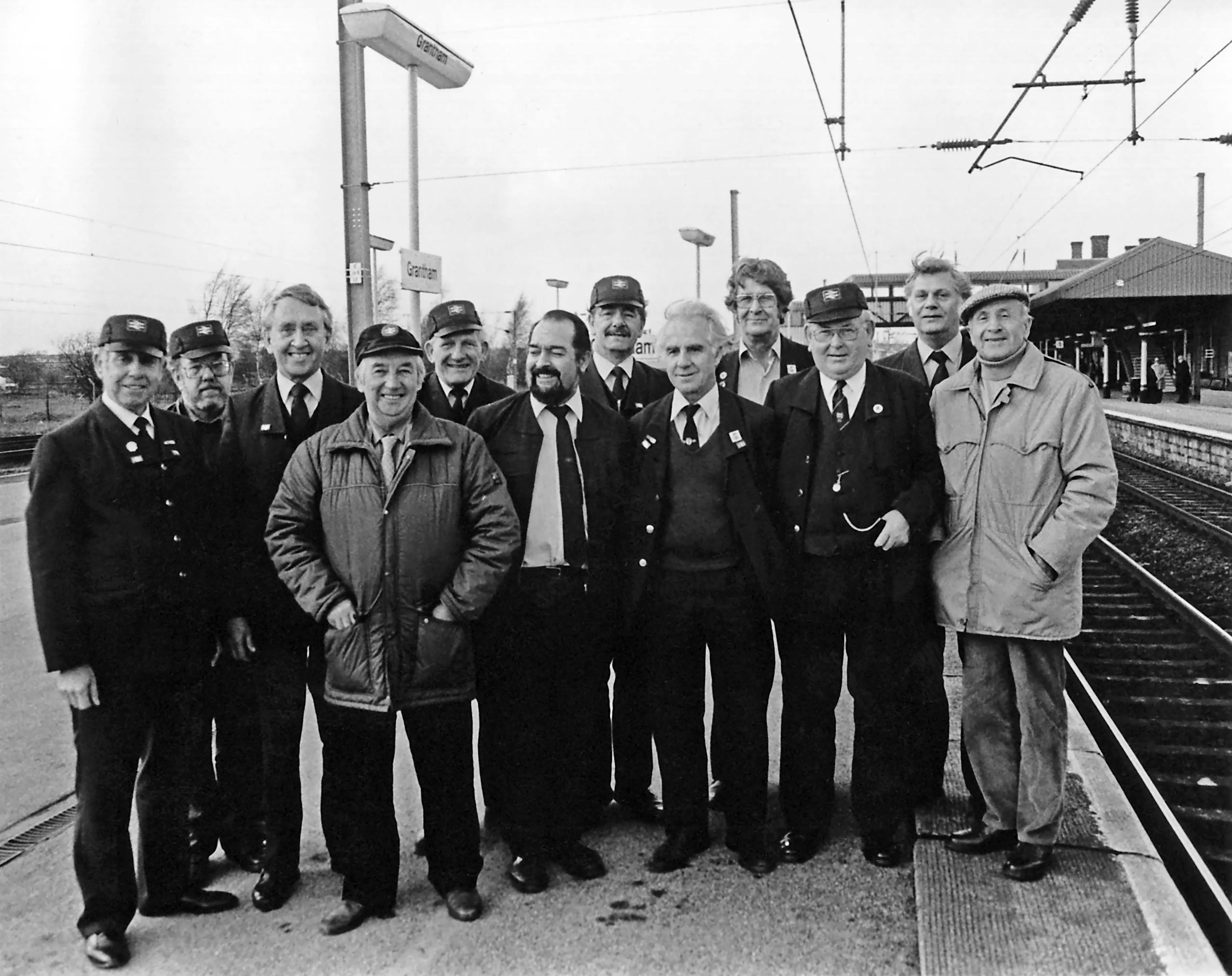 John lent his support to Tracks through Grantham in many ways.  He always had a word of encouragement for Mel and me at our six-monthly gatherings at the Railway Club.  To quote once more from his letter of 2015, John is referring to a recent get-together when he says,  'Forgive me, John, for reminiscing, but it is so good to meet the few of us who are left and who loved our hard graft with a passion.'     
John Michael's funeral will be held in Grantham on Wednesday 21st August.  Here is a link to the family announcement.
John Clayson