Above: Stoke signal box at 12 noon on 22nd June 1961. An Up express from Leeds to London is hauled by King's Cross based class A3 No. 60109 Hermit.
Photograph taken by Noel Ingram.
by Derek Steptoe
Probably the worst thing about Stoke box was the poor access, with no roads near it for around 2 miles.  There were 4 ways to reach it:
Use a rough road through a farmyard and across fields.
On foot through the tunnel, after leaving your car at Highdyke; not for the faint hearted!!
Walk over the tunnel; not for the unfit!!
Catch a light engine or a slow goods train at Grantham.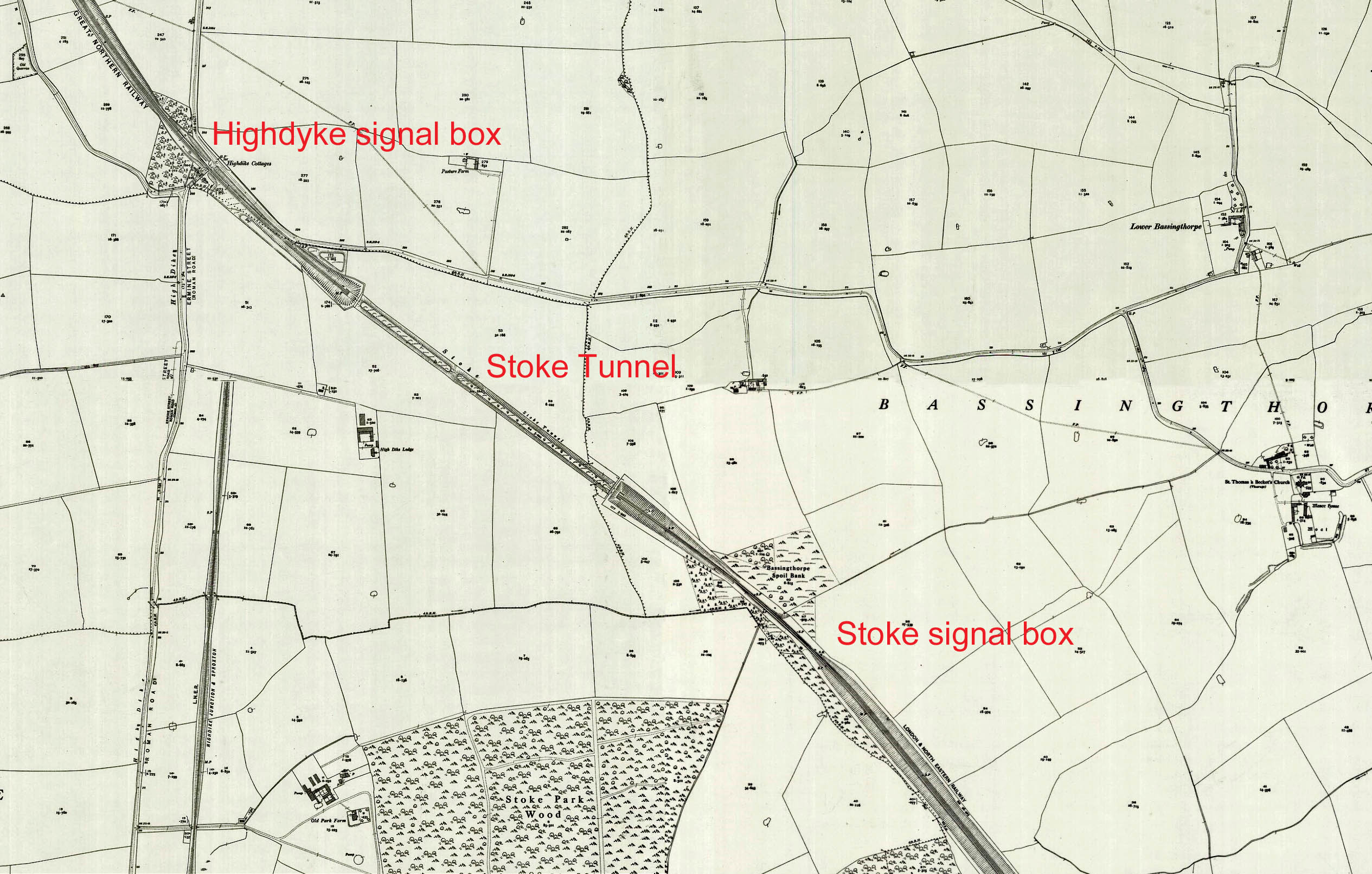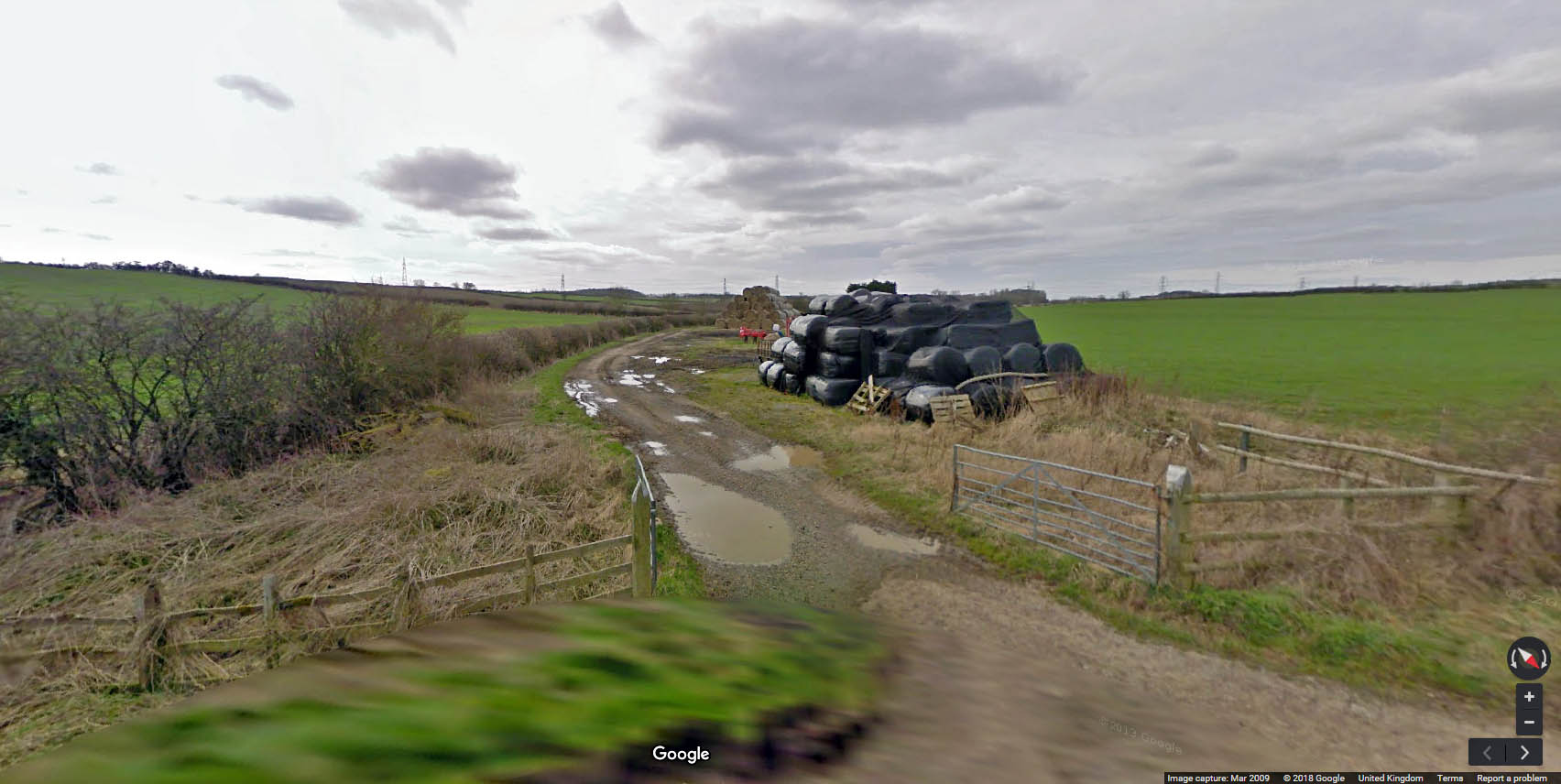 The box had no running water so we had to use it sparingly . We sometimes took our own water or relied on light engines to bring some.  We also had the pleasure of an Elsan toilet, emptied by the Sunday shift - don't forget your spade.  There was no electric light, which meant the smell of paraffin 24 hours a day and the noise of the flame at night, not to mention the moths.  The strange thing was that there was a very welcome Belling electric cooker.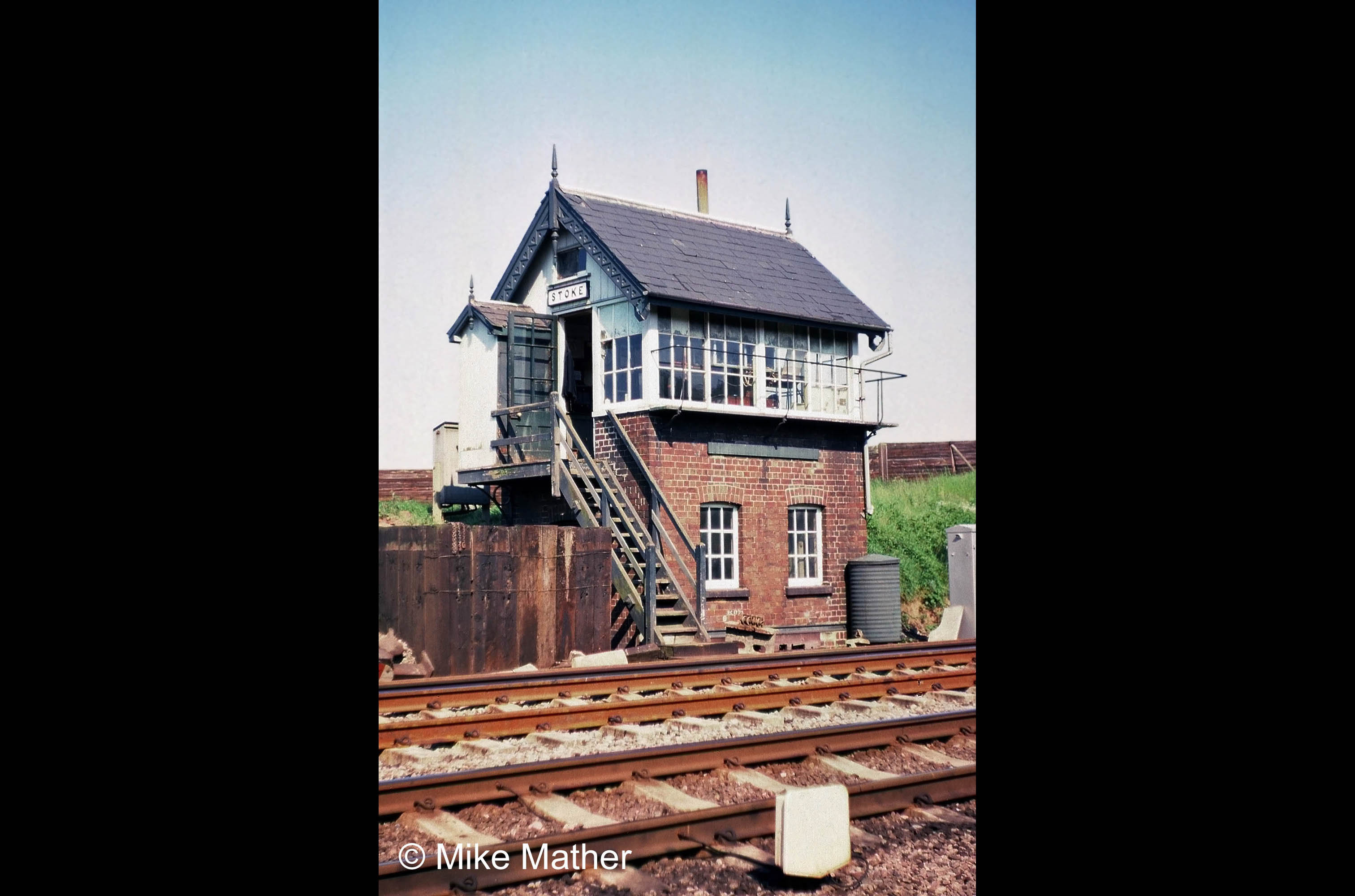 It was a very lonely box to work, and the only person you saw regularly was the lampman who visited twice a week.  His name was Geeson.  He pushed his bike down the cess from Corby to do their lamps and then Stoke's.  He would never accept a cuppa and sat in the lamproom to eat his lunch, a brick building just north of the box that had no door, windows or heating by the time I worked at Stoke!!  Between the box and the lamp cabin was an open wooden place where our coal was kept.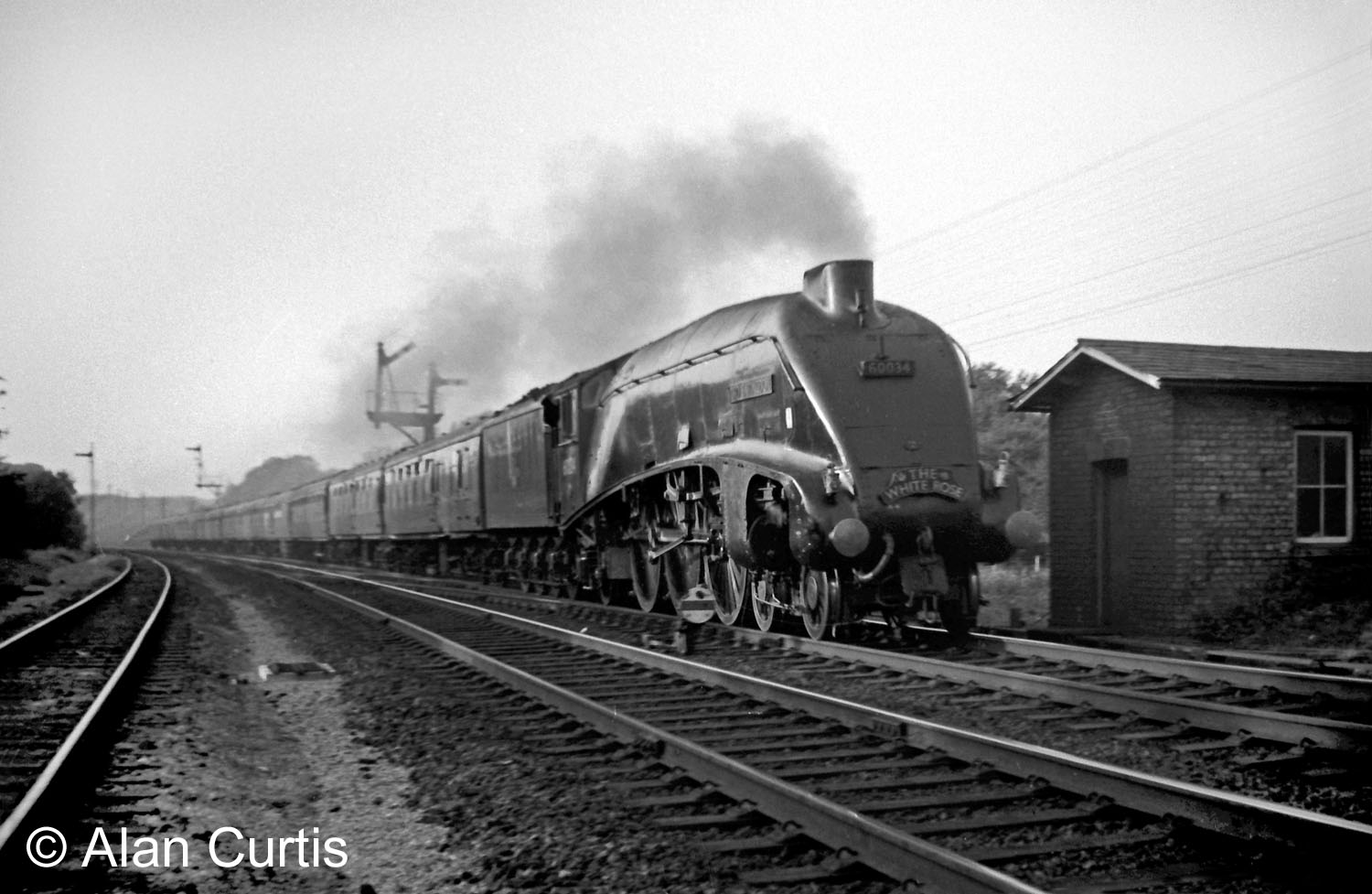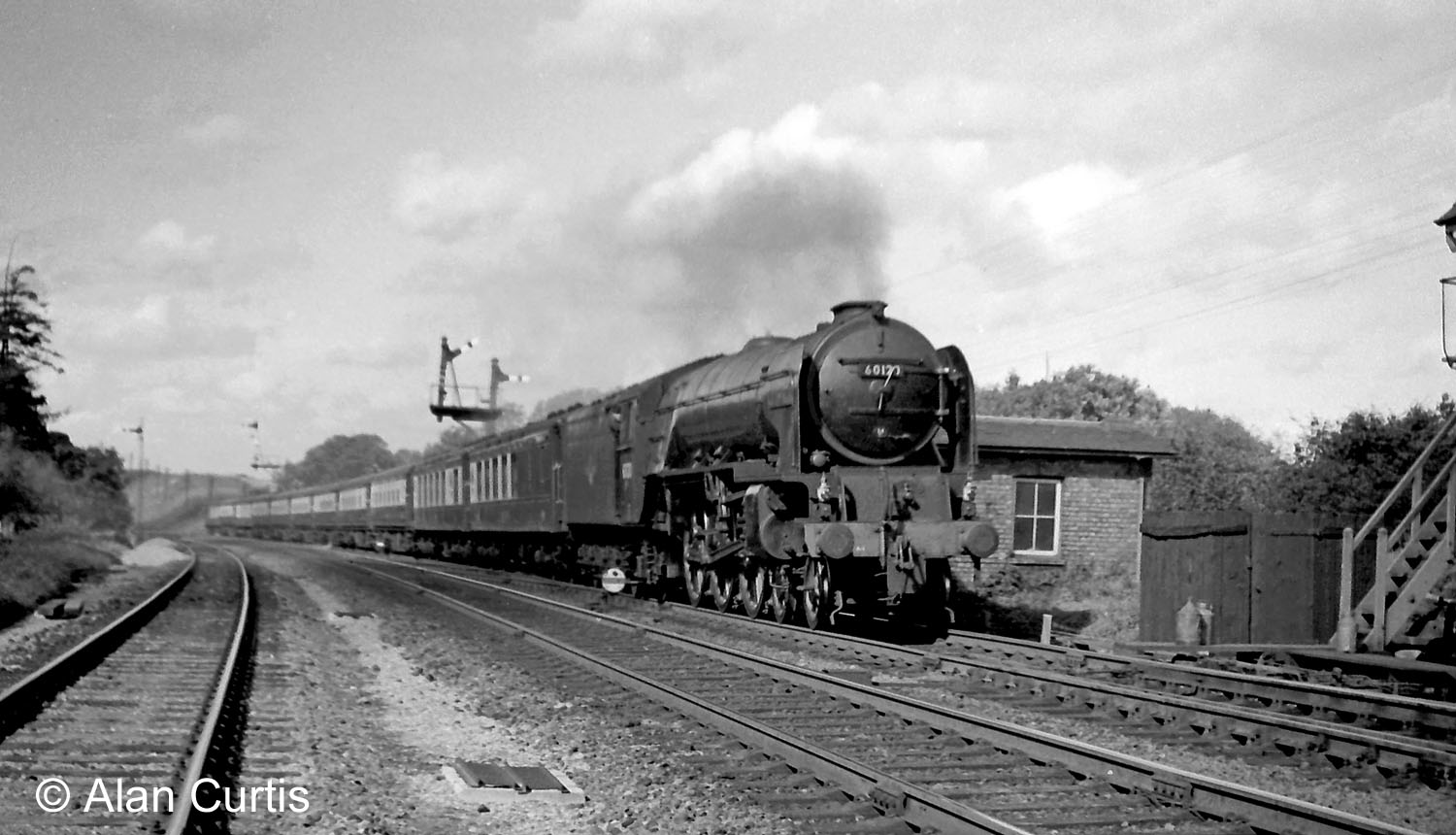 The Up distant had been moved to the north of the tunnel by the time I worked there, and it was a colour light signal.  Highdyke box decided which trains were diverted into the Up slow.  As per rule book diverted trains were brought quite or nearly to a stand before the home board was pulled off.  Memory's not quite what it was but I think the bell signal was 1-5-5, 'shunt train for following train to pass'.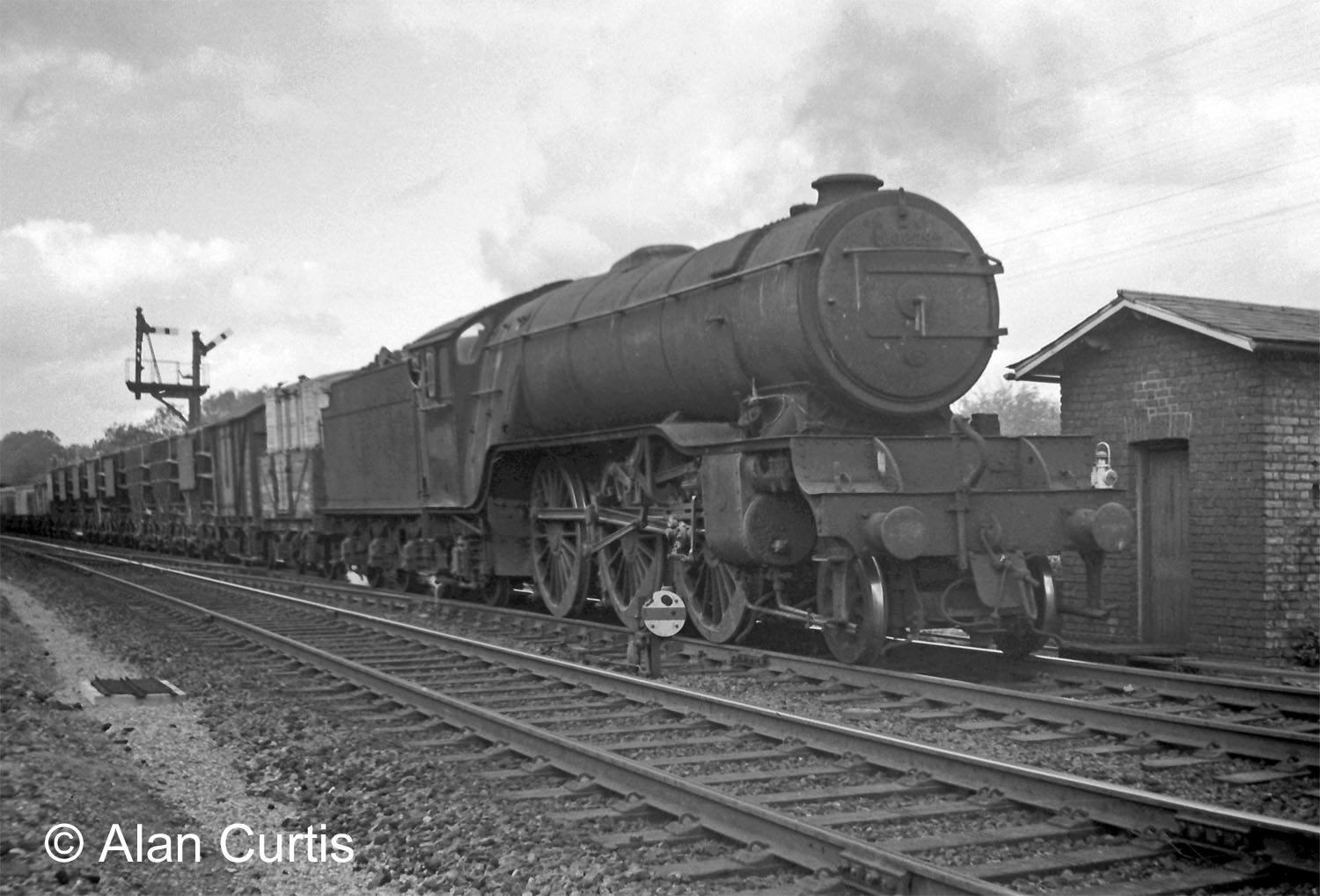 The Down slow home was almost opposite the box and some trains were held for quite a time, so sometimes driver and fireman would come over for a chat and a cuppa.
I think Stoke came under Peterborough for supervision, certainly  the DI's (District Inspectors) were from there.
My eldest brother Terry also worked this box as he was a rest day relief, also my father Albert who was general relief and later Yard Inspector at Highdyke.
A view from the box: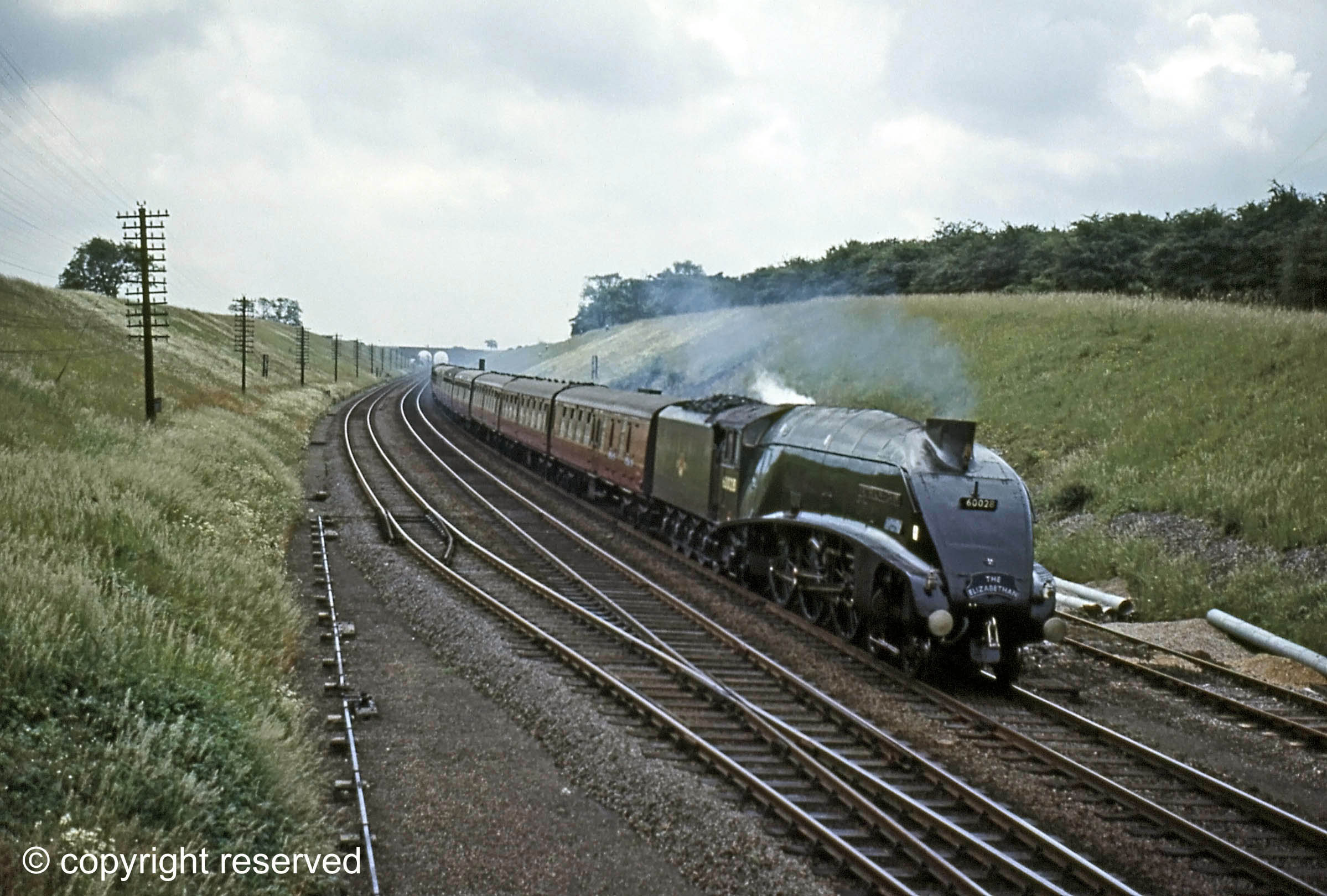 ---
Stoke Box: interior photographs by Mike Mather, 1974
There are so many photos of locomotives and trains, yet so few of signal boxes other than as background features.  Thankfully Mike decided to make a record, in colour, of the boxes to the south of Grantham when their closure was imminent.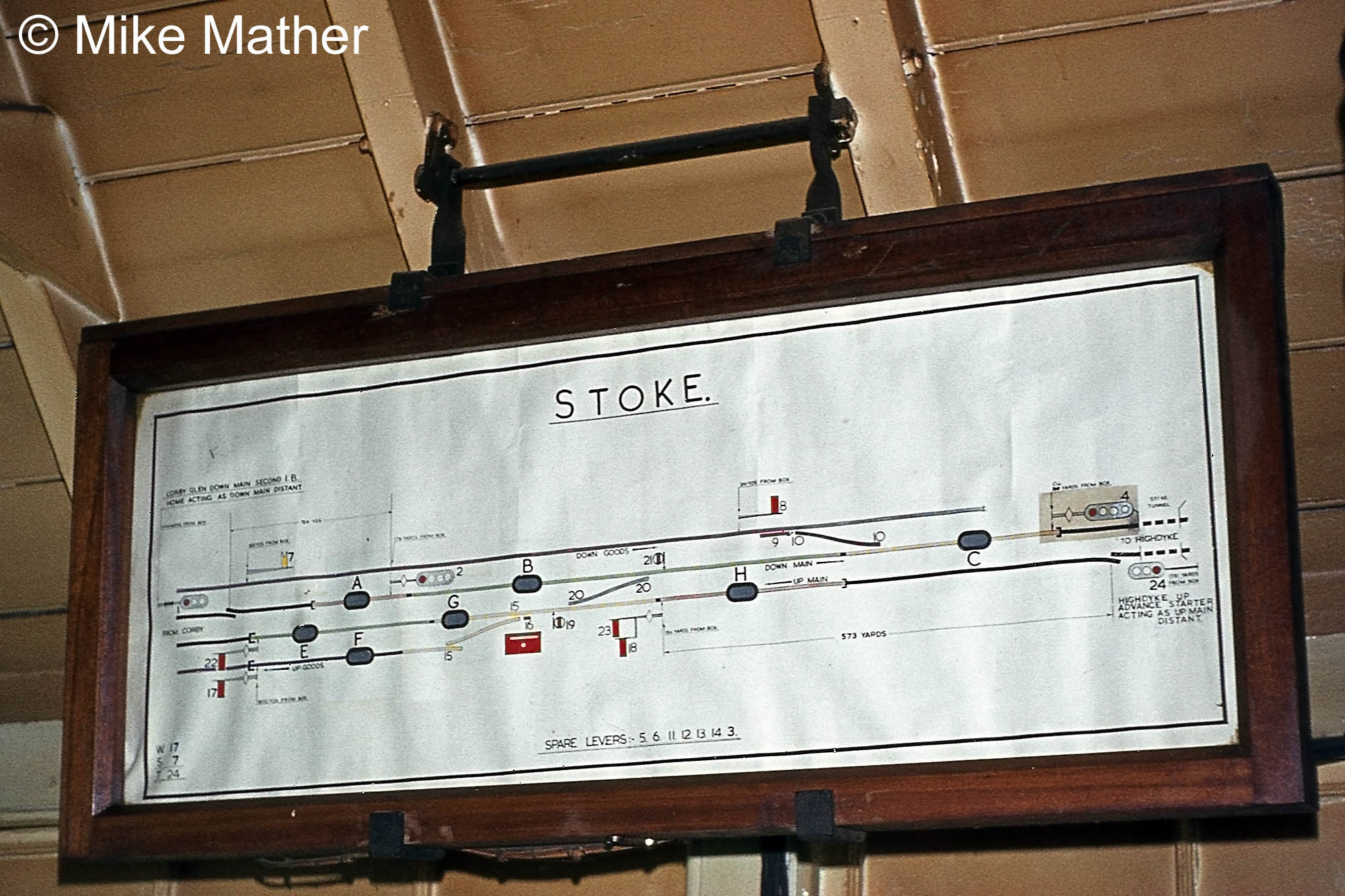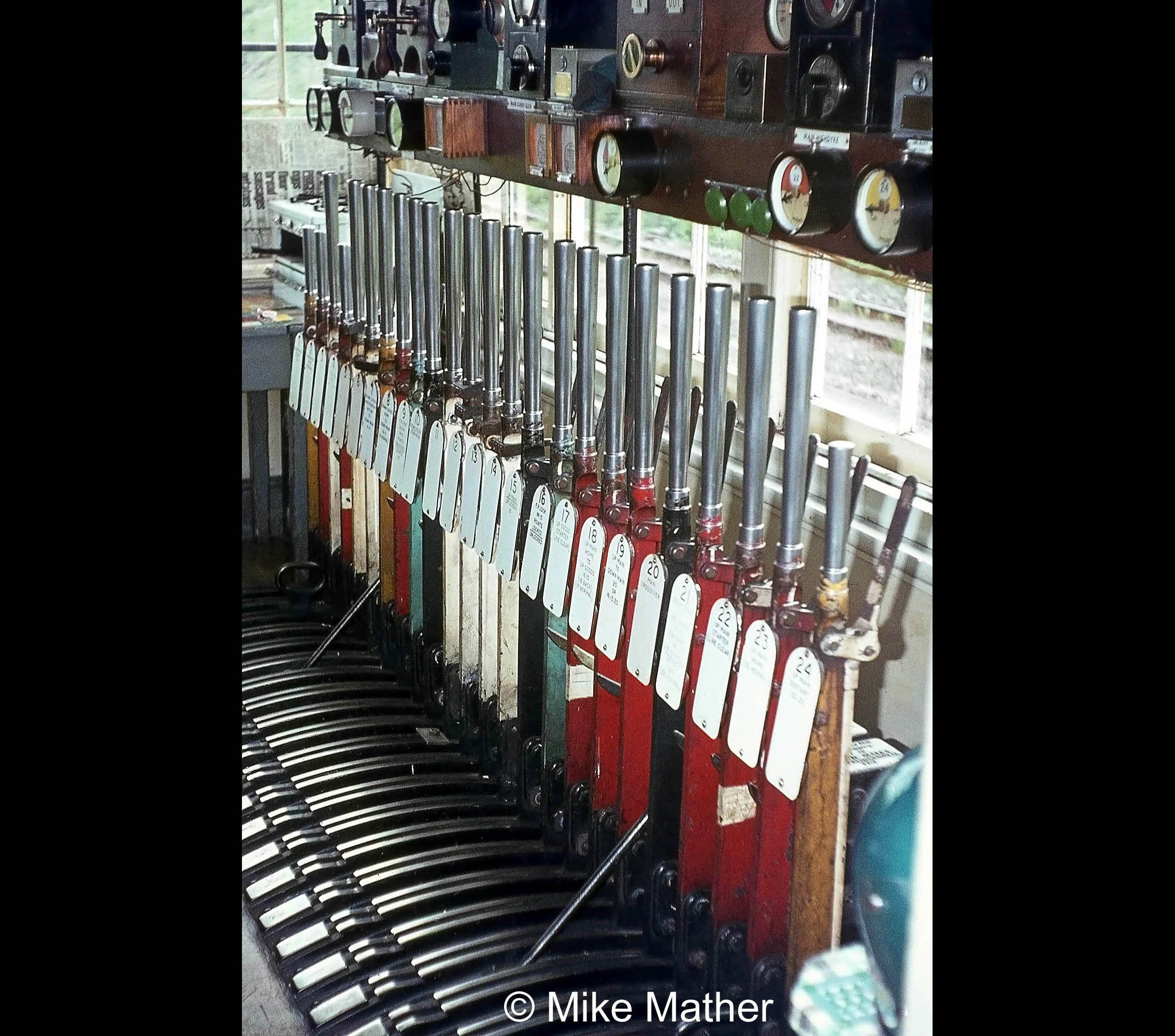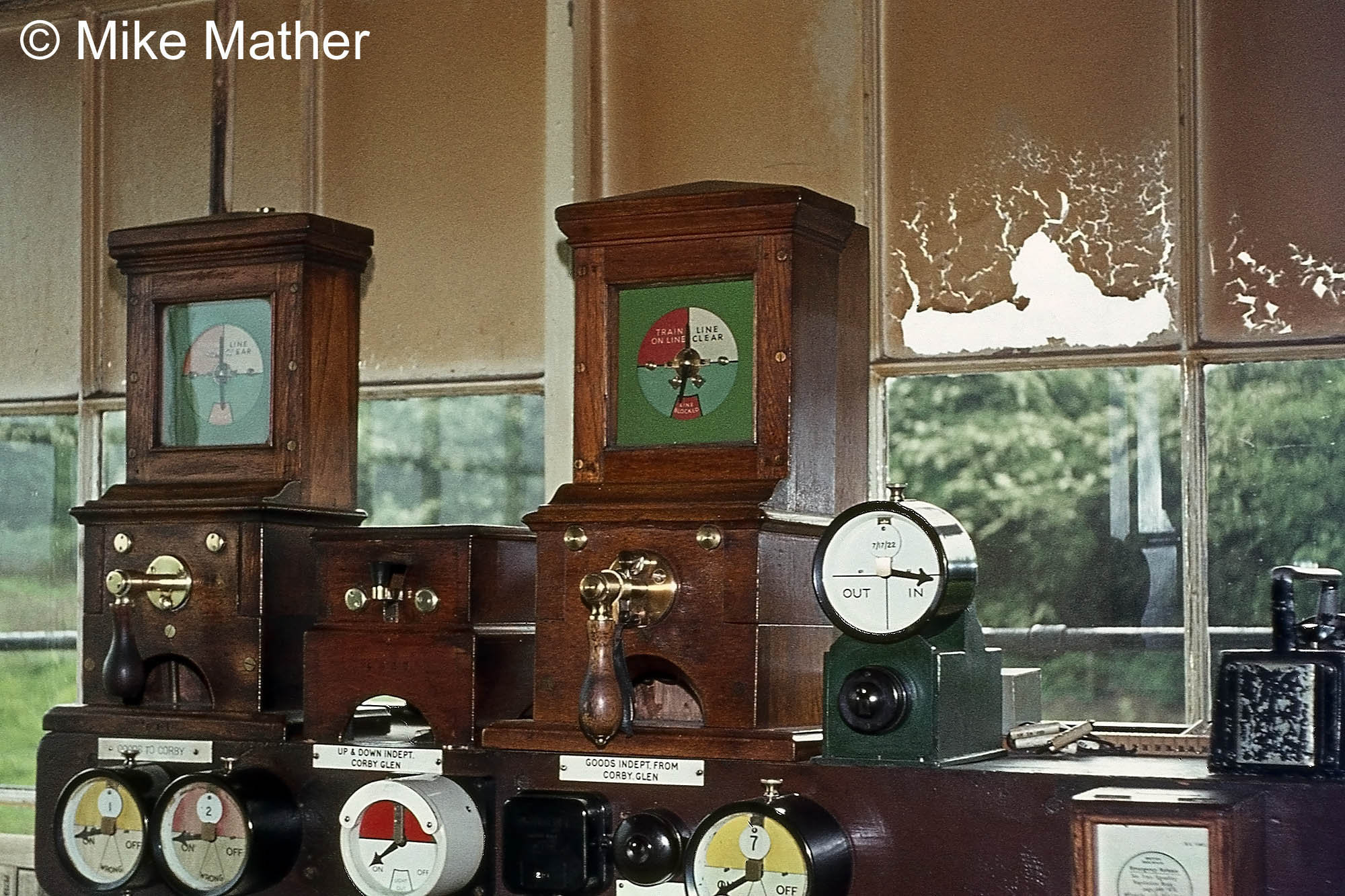 ---
Stoke Signal Cabin - a brief history
The locality derives its name from the nearby village of Stoke Rochford, adjacent to the Great North Road.
From the opening of the Great Northern Railway's 'Towns Line' between Peterborough and Retford in 1852, until 1892, the line at Stoke was basic double track.  There were signals but no sidings or loops.
In October 1892 an Up Goods line was opened between Stoke and Corby Glen, and a loop siding was installed on the Down side.  To control the new arrangement the signal cabin at Stoke  (GNR terminology was 'signal cabin' rather than 'signal box') was equipped with a 24-lever interlocking frame, which remained in use until the cabin closed.

In 1914 a Down Goods line reached Stoke from the south to join with the south end of the loop siding.  This remained the configuration throughout the following 60 years.

Stoke box marked the summit of a 20-mile near-continuous climb southbound from Newark, followed by a 15-mile near-continuous and practically straight descent to Tallington - the famous racing stretch of 'Stoke Bank'.  Stoke summit was exactly 100 miles from King's Cross.
Below is a superb painting which captures the scene on July 3rd 1938.  Streamlined A4 Pacific No. 4468 Mallard has powered up the bank from Barkston with a test train.  It's about to crest the summit at a speed approaching 75mph and commence a high speed descent past Little Bytham.  Approaching Essendine the train momentarily achieved 126 mph, a still unbeaten world record speed for a steam locomotive.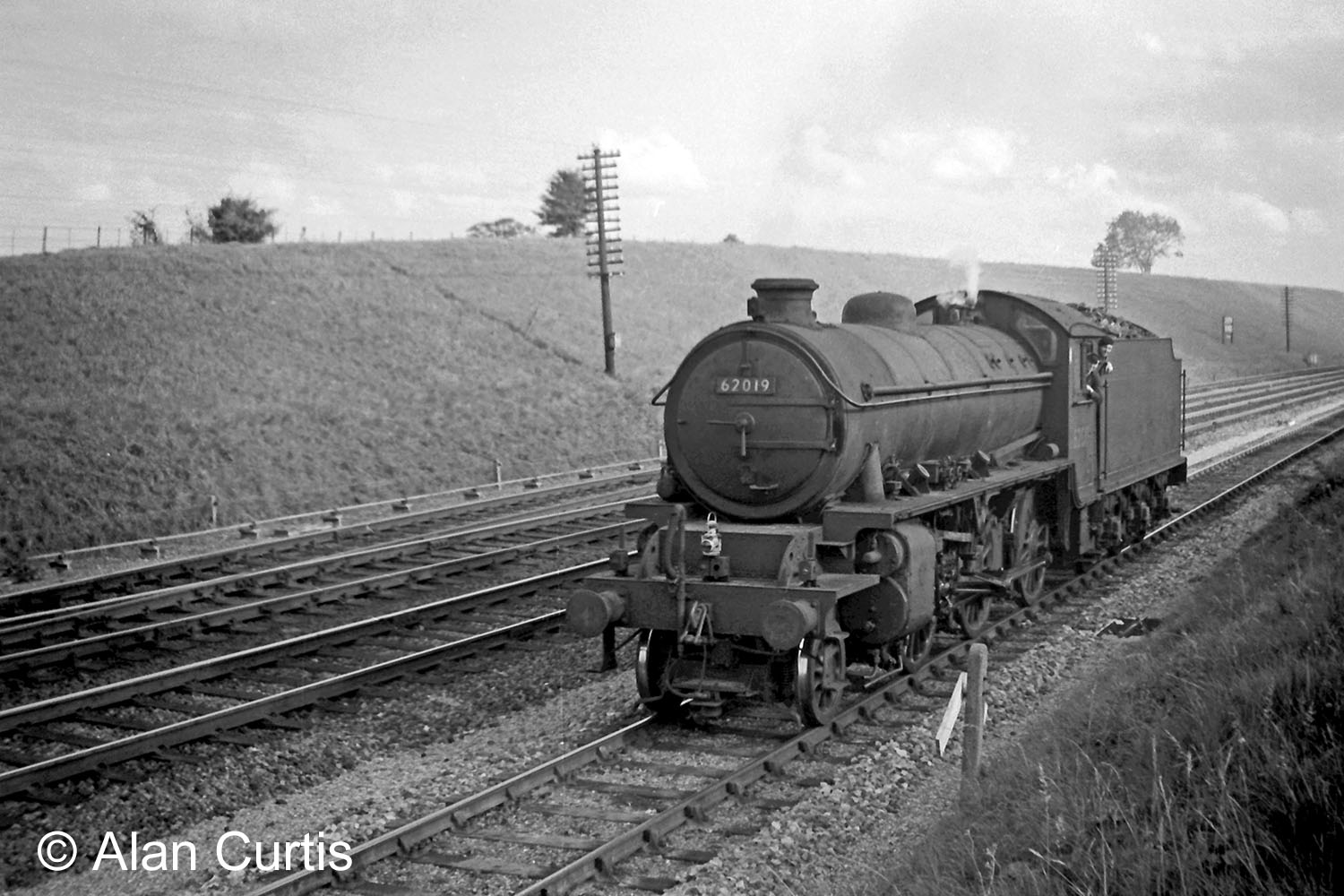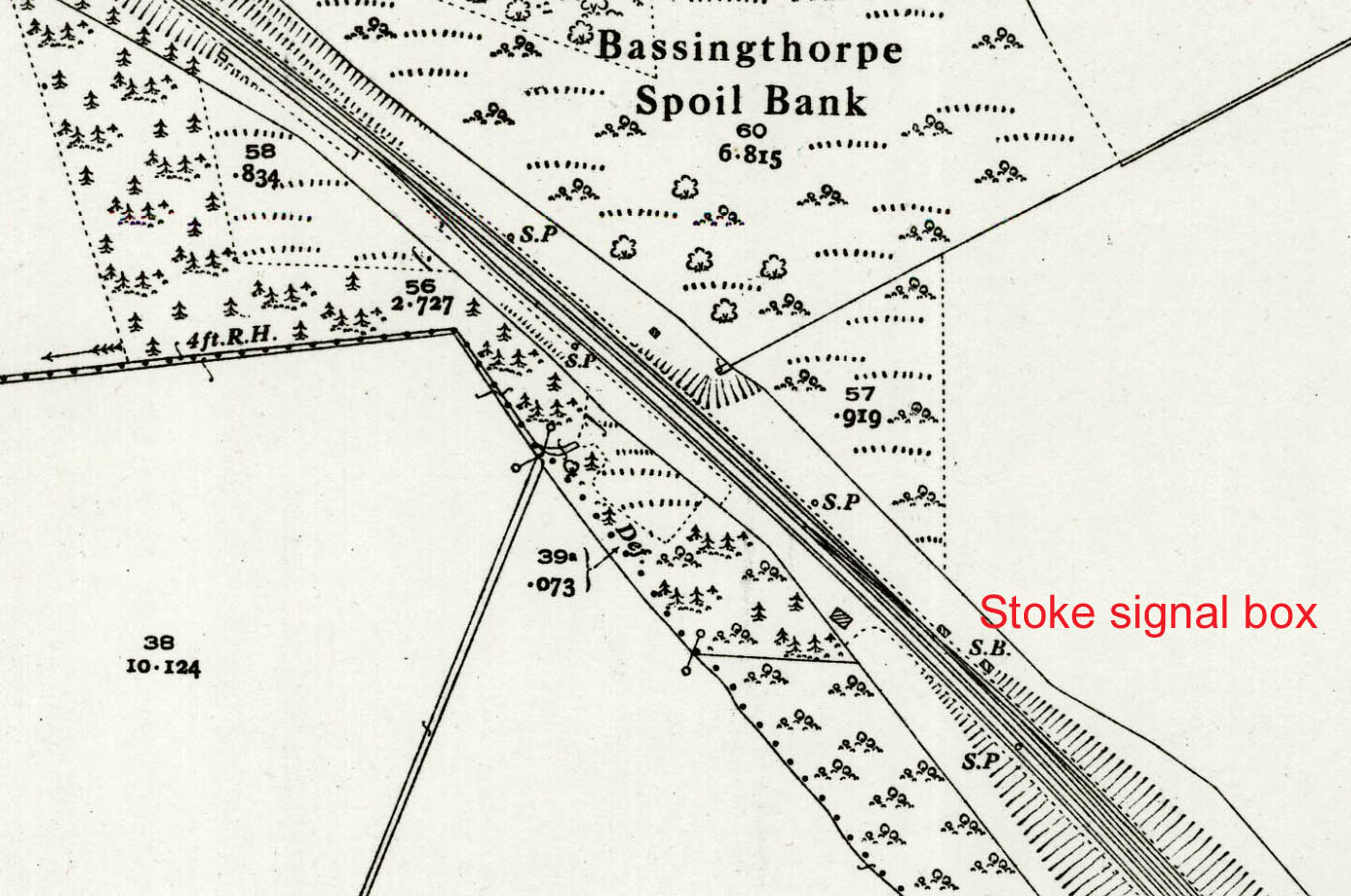 The Stoke signalmen's main task was the regulation of trains between the four tracks to and from the south and the two tracks northward through Stoke Tunnel, ensuring that the bottleneck of the tunnel impeded traffic as little as possible.  To achieve this aim they worked closely with the Control Office for the Great Northern Section and with other signalmen up and down the line.
We believe that Stoke signal box closed on 27th April 1975, after the junctions had been re-laid for higher speeds.  New signals were brought into use and control passed to Peterborough.
There was a final short chapter to be written: a temporary, staffed signal box was in operation at Stoke between 10th September and 21st October 1978 to control single-line working through Stoke Tunnel while the track was lowered to enable trains carrying 8'-6" international standard containers to pass through.
---
Stoke Signal Box: north to south
This sequence of photographs, all taken by Noel Ingram on two days in June 1961, illustrates the lines, junctions and signals controlled by the signalmen at Stoke box.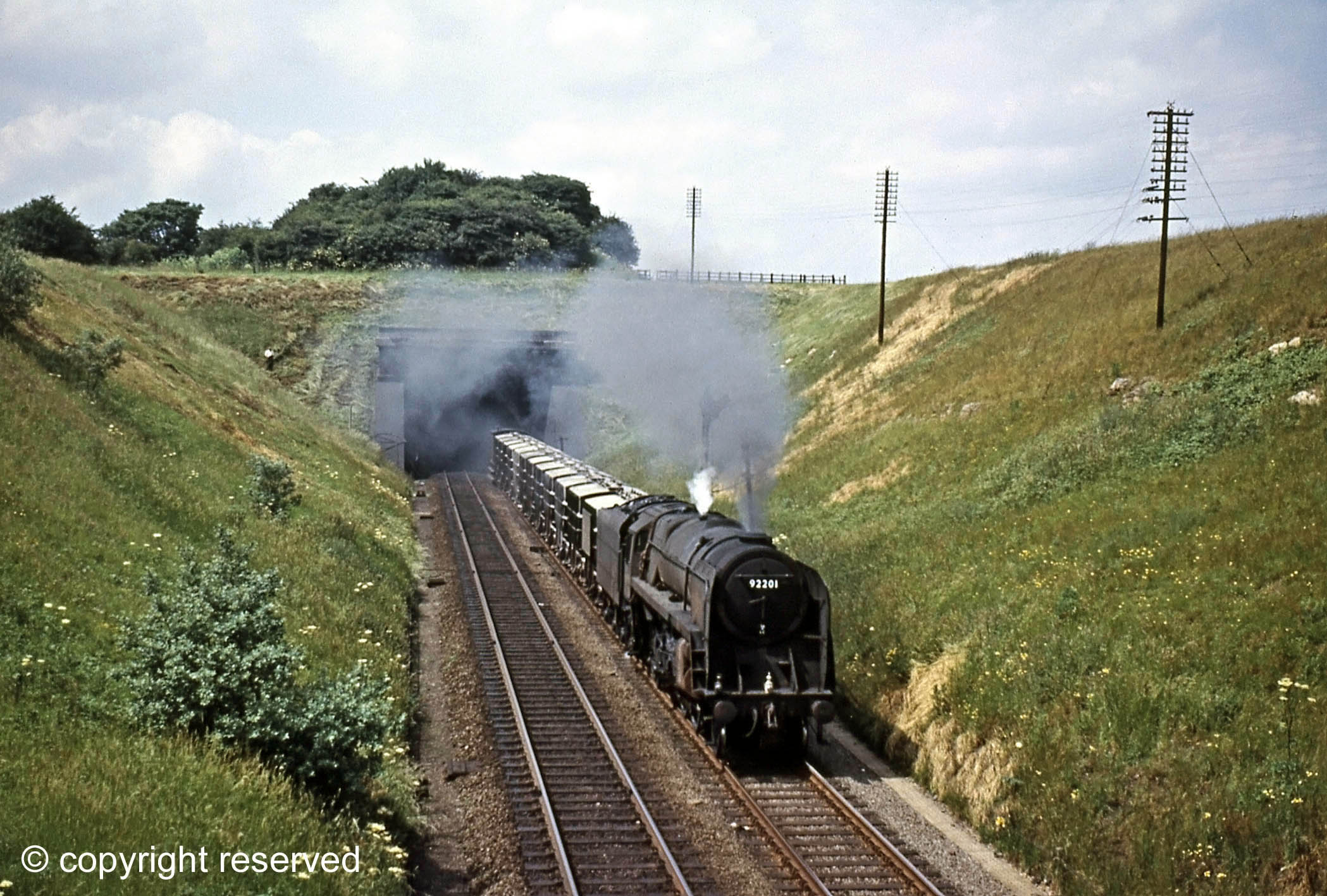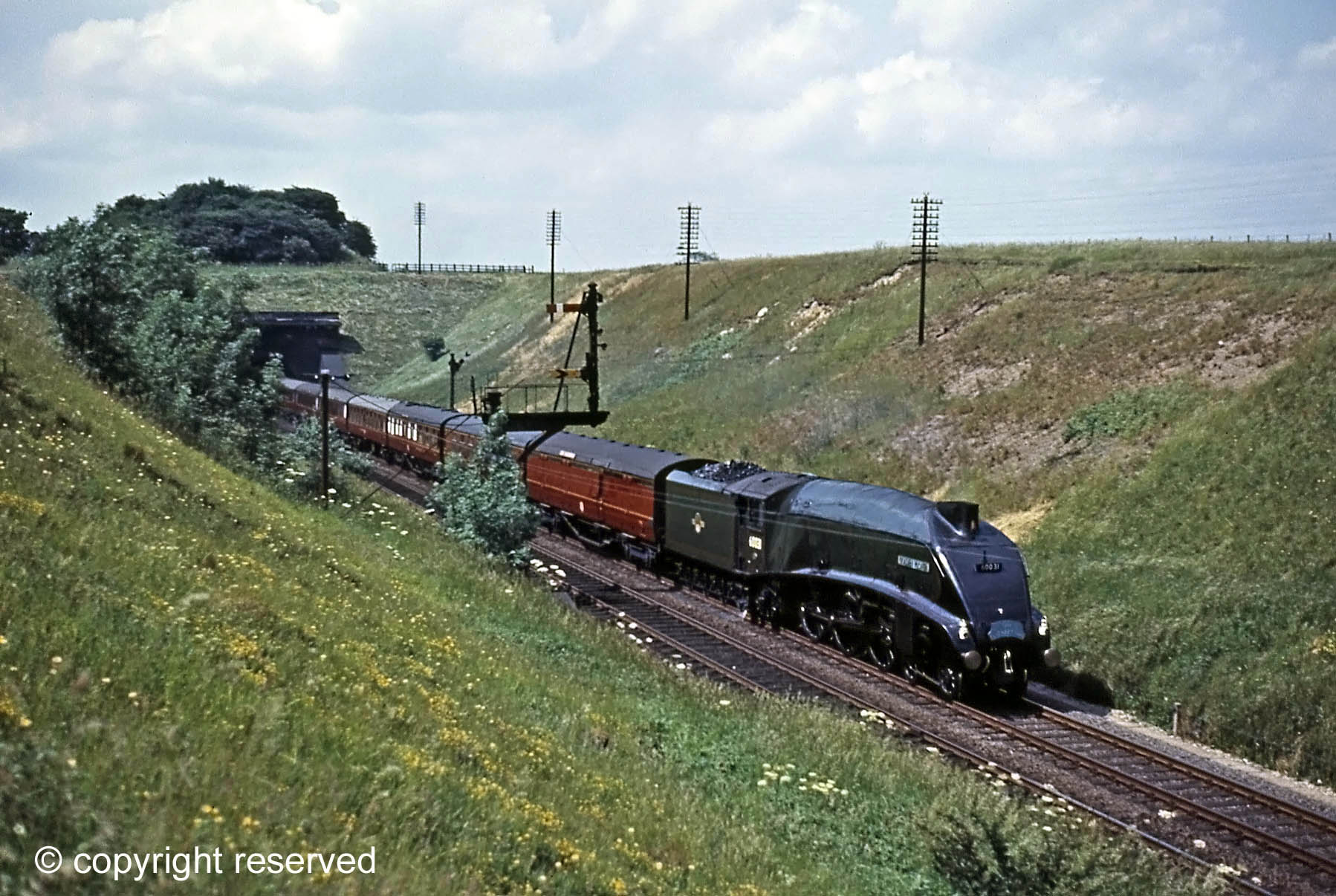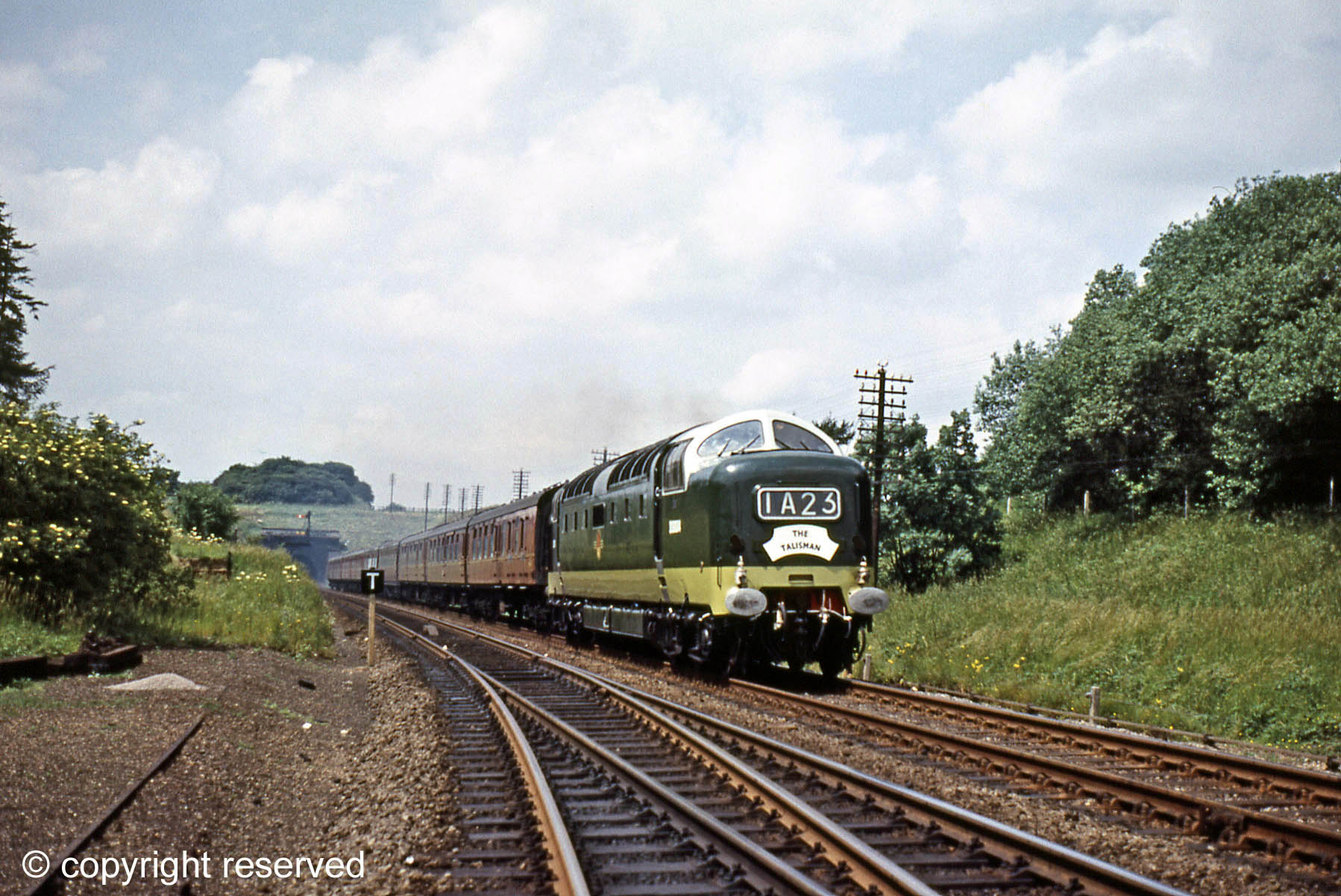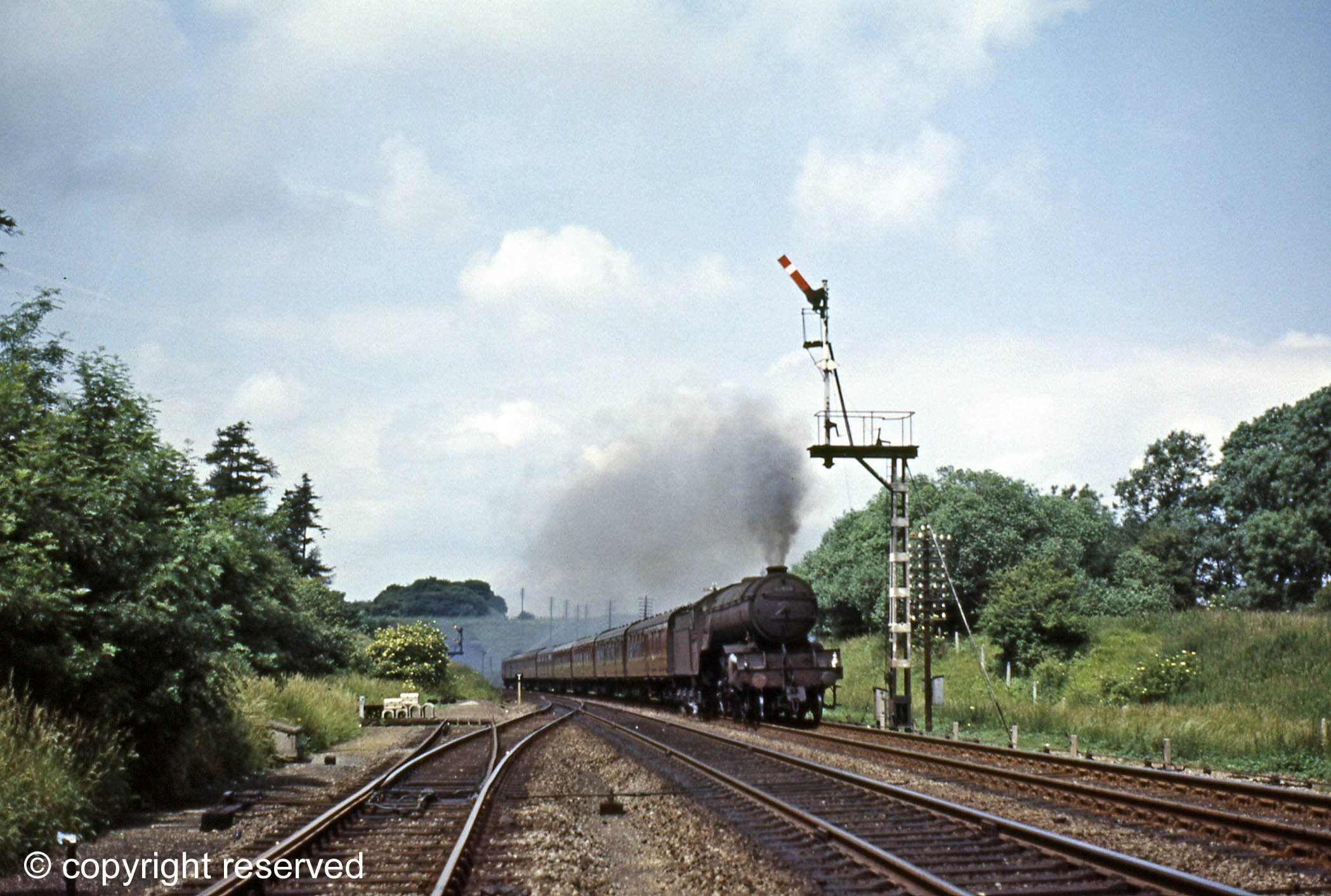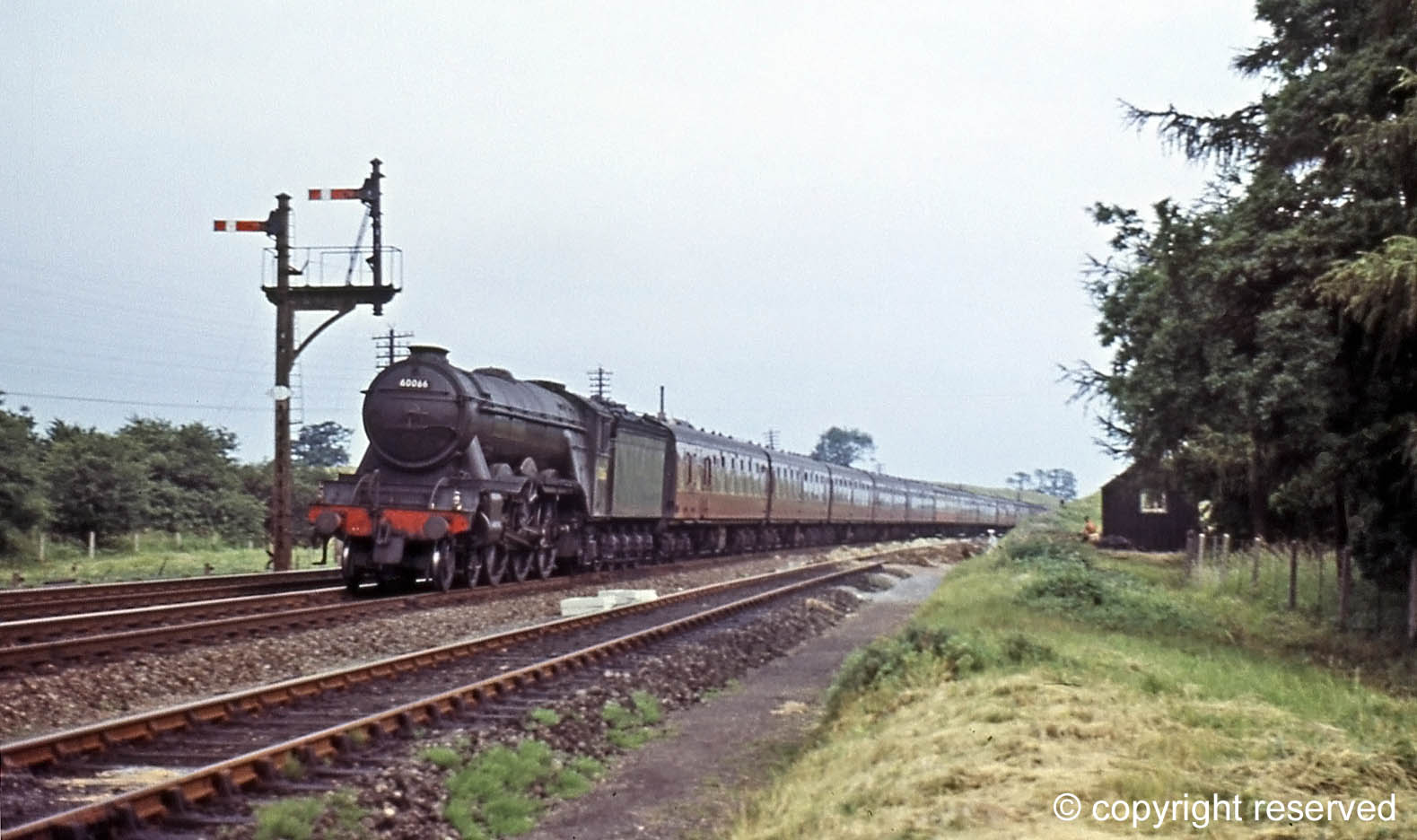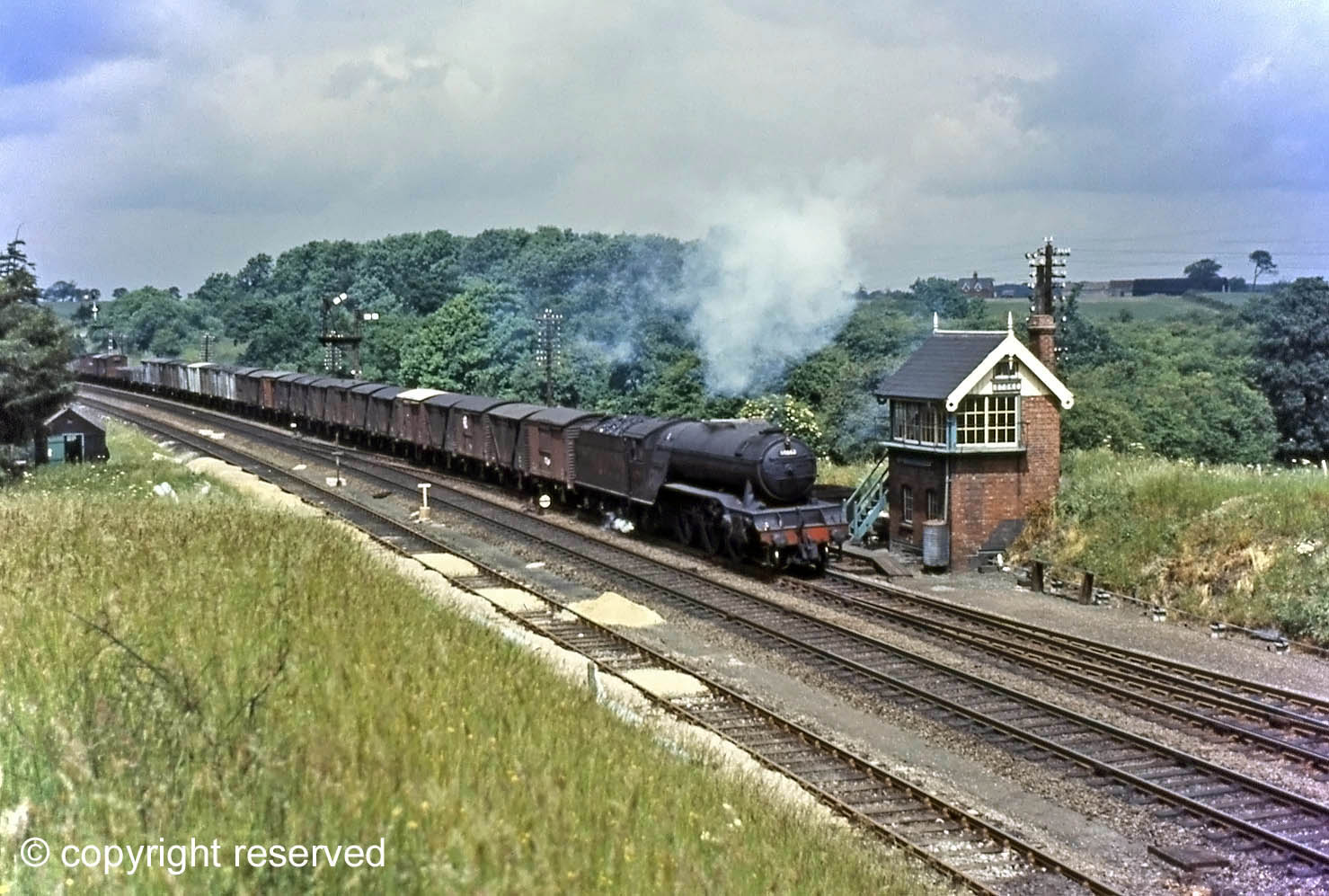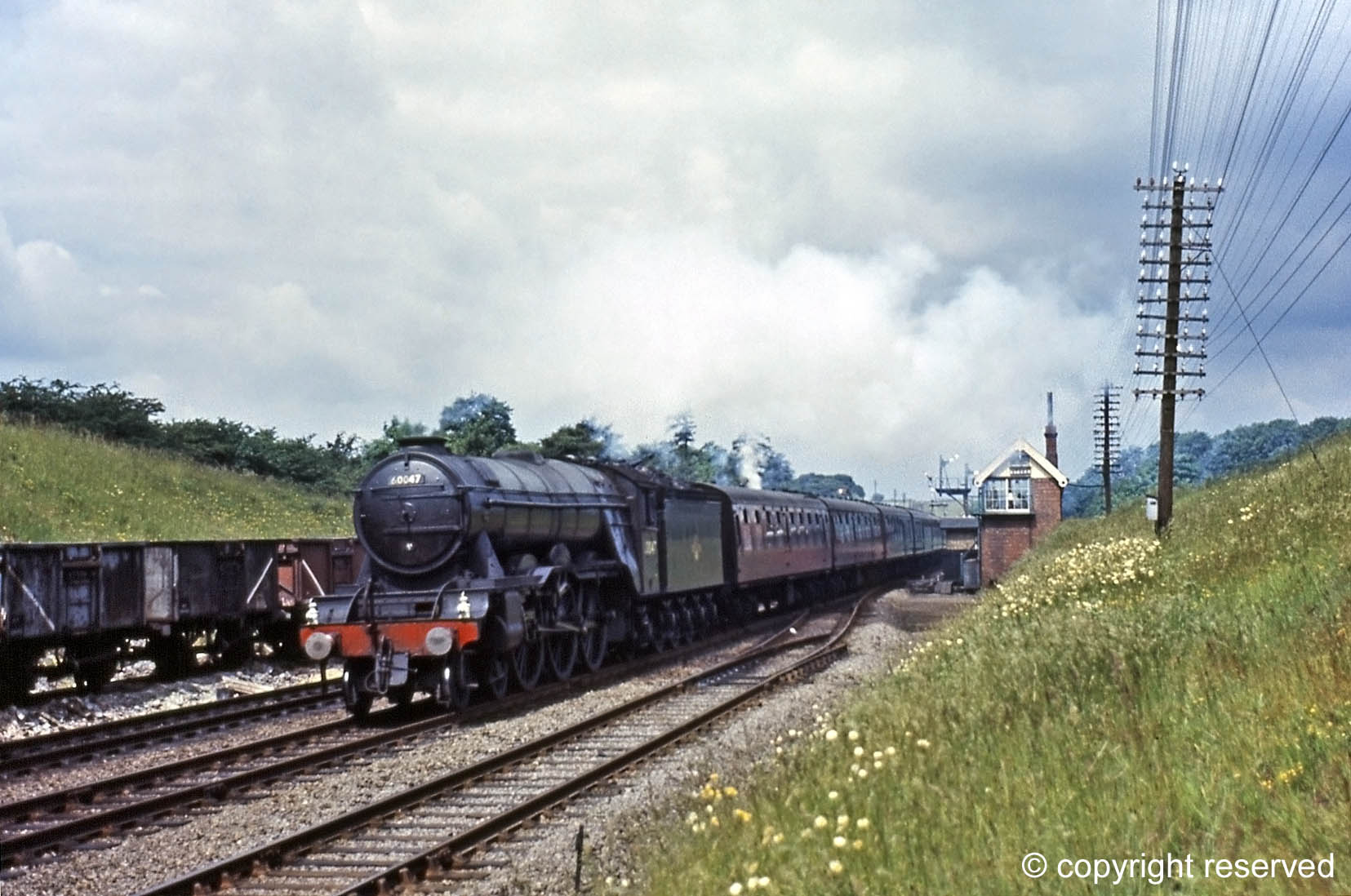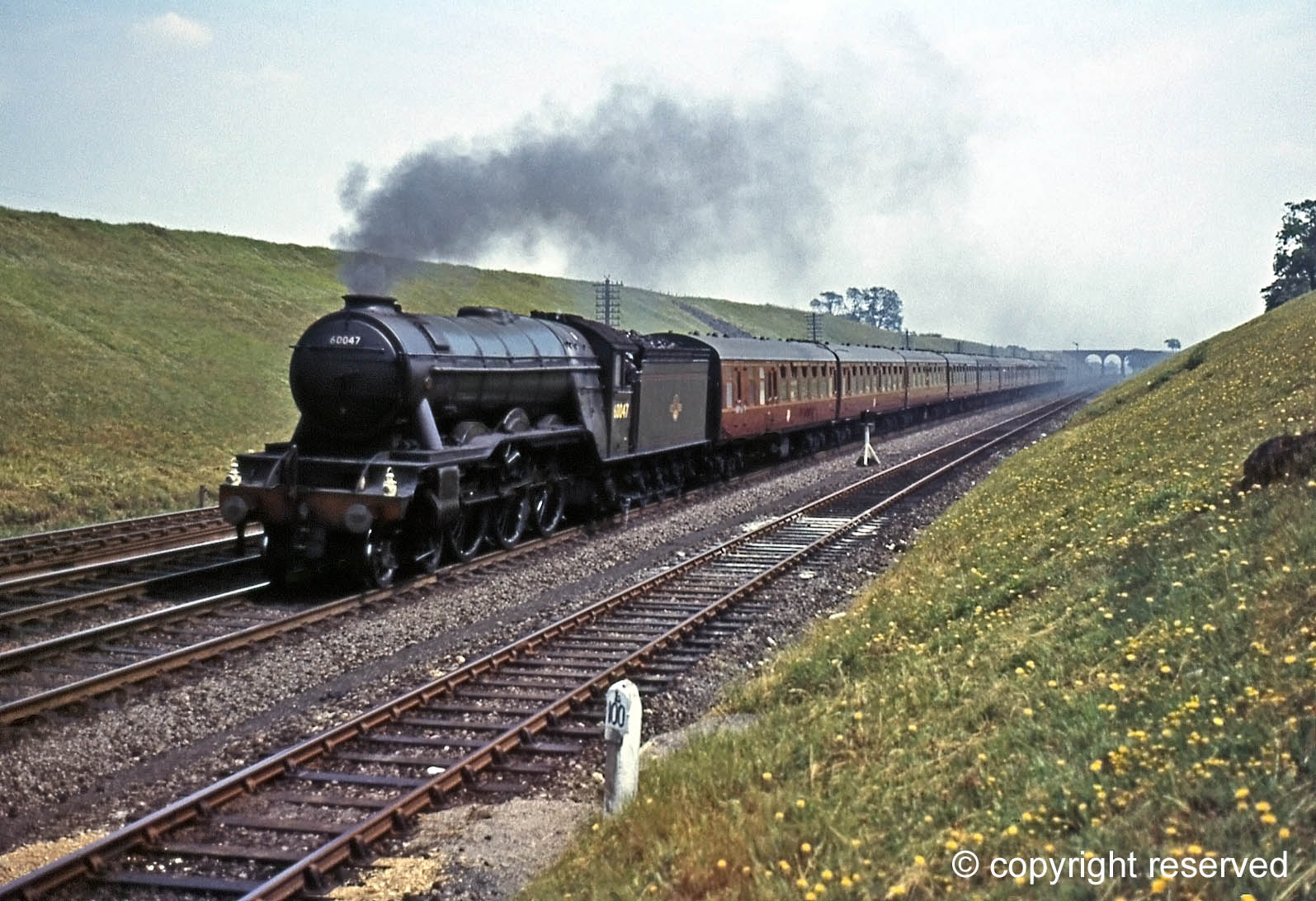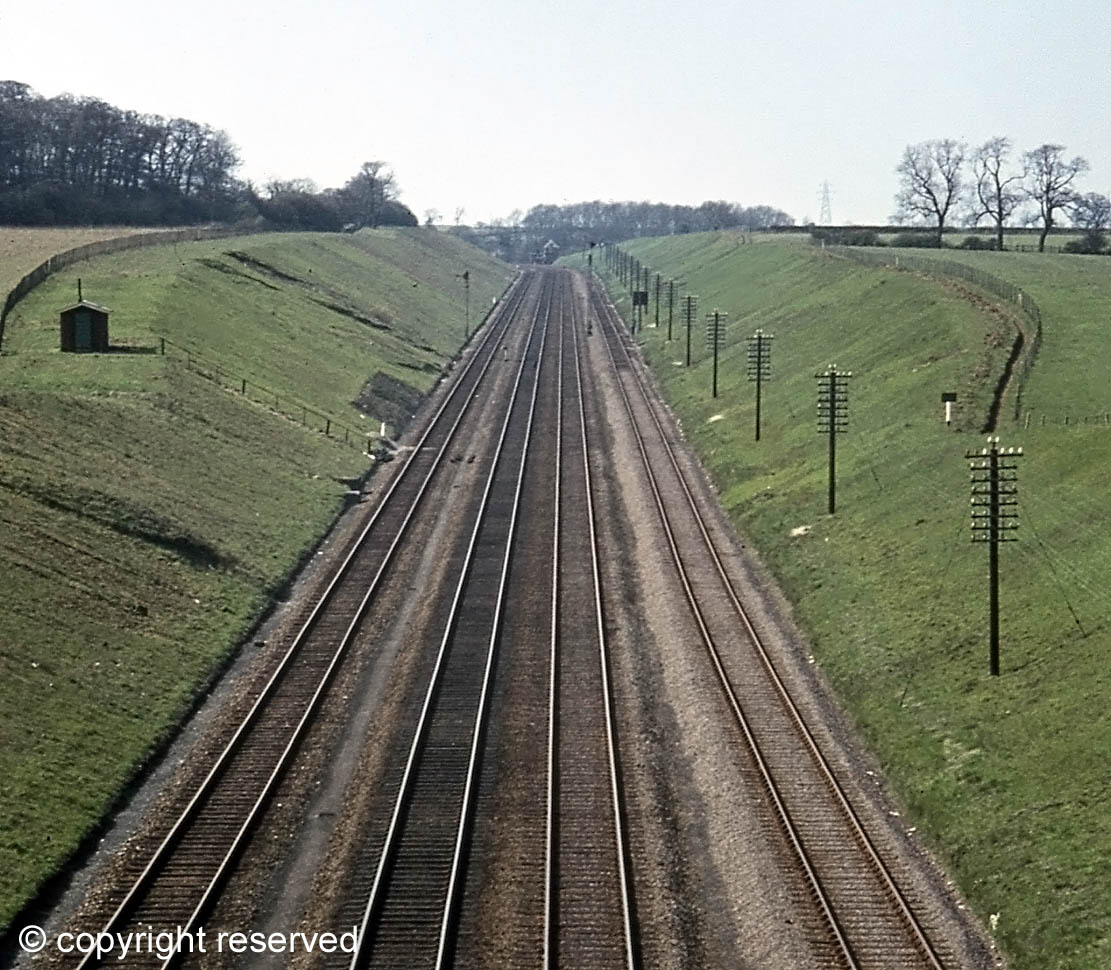 ---
Copyright note:  the article above is published with the appropriate permissions.  For information about copyright of the content of this website, Tracks through Grantham,  please read our Copyright page.
---